Scott Pruett Quickest in First Practice for TUSC Tequila Patrón Sports Car Showcase at Long Beach
April 11, 2014 2:03 pm Last Updated: April 11, 2014 2:03 pm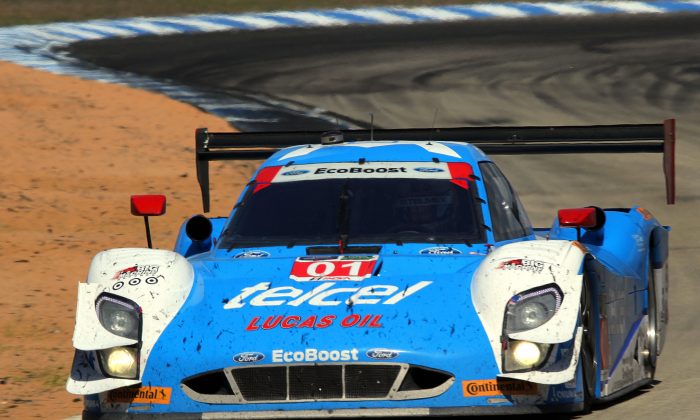 It was no shock to series fans to see multiple champion Scott Pruett in his now-Ford EcoBoost-powered #01 Ganassi Racing Riley turn in the quickest lap in the first practice session for the Tudor United Sports car Championship Long Beach race.
Pruett has won just about everything in his career—including the Sebring 12 Hours last month—so seeing him quickest around the 1.9-mile Long beach street course was not remarkable. What is remarkable is how quickly Ford ( a new series partner) has gotten its EcoBoost twin-turbo V6 online.
The power plant was unreliable to the point of being dangerous iat its debut at the Roar Before the 24 in early Janurary, pretty good at the Rolex 24 at Daytona in late January, and won at Sebring n the middle of March. Now EcoBoost cars are one-two at Long Beach.
Yes, one-two—less than a quarter second behind Pruett was Oz Negri in the #60 Shank Racing Riley-Ford EcoBoost. Pruett set a best lap of 1:16.441, Negri did 1:16.681.
The rest of the top five belonged to Coyote- and Dallara-Corvettes.
Joao Barbosa in the always-quick #5 Action Express Coyote-Corvette was third, followed by Jordan Talor in the #10 Wayne Taylor Racing Dallara-Corvette and Michael Valiante in the #90 Spirit of Daytona Coyote-Corvette.
The #42 Oak Morgan-Nissan driven by Gustavo Yacaman was the quickest of the P2 cars, nearly a second off the pace. Again, unremarkable.
TUSC fans, it seems, need to resign themselves to seeing Daytona Prototypes win every race. The DPs have a clear advantage on fast tracks with their extra 150 horsepower, and a clear advantage on tight point-and-squirt tracks because of their greater torque.
A P2 can dominate a DP on medium-to-fast curves, but the DP will catch up and pass on the straight, then get in front and take up all the road in slow corners, only to rocket away with all that power and torque at the corner's exit. There really isn't anywhere a P2 can expect to win a race, even if the two types of prototypes can turn the same lap times.
Corvette Leads BMW in GTLM
Only two classes are represented at Long Beach—the track is too tight for the full sixty-plus four-class TUSC field. Only the pro classes, Prototype and GT Le Mans, are on track this weekend.
There was a surprise in GTLM—the all-powerful Porsche North America 911 RSRs were sidelined with mechanical difficulties—the #912 with an engine issue and the #911 with a unspecified vibration, reportedly.
Tom Milner's #4 Corvette Racing C7.R topped the rest of the GTLM class with a lap of 1:19.797, barely ahead of the #55 BMW Team RLL Z4 GTE of Bill Auberlen at 1:19.824, who was barely ahead of his team mate Dirk Mueller in the #56 Z4.
Unsurprisingly, the top ten GTLMs were within a second of each other. The class never fails to present excellent racing and this event will be no different.
Qualifying the TUSC Tequila Patrón Sports Car Showcase at Long Beach starts at 9:05 p.m. ET, and will be streamed live (though by fixed camera) at FansChoiceTV and Live Timing as always is available at IMSA.com.
The race begins at 6:10 p.m. Saturday, April 12. Tickets are available through the Long Beach Grand Prix website.
The race will be televised on Fox Sports 1 starting at 6 p.m. ET Saturday.