Pruett, Rojas Make It Two TUSC Races in a Row With a Win at Long Beach
April 12, 2014 10:51 pm Last Updated: April 13, 2014 12:05 am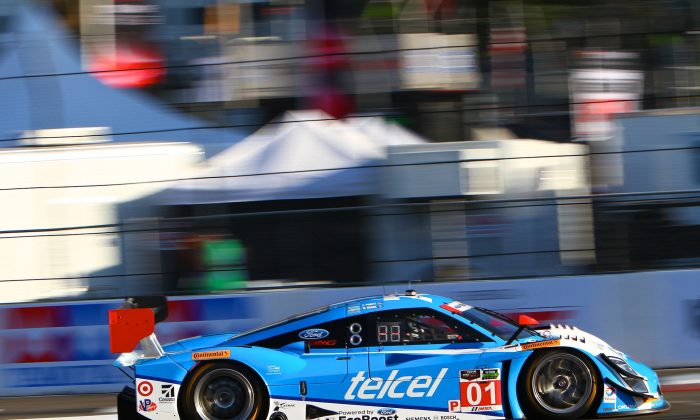 Coming off a victory in the Sebring 12 Hours in March Scott Pruett and Memo Rojas made it two in a row with a win in the Tequila Patrón Sports Car Showcase at Long Beach, Saturday, April 12.
"What a great day at the Beach," Pruett said to IMSA.com. "I've won here now in three different decades. I'm proud to have done that."
The race was harder than it looked, Pruett said. "It was just short of a qualifying lap the entire race. You try to hit your marks and repeat it, lap after lap after lap.
"It was just managing traffic and I have to take my hat off to all the drivers out there, the level of the P cars and the GTLM, you get the quality of the race you saw today. Everyone was racing hard and everyone was pushing but leaving the right places open and giving the right about of room.
"We knew there was a good chance it'd go green the whole time. I've been here in an IndyCar race that went green the whole time, and races it was littered with yellow. But the practices were good indications that it was going to be green the whole time."
Memo Rojas was also pleased with how the race went.
"I don't remember driving a more flawless race in this car, and I've been doing this for seven years now," he said. "I handed over the car to Scott and he could keep us in the front the rest of the race. I'm so happy to get the car its second win already this season. It's not a matter of wanting to prove something, we just want to win races."
Rojas started from the pole in the #01 Ganassi Riley-Ford EcoBoost, and led until he pitted and handed off to Pruett on lap 40 of the 77-lap contest. Rojas didn't have it easy early in his stint; Christian Fittipaldi in the #5 Action Express Coyote-Corvette and Ricky Taylor in the #10 Konica-WTR Dallara-Corvette were hot after him—too hot in fact.
On the very first lap Gustavo Yacaman, who started fourth, charged past Fittipaldi who was third on the grid, with Taylor, coming up from fifth, right beside him. This pair then tried to pass John Pew in the #60 Michael Shank Racing Riley-EcoBoost, but three wide around the first turn didn't work.
Pew got nosed into the tires on the right, while Taylor also hit the tires and tore off a huge chunk of his right rear bodywork, which affected the car's handling for the rest of the race.

Impending disaster—six cars (back row L-R: #90 SDR, #42 Oak Racing, #10 Konica-WTR; front row L-R: #60 Shank Racing, #5 Action Express, #01 Ganassi) head for Turn One at the start of the TUSC Tequila Patrón Sports Car Showcase at Long Beach. Not all of them made it. (Halston Pitman/MotorSportsMedia)
Fittipaldi passed all three car to take second; Taylor powered away to take third, chasing Fittipaldi with determination.
On lap 17 memo Rojas got caught up behind the lapped car of John Pew, repaired and running after its lap-one incident. Taylor pushed pass Fittpaldi and glued himself to the Ganassi car's wing, waiting for a chance to get by.
Taylor was a bit too eager; he ran wide at the hairpin, letting both Fittipaldi and Yacaman back through—though he did manage to tap Yacaman in the side as he passed. Apparently Yacaman had nudged the #10 a couple times earlier, and both Gustavo Yacaman and Ricky Taylor are young, energetic drivers, the type not to let a little contact go unanswered.
While Taylor, Fittipaldi, and Yacaman sorted themselves out, Memo Rojas disappeared into the distance.
On lap 21 both Taylor and Michael Valiante in the #90 Spirit of Daytona Racing Coyote-Corvette got past Yacaman, dropping the #42 Oak Morgan-Nissan to fifth. That didn't last; a lap later Valiante took too much curb in Turn Eight and spun—right in front of John Pew who was trying to recoup lost position after getting hip-checked into the tires on lap one.
Valiante slammed the tires hard, but was able to keep going. Pew, sadly, lost electrical power and had to be pulled off the course.
High marks to TUSC officials here: neither for this incident or the lap one contact was a full-course caution called. In fact, the whole race, 100 minutes on the tightest course on the schedule, was run under green.
Part of this was undoubtedly due to the all-pro nature of the field; the GT-Daytona and PC classes, largely populated by gentleman drivers, were not at the event. Part of it was also due to more sensible officiating; TUSC race control didn't order and FCY as soon a car got a little sideways. Apparently all those complaints from fans, teams, and manufacturers had an effect.

The #10 Konica-WTR Dallara-Corvette of brothers Ricky and Jordan Taylor (their father owns and runs the team) leads the #42 Oak Racing Morgan-Nissan of Gustavo Yacaman and Olivier Pla during the TUSC race at Long Beach. This pair raced hard until the Oak car couldn't restart after pitting losing 15 seconds. (Halston Pitman/MotorSportsMedia)
Crucial Pit Stop
After Michael Valiante and John Pew got squared away, the race settled down a little as teams started looking forward to the race's only pit stop. Because Long Beach is such a short race, cars can run the whole distance on two tanks of fuel—and some of them, on a single set of tires. Tire strategy was to play a key role in determining the winner in this race.
The GT cars pitted first; the Prototypes could run between 55 minutes (Chevy engines) to 50 minutes (Fords) so they stayed when the GTs started pitting on lap 30.
On lap 34 the P-cars started pitting, and immediately it became clear teams had a variety of tire strategies.
The #90 SDR Coyote-Corvette came in first, followed by Scott Sharp in the #1 Extreme Speed Motorsports HPD ARX-03b a lap later. Sharp handed off to Ryan Dalziel who went out on old tires—ESM gambled that by staying on old tires, Dalziel would be racing at full speed immediately, while the competition would have to pit, and then run slow out-laps on cold tires, giving Dalziel a chance to take some positions.
Ricky Taylor pitted from third on lap 38, replaced by his brother Jordan. The #10 car switched to brand new "sticker" tires, which would need a lap or two to come up to operating temperature.
Rojas and Fittipaldi came in from first and second a lap later; Rojas handed off to Scott Pruett, Fittipaldi swapped with Joao Barbosa. Barbosa beat Pruett out of the pits, but Pruett was on scrubbed tires—tires which had already been brought up to temperature in an earlier track session.
Scrubbed tires get back up to temp more quickly—more quickly than sticker tires, which is what Barbosa was riding on.
Barbosa had the lead, but his car was visibly squirming as he tried to put the power down leaving corners. Scott Pruett was right on his tail, pushing hard to force a mistake. Right behind Pruett cam Jordan Taylor, on sticker tires which now had a full racing lap of heat in them.
Pruett waited until Turn Six, a ninety-degree left-hander, and while Barbosa fought his car's wriggling rear end trying to get power down early, Pruett pulled out and hammered the gas. With the good launch off the corner, Pruett had the advantage through Seven, a very slight left-hander, and was alongside approaching Turn Eight, a ninety-degree right-hand turn.
Pruett had the position; Barbosa didn't have the traction. His tires were newer, which might give an edge late in the race, but Pruett and his crew knew it is so hard to pass at Long Beach, a car in the lead could probably defend that lead even if its tires were a few laps older.
Jordan Taylor watched all this play out, and when Pruett squeezed past Barbosa, Taylor followed him through to take second.
"The 5 car just snuck in ahead of us," Pruett said afterwards of the pass. "We got the traction down and made our move."
That was how the race ended. Pruett held on to his lead despite Taylor pressing hard.
Pruett, at 54, has learned all the finer points of racing. He knows how to use traffic to his advantage instead of being disadvantaged by it; he has learned to judge closing speeds, he knows when to be patient when to push.
Pruett showed his expertise by passing slower GT cars right before corners; this didn't give his pursuers time to get by until after they had slowed to follow the GT car through the turn, while Pruett, with clear track ahead, had long been on the gas. Pruett used this trick on Taylor  in the last few laps of the race, pinning the WTR driver behind the slower Falken Porsche GT car and opening a gap Taylor could not close in the time remaining.
Still Taylor tried hard; so did Joao Barbosa in the #5 Action Express, who is also a wise and wily veteran. Barbosa waited until Taylor came up on the #912 GTLM Porsche in the Hairpin; Taylor ran a little wide to get a good run on the slower Porsche exiting the turn, and Barbosa chose that moment to pounce.
Barbosa pushed the #5 inside Taylor's #10 Konica/WTR car and exited the corner in second place. Unfortunately for Barbosa, Taylor didn't panic, and when Barbosa ran wide on the exit, Taylor was ready to duck back underneath him to retake second place.
Scott Pruett ended up winning the race by 0.76 seconds over Ricky Taylor, who was a few seconds ahead of Joao Barbosa at the finish line. Oliver Pla in the #43 Oak Racing Morgan-Nissan finished fourth, the best-placed P2 car, followed by the two ESM cars, a lap down.

Antonio Garcia and Jan Magnussen got the new Corvette Racing C7.R its first class win at Long Beach. (Halston Pitman/MotorSportsMedia)
GTLM: Magnussen, Garcia Give New Corvette its First Win
Jan Magnussen earned the new Corvette racing C7.R its first pole during qualifying for Long Beach Friday, and with co-driver Antonio Garcia got the car its first win Saturday.
While the battles back in the GT-Le Mans pack were as fierce as always, Garcia and Magnussen in the #3 C7.R only had to fight boredom. Early in the race Garcia got ahead of Ed Brown in the #02 Extreme Speed Motorsports HPD Prototype, but the rest of the field got stuck behind the ESM car.
Garcia had clear sailing until the rest of the GTLM pack finally forced its way past Brown on lap 15, but by then the lead was insurmountable. Garcia drove fast and flawlessly, handed off to Magnussen on lap 30, and the veteran Dane won the class by five seconds, and probably could have won by more if he had wanted to.
"It was an important victory for the team," Magnussen told IMSA.com. "The whole time we had a fast car. We just didn't make the most of it with reliability issues at both Daytona and Sebring. I couldn't be happier for Antonio, myself and this entire team."
Behind the #3 Corvette the rest of GTLM made a real race of it. The two BMW team RLL car led the #4 Corvette for the first half of the race, but at some point Andy Priaulx in the #55 BMW Z4 knocked off his right-hand mirror. The rules say each car must finish with two mirrors, so the crew replaced the entire door—quicker than messing with the mirror, but that extra 20 seconds in the pit cost the #55 several positions.

The two BMW Team RLL Z4s lead the #4 Corvette C7.R early in the race. (Halston Pitman/MotorSportsMedia)
The #4 Corvette of Oliver Gavin and Tom Milner started out slowly; apparently the tire pressures were too high (several teams seemed to have guessed wrong on the tire pressures; the day was unseasonably cool but the tires heated up a lot anyway.)
After a pressure adjustment during its pit stop, the #4 set the fastest GT lap of the race but couldn't get past the #56 BMW of John Edwards and Dirk Müller. Gavin and Milner had to settle for third in class.
The two Porsche North America RSRs had to settle for fourth and fifth.
Many Winners
On the whole, the race was a huge success for Pruett, Rojas, and Ganassi Racing. The team won at Long Beach in 2006, and now have again, and two in a row—two out of three—is a great way to start a season.
The Action Express team also came out alright, still leading in the points after three rounds.
Wayne Taylor Racing fell to third in the points, but part of that can be blamed on the over-enthusiastic driving of Ricky on the opening lap. Had the car been intact, Jordan might have been better able to challenge Scott Pruett in the closing laps.
TUSC also came out of the race in good shape. After officiating errors at the season opener at Daytona, and even more egregious officiating errors at Sebring, TUSC officials showed that they could make a good non-call when that was needed, and also, they kept their double-yellow flags furled and let on-track incidents work themselves out.
No one expected Long beach to go caution-free; the track is too tight and passing too difficult. But somehow, it happened; the race ran flag-to-flag without an interruption. All those TUSC managers who thought a race would be dull without a yellow flag in the final laps to bunch things up seem finally to have learned that that simply is not how sports car racing works.
There were no changes in the top three positions for the final thirty laps, and still, those thirty laps were tremendously exciting. It was a race, which is inherently exciting; no stage-management is needed.
TUSC will be back in action on May 4th with the Continental Tire Monterey Grand Prix Powered by Mazda at California's Mazda Laguna Seca Raceway.
This should be an interesting event. First off, the four-class TUSC field is being split in half, so once again, the pro classes, GT Le Mans and Prototype, will run together without the Pro-Am classes. Also, Laguna Seca might be just twisty enough to afford P2 cars the chance to use their advantages and challenge the Daytona Prototypes—though honestly, everyone knows that the DPs need to lose 25 or 50 horsepower to make the racing fair.
GT Daytona and PC will run a separate two-hour race; while the chances for collisions might be slightly higher, the entertainment value should be just as high as the Pro race, with the PC cars evenly matched and the GTD field being huge and hypercompetitive.
Visit IMSA.com for information and the Mazda Laguna Seca website for tickets for this event.