Scott Peterson, the California prisoner on death row for killing his wife and unborn child, claims that he wasn't the last person to see wife Laci Peterson before her tragic death 15 years ago.
Peterson is sitting on death row in San Quentin State Prison, but he's never spoken out publicly since he was convicted of murder in his wife's death. She disappeared in 2002 but was found in 2003.
"I wasn't the last one to see Laci that day. There were so many witnesses that saw her walking in the neighborhood after I left," Scott claimed in a phone call as broadcast in a new A&E docuseries "The Murder of Laci Peterson," according to the NY Post. "The police failed to find my family."
Some witnesses said they saw Laci, who was 27 at the time and pregnant with their child, Connor, on Christmas Eve, 2002.
"Every hour I could buy to keep the search going is all solved if I bring Laci and Conner home," Peterson said in the phone call.
In previous reports, Peterson said he recalled the feelings he got when he heard the guilty verdict read out to him in his 2004 trial. He was sentenced to death via lethal injection, and an appeals process is underway.
"It was just like this amazing, horrible, physical reaction that I had. I couldn't feel my feet on the floor. I couldn't feel the chair I was sitting in. My vision was even a little blurry," he said.
The 44-year-old inmate added, "And I just had this weird sensation that I was falling forward—and forward and down and there was going to be no end to this falling forward and down, like there was no floor to land on."
When she went missing, a massive manhunt was initiated while the FBI was called in to assist local officials in her case. Her disappearance years ago—and Scott's subsequent trial—captivated the nation and was subject to a media frenzy.
"Whoever has her could have some compassion," Brent Rocha, Laci's brother, told reporters at the time. "She's a human being. She's pregnant. She needs to take care of her baby. She's a wife, a daughter, a sister. Please return her."
According to reports at the time, multiple accounts indicated that he was quiet and distant from the proceedings during the search. "She will be giving birth real soon. We need to bring them home and I think that's the best way we can do it all," he said at the time.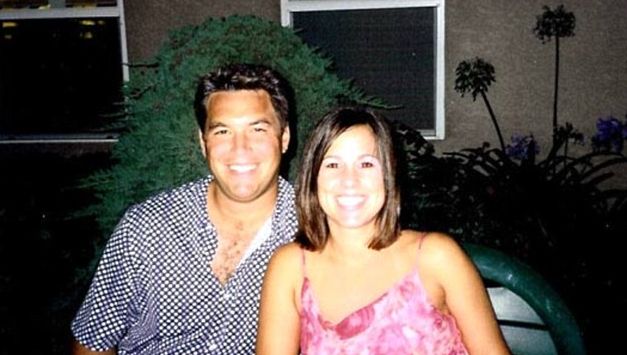 "We've been doing homicides for a while. When you compare Scott's demeanor with other people we've dealt with, he didn't even register on the scale as far as seeming concerned. And when [fellow detective Al Brocchini] played the tape of that lame-o message that Scott left on Laci's phone—'Hey, beautiful, I'm on my way back from fishing. Pick up the basket at Vella Farms. I love you, sweetie,' or words to that effect—it just seemed so insincere and false, like he was making this call to make us think he was in love with her," Modesto Police Detective Jon Buehler told People magazine in 2005.
"But anybody who has been married for five years knows there aren't too many people who talk to their spouses like that after that amount of time. It didn't mean that he did it; it just meant we needed to work him a little bit closer and clear him," he added.
His half-sister Anne Bird told CBS News that "even during the search for Laci he was completely emotionless, could have cared less."
"And that's been really hard to deal with. He's a sociopath, and a sociopath does not have a conscience, which is a really hard fact to understand," she added.