Unvaccinated women in Scotland have found their NHS fertility treatment appointments cancelled due to their CCP virus vaccination status.
The Scottish government said it's taking a "more cautious approach" because of the increased risk of severe illness from COVID-19—the disease caused by the CCP (Chinese Communist Party) virus—among unvaccinated pregnant women, as well as the uncertainty around the Omicron variant of the virus.
But the policy is criticised as being "inhumane" by the Scottish Labour Party.
The Scottish government published Chief Medical Officer Professor Sir Gregor Smith's letter of recommendation on Jan. 7.
The letter said NHS fertility treatment aimed at creating a pregnancy should be deferred for patients who are not fully vaccinated against COVID-19, but fertility-preserving treatment is exempt from the deferral.
According to local media reports, a number of couples received phone calls on Christmas Eve telling them their fertility treatment appointments were cancelled because the women weren't fully vaccinated.
Jemma McDonald and Hayden Brown, a couple who found out their appointment was cancelled "a couple of days before Christmas," told Scottish tabloid the Daily Record that they had been trying for a baby for five years.
The 25-year-olds were scheduled to sign the consent forms to begin in vitro fertilization (IVF) treatment after going through a yearslong process of preimplantation genetic diagnosis.
"I spoke to a receptionist who said there were some phone calls being made because if you hadn't been vaccinated you were no longer eligible to get IVF," McDonald said.
The nursery teacher said she had hoped to be pregnant by March or April and the setback felt "really upsetting."
The couple decided not to get vaccinated because the Scottish government had initially advised pregnant women and women preparing for pregnancy against taking the shots.
McDonald said she personally felt that "there is not enough evidence about what could potentially happen to a baby in three or four years' time."
"I feel it is a complete breach of our human rights," the young woman said.
Another woman, who didn't get the CCP virus vaccines after hearing they affected her friends' menstrual cycle, told the newspaper that she was "heartbroken" upon hearing the news and "cried for two hours."
Jackie Baillie, deputy leader and health spokesperson for the Scottish Labour Party, slammed the SNP government for the policy which she said was "inhumane."
"Of course I would encourage everyone to get vaccinated as the best protection against the virus, but the rules were confusing at the start and treating these women in this way is inhumane," she said.
A Scottish government spokesman said: "Due to the rising number of COVID-19 cases, and concerns about the impact on unvaccinated women, ministers have taken a decision to temporarily defer fertility treatment for women who are not fully vaccinated. We continue to review the evidence and will look to review this decision early this year."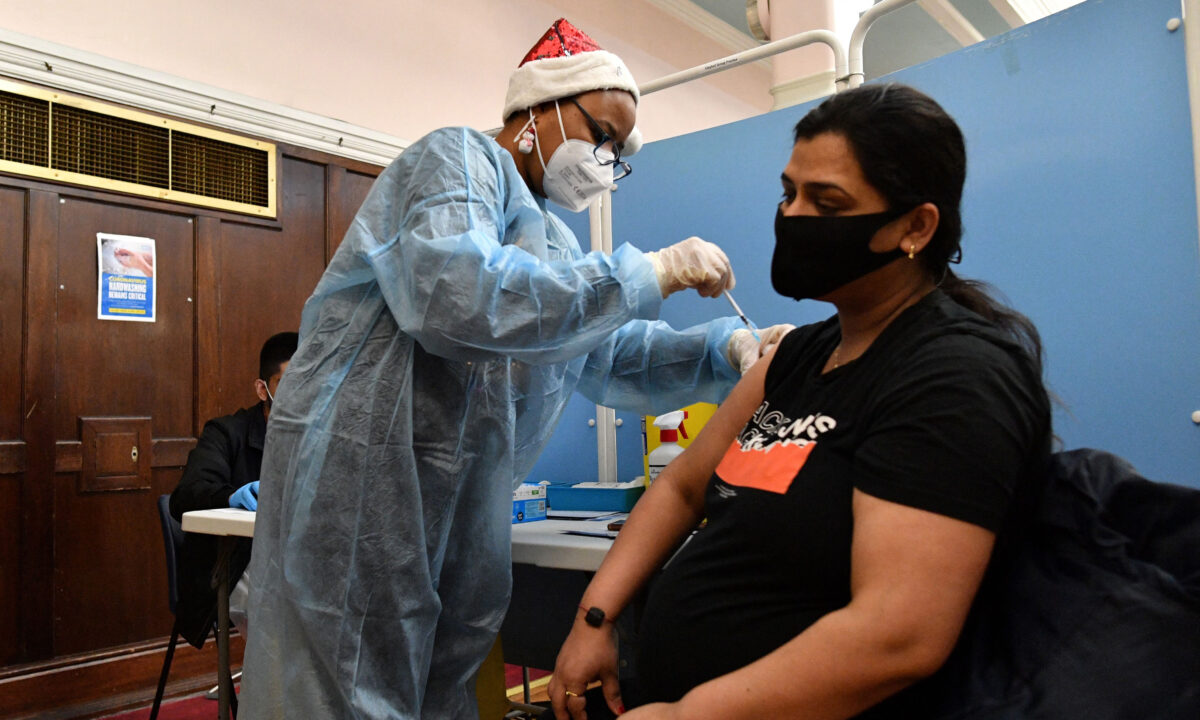 The deferral of fertility treatment for unvaccinated women came after the UK government's Joint Committee on Vaccination and Immunisation (JCVI) designated pregnant women as a "clinical risk group" and urged them to "get vaccinated as soon as possible."
Smith said recent UK data showed that "unvaccinated pregnant women and their babies have died after admission to hospital with COVID-19 and 98% of pregnant women in ICU with COVID-19 were unvaccinated."
According to data from NHS Scotland, in August, the percentage of pregnant women who got vaccinated during pregnancy was 15.6 percent.
JCVI's COVID-19 subcommittee chair Professor Wei Shen Lim said on Dec. 16, 2021, that there was "no evidence to suggest that COVID-19 vaccines used in pregnancy increase the risk of miscarriage, stillbirths, congenital abnormalities, or birth complications."
"Having a UK-approved COVID-19 vaccine is safer than having COVID-19 itself," he said.
According to the latest analysis of Yellow Card data from the Medicines and Healthcare products Regulatory Agency (MHRA), "reports of miscarriage and stillbirth are … low in comparison to how commonly these events occurred in the UK outside of the pandemic."
The report also said there were "a few reports of commonly occurring congenital anomalies and obstetric events," but "no pattern" suggested the vaccines had increased the risks of miscarriage, stillbirths, congenital anomalies, or birth complications.
The MHRA's Yellow Card reporting site holds self-reported suspected adverse reactions to medicines, vaccines, medical devices, or test kits.
The agency published an update in May 2019 urging people to diligently report suspected adverse drug reactions after a fall in reporting, saying it was estimated that only 10 percent of serious reactions and between two and four percent of non-serious reactions were reported.
But it said the estimate "should not be used as indicators of the reporting rate for COVID-19 vaccines, for which there is high public awareness of the Yellow Card scheme and the reporting of suspected reactions."
The UK Health Security Agency's COVID-19 vaccination guidance on pregnancy and breastfeeding said there's "no evidence that COVID-19 vaccines have any effect on fertility or your chances of becoming pregnant."
A new study published on Friday said the mRNA vaccines are associated with a change in menstrual cycle length, but no "population-level clinically meaningful change" was found.
The researcher added that "questions remain about other possible changes in menstrual cycles, such as menstrual symptoms, unscheduled bleeding, and changes in the quality and quantity of menstrual bleeding."
Zachary Stieber contributed to this report.