A spin-off mutation of the UK variant of the CCP virus has emerged with the same potentially vaccine-hindering protein structure as the South African and Brazilian variants, according to English health officials.
Studies show that while vaccines are effective against the South African variant, it is with less potency than with the "standard" variants or the UK variant.
Public Health England on Feb. 1 reported (pdf) that sample testing has revealed that a key mutation in the South African and Brazilian variants, called E484K, was found in a "limited number" of cases in England.
Out of a total sample of 214,159, analysed on Jan. 26, only 11 were identified as UK variant cases with the E484K change.
Despite the low numbers, scientists say that the development is concerning.
The UK has been a world-leader in genomic sequencing of the CCP (Chinese Communist Party) virus, meaning that it may be picking up on changes occurring globally rather than revealing phenomena unique to the UK.
"The detection of the E484K mutation in the 'Kent' variant of the Covid-19 coronavirus is of concern, but ultimately no surprise," Dr. Simon Clarke, an associate professor in cellular microbiology at the University of Reading, said.
"It is the mutation causing the most concern in the 'South African' and 'Brazilian' variants. While to date only one case has been identified, it seems highly likely that there will be more in the coming weeks and months. It does not mean that this mutation is present in all versions of this variant," he said in a statement.
"Clinical trials by Novavax and Johnson & Johnson showed that their new vaccines were less effective in South Africa, compared to the UK or USA, and it is presumed that it was because of the high level of virus carrying this E484K mutation."
According to Dr. Julian Tang, an honorary associate professor and clinical virologist at the University of Leicester, the UK could become something of a "melting pot for different emerging SARS-COV-2/COVID-19 variants."
"Closing borders/restricting travel may help a little with this, but there is now probably already a sufficient critical mass of virus-infected people within the endemic UK population to allow this natural selection/evolution to proceed—as this report suggests," he said.
Yesterday, health officials announced they had identified the first cases of community spread of the South African variant in different parts of the country.
The discovery sparked door-to-door testing of what is estimated to be 80,000 people in specific postcodes including those in London, Kent, the West Midlands, and Lancashire.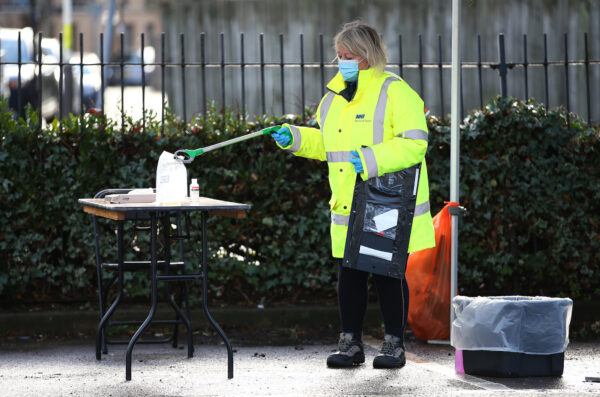 The so-called surge testing is blanket testing of people regardless of whether they have symptoms. People in those areas are being advised to avoid leaving the house if they can, although they are not required to self-isolate.
Health officials have emphasised that there is no evidence that the South African variant is more deadly or harmful. They also note that vaccines are still effective against it.
Novavax recently announced that initial trials showed its vaccine was 89 percent effective in the UK, where the more transmissible strain originating in Kent is now predominant. A less extensive trial in South Africa—where the VOC-202012/02 variant is dominant—suggested effectiveness of around 60 percent.
Vaccine manufacturers have previously said that they believe they can tweak the design of their products to combat emerging variants with a turnaround of around six weeks.
Lawrence Young, a virologist and professor of molecular oncology at the University of Warwick, said, "There is also concern that the South African variant might be able to more efficiently re-infect individuals who have previously been infected with the original form of the virus. This is likely to be due, in part, to the E484K mutation which may weaken the immune response and also impact the longevity of the neutralising antibody response."