A Japanese scientist has discovered a new parasitic plant species.
Suetsugu Kenji, an associate professor at the Kobe University Graduate School of Science, found the new species on the subtropical island of Yakushima.
Kenji collected a specimen while carrying out a survey of lowland laurel forests on the island and a later examination revealed that the species, named Sciaphila yakushimensis after its place of discovery, is parasitic.
The plant is related to the Sciaphila japonica of the Triuridaceae family, but was determined to be a different species due to several observations including how the parts above the ground are a dark purple.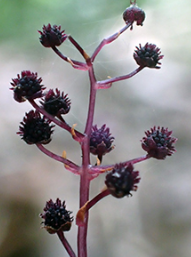 Kenji said in a statement that the presence of the species is evidence of the hidden network of symbiotic relationships between fungi and roots (mycorrhizae) that exists in the lowland primeval forests.
"Yakushima receives a lot of attention for its Jomon cedars, but this plant was discovered in an area where deforestation is permitted," he said.
"The discovery of the Sciaphila yakushimensis, nurtured by the fungi and the nutrient-rich forests in which it grows, should make us reaffirm the value of Yakushima's lowland primeval forests."
The research was recently published in the Journal of Japanese Biology.