Schumer Pushes to Curtail MDMA Trafficking and Manufacturing
September 22, 2013 9:42 pm Last Updated: September 22, 2013 9:42 pm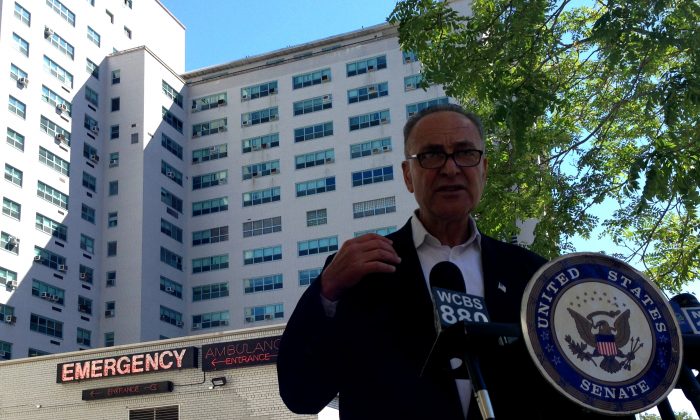 NEW YORK—Sen. Charles Schumer (D-N.Y.) announced a two-pronged push to curtail the trafficking and manufacture of MDMA, a drug known as molly or ecstasy.
A string of recent deaths caused by the drug, including two at an electronic music festival, prompted Schumer to act.
The city shut down the third day of the Electric Zoo music festival on Randall's Island on Sept. 1 after two of the revelers died there from what appeared to be drug overdoses. The city's chief medical examiner later confirmed that both of the deaths were caused by MDMA overdoses.
One part of Schumer's plan is to focus the forces of local, state, and federal anti-drug organizations on labs that manufacture MDMA. The second part of the strategy is to place a range of substances that are used to manufacture the drug on the federal controlled substance list.
In addition, the senator wants to create an Analogue Committee, which would have expanded powers to ban analogues of drug compounds. Illegal drug manufacturers often get around federal bans by tweaking the formula of a substance slightly to avoid prosecution. The use of this loophole grew rampant when bath salts, a synthetic drug, became popular. Some 26 variations of the bath salts drug were placed on the federal drug control list in July 2012.
"What we've learned with drugs: a stitch in time saves nine," Schumer said outside Metropolitan Hospital Center on Sept. 22. "When you go after them early you can save a lot of lives and prevent a lot of heartache. If you wait around until it really becomes an epidemic, there's big trouble."
The use of MDMA is on the rise. In 2012, one in four respondents to a global drug survey said that they have tried MDMA. In 2013, the number grew to nearly three out of every four. The number of MDMA related emergency rooms visits has doubled since 2004, according to the Drug Abuse Warning Network.