The top four members of Congress met with President Joe Biden on Nov. 29 in a bid to avoid a rail strike and come to other agreements regarding the lame duck session.
The top two Democrats in Congress and one of the top Republicans, after meeting with Biden, said legislation will likely pass that would impose an agreement on rail workers and operators.
"All four of us agreed we got to resolve this rail shut down as quickly as possible and that we would work together on doing it," Sen. Chuck Schumer (D-N.Y.), the Senate majority leader, told reporters outside the White House in Washington after the meeting.
House Speaker Nancy Pelosi (D-Calif.) said that the House will soon bring a bill to the floor.
"It's not everything I would like to see. I think that we should have paid sick leave every country, every developed country in the world has it. We don't, but nonetheless we have an improved situation and … I don't like going against the ability of unions to strike, but, weighing the equities, we must avoid a strike," she said.
House Republican Leader Kevin McCarthy (R-Calif.), after noting Biden previously said the issue was solved, signaled that Republicans will back an agreement.
"I think it will pass, but it's unfortunate that this is how we're running our economy today," he told reporters. "This has all got to stop and change. We need an economy that is strong. If you're passing a bill to force the rail workers to work, how strong is your economy?"
Unions representing rail workers are threatening to strike if a new contract is not reached. Biden on Monday urged Congress to impose a tentative agreement between workers and operators.
"The President and the four leaders discussed how Congress can act to prevent a rail shutdown, which would have devastating consequences for workers, families, and our economy," according to a White House readout.
Senate Republican Leader Mitch McConnell (R-Ky.) did not speak to reporters after the meeting.

Government Funding
Congress passed a continuing resolution (CR), or a temporary government funding bill in September, but the money only lasts until mid-December.
A more long-term solution, or omnibus, is considered the best option but the parties may not be able to come to an agreement on one, which could force them to resort to another CR.
"We also had a very productive discussion about funding the government. We all agreed that it should be done this year. We all agreed we had to work together and everybody had to give a little bit," Schumer said.
McCarthy said Republicans will help pass more funding in one form or another.
"We need common sense to [be] brought back and if we can't get common sense in appropriation bills, yes, we'll support a CR and fix this come January," he said.
The White House said the meeting included a discussion of keeping the government funded.
"We're going to work together to fund—I hope to work together to fund—the government, COVID and the war in Ukraine, all controversial and consequential issues," Biden told reporters before the meeting. "And we're going to find other areas of common ground I hope, because the American people want us to work together."
Only several weeks are available for Democrats to get priorities passed before they lose the House of Representatives after Republicans flipped a number of seats in the midterm elections.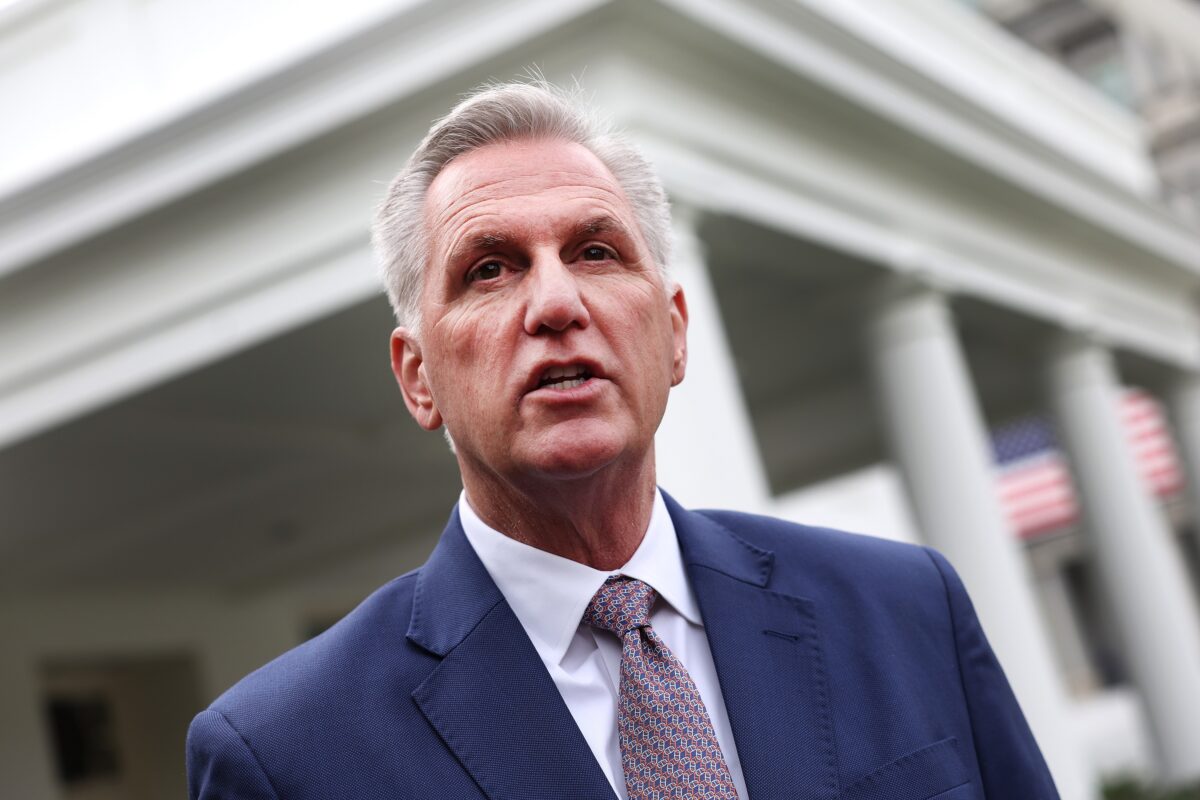 Invite to Border
Under Biden, illegal immigration has exploded. Biden reversed or ended key Trump-era immigration enforcement policies, including rolling back the use of Title 42, a pandemic-era health order that enables U.S. officials to quickly expel some illegal immigrants.
Biden has not visited the border yet and officials in his administration have defended their policies.
McCarthy said he invited Biden to take a trip to the border with him and detailed what he saw on a trip he just made there.
"He asked me about the border. So I told him about my trip," McCarthy said.
"Just in El Paso, on one overhang of a freeway, 70,000 people have come across in the last seven weeks. If we would send people back to the country that they came from, the border agents would tell you, they stop coming," he added. "The border agents themselves are cut short, that there's not enough of them, that they're sitting and working the job as processing, where you could have somebody else with their job so they could be out front, I explained to the president what I saw, where you can see the videos of these cartels literally shooting tracers at our national guard. A woman hung because she didn't pay the cartel, her feet cut off, put on fire, that the cartels controlling as you watch them [go] across."
McCarthy didn't detail Biden's response to the invitation. The White House did not mention the invitation or any aspect of the border crisis.
McCarthy said he also raised concerns about the trafficking of fentanyl, a deadly drug that has largely been coming into the United States from other countries.
"The control of our border is lost right now," McCarthy said. "That is why I asked Homeland Security secretary to resign. And come January, we'll have an investigation of why the border has become the situation it is and not allow them to continue along the same path."