Senate Minority Leader Chuck Schumer (D-N.Y.) on July 20 urged his colleagues to unify against a pandemic relief proposal that Senate Majority Leader Mitch McConnell (R-Ky.) is creating along with the White House.
"This one-party approach to this legislation is the same approach that delayed the passage of the CARES Act and the subsequent interim emergency relief legislation, failed on policing reform, and it won't work this time around either," Schumer said in a statement in reference to the $2.2 trillion CARES Act that was passed and signed into law in March, which expanded unemployment insurance and set up direct payments, small business funding, and more.
Schumer, in particular, took aim at a proposal from McConnell and other top Republicans to create a five-year shield against lawsuits for businesses in an attempt to limit their liability as people return to work in the midst of the pandemic.
"From what we understand from press reports, Leader McConnell's bill will prioritize corporate special interests over workers and main street businesses, and will fail to adequately address the worsening spread of the Coronavirus," Schumer wrote.
Liability protection, he said, will bypass the laws of all "50 states and grant legal immunity to negligent corporations, nursing homes and others that fail to take reasonable steps to avoid spreading the virus."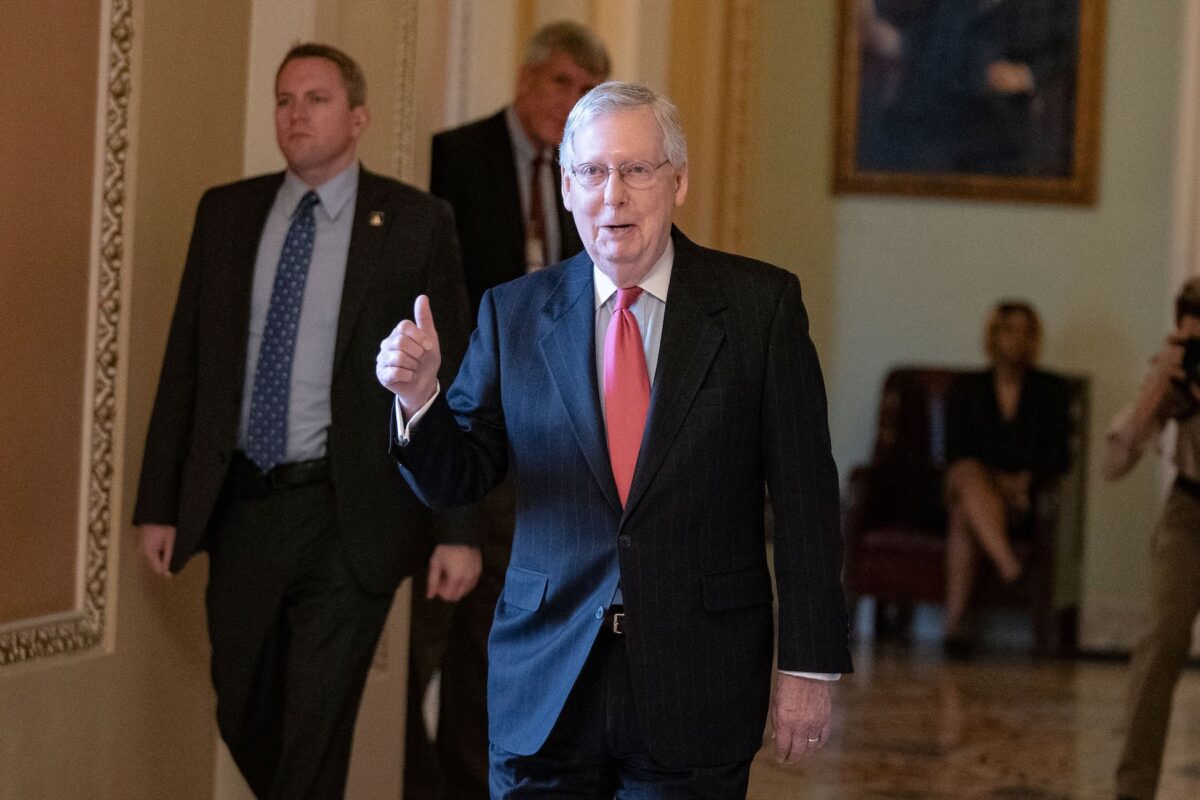 Later on, the Senate leader called on his colleagues to stay vigilant against the GOP measure until President Donald Trump and McConnell agree to a number of Democratic proposals outlined in the HEROES Act, which was passed by House Democrats in May. Republicans have said the bill contains too many measures that aren't related to the COVID-19 pandemic such as providing money for wildlife and banking for cannabis companies, while saying that its cost—more than $3 trillion—is too high.
"The word 'cannabis' appears in this bill 68 times. More times than the word 'job' and four times as many as the word 'hire,'" McConnell said in May in criticism of the bill. "The House gave themselves no assignments for two months except developing this proposal. Yet it still reads like the Speaker of the House pasted together random ideas from her most liberal members and slapped the word 'coronavirus' on top of it."
Previously, Schumer said that $1 trillion should be disseminated to state and local governments to combat economic losses suffered during the pandemic.
"We will stand together again if we must," Schumer wrote on July 20. "Our Democratic colleagues in the House are ready to work and we know that a bipartisan, bicameral process will result in a much better bill for the American people."
Some Republicans and White House officials also oppose extending the $600-per-week unemployment boost that is slated to expire at the end of July. They say it's creating a disincentive for some people to start looking for work.
Meanwhile, President Donald Trump has said he supports the idea of sending out more direct economic impact payments to Americans.