Senate Minority Leader Chuck Schumer (D-N.Y.) defended the shift in rhetoric from the impeachment trial of President Bill Clinton to the present day after critics hammered him over his past comments.
Schumer, 69, called for four witnesses to testify if an impeachment trial for President Donald Trump is held. But 20 years ago, he dismissed calls for witnesses, saying such calls were "political theater."
"It seems to me that no good case has been made for witnesses," Schumer said during one press conference in 1999. He told reporters several days later: "I wonder if the House managers aren't a little more interested in political theater than in actually getting to the bottom of the facts."
Pressed on the change in tune during a press conference on Dec. 16, Schumer said: "Here is what I said at the time. These are exactly my words: 'My view is we heard from most of these witnesses over and over again. We've heard the same story.'"

"The witnesses in '99 had already given grand jury testimony and we knew what they were to say. The four witnesses we saw have not been heard from and that is the difference and it's a difference that is totally overwhelming," he added.
Schumer wrote to Senate Majority Leader Mitch McConnell (R-Ky.) over the weekend, telling him he hopes to call four witnesses, including acting White House Chief of Staff Mick Mulvaney, if the House votes to impeach Trump, triggering a Senate trial.
After a reporter noted that House Democrats could have prolonged the impeachment inquiry until a court ruled on subpoenas issued for Mulvaney and the three other witnesses Schumer wants, Schumer said: "I'm not going to second-guess the House."
"There is no virtually no good argument—if you're interested in the facts—in not having these witnesses come forward now. And remember that the standard at a trial is different than the standard when a prosecutor—in this case the House impeachment authority—puts together a case. A trial is a place for witnesses."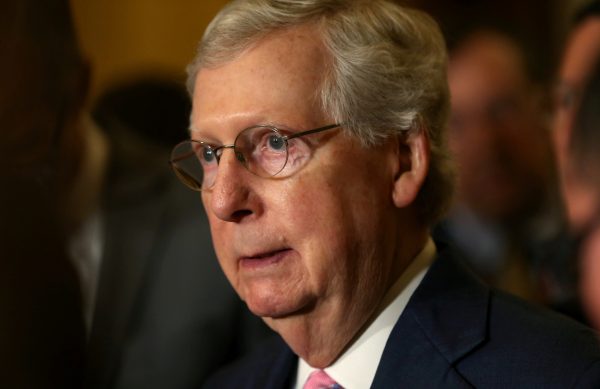 Schumer claimed that "many Republicans" have voiced concerns about what Trump allegedly did but that they're not sure if they'd vote to convict him. The GOP holds a 53-47 majority in the Senate and Trump would only be removed from office with a vote of two-thirds of Senators present at the time.
Schumer also claimed that if McConnell "doesn't hold a full and fair trial," then he would be engaging in "a cover-up." Republican Senate leaders have suggested a short trial will take place, with the possibility of zero witnesses being called.
Schumer said he prefers live testimony. Senate leaders in 1999 had "obvious reasons why they don't want a witness like Monica Lewinsky to testify in public," he said.
"Children would be watching," he said, calling it a "totally different situation."
Some Republicans derided Schumer on Monday, including Sen. John Cornyn (D-Texas).
"He should have talked to Schiff, Nadler, and Pelosi," Cornyn said in a statement, referring to House Democratic leaders, responding to Schumer's call for four witnesses.
"They dropped their demands for this testimony when it became apparent that witnesses were going to seek court guidance on competing demands. Schiff dropped the ball."