It sounds like something our grandparents might say to remind us how easy modern life is, but for the 15 children stuck living on Liang Mountain in the remote reaches of southwestern China, the 800-meter (about 2624 feet) cliff between their homes and their elementary school in a nearby community is a very real obstacle to be overcome. 
These children belong to the Atule'er village of Liangshan Prefecture in Sichuan Province, a community of 72 people from the Yi ethnic minority. Seventeen ladders made of vines and wood connect the village, isolated from the outside world by nearly vertical cliffs, with the ground far below, the state-run China Central Television reported.

Making the journey to and from school takes about three hours, but it doesn't happen every day. The children, chaperoned by parents, carry heavy packs of school and personal supplies to stay at the school for ten days at a time.
Because of the extreme difficulties involved in their transit, they are allowed a five-day rest between school stays. Travel is cancelled in the event of inclement weather.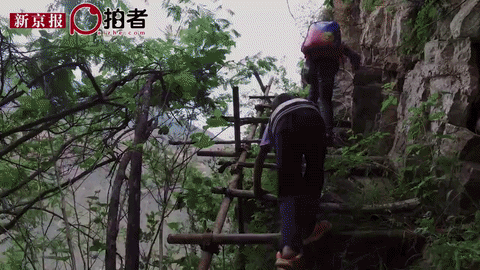 The trek can be deadly. The last death was reported April 27, when a villager fell off the cliff. According to the villager's Party secretary, Apijiti, he has known about ten people who died this way. He himself had a close call on his first visit to the village, but was saved by a local who grabbed his shoulder.
Villagers have tried other, safer methods of traversing the cliffs, but in the end found themselves limited by their poverty. A cable car was built and soon disassembled after just a few months of use because the village could not afford electricity to run it. The cost of a safe new road would also be prohibitive– about 40 million yuan ($6.3 million).
Internet users on several Chinese internet platforms commenting on the sorry state of the ethnic minority village in Liangshan criticized the massive gap in wealth between different economic classes in China.

"All the money has gone to impress foreigners," one comment reads. "Look at your own people, who are so poor, but no one comes out to say anything. My motherland, how can I love you like this?"
Said another: "We report these poverty-related issues year after year, but they never get solved. Students in the city enjoy a far better life, but are still expending tons of money for yet more improvements. Is it really healthy for us to have such a huge gap between rich and poor?"
Others criticized the aid China gives to foreign countries as a means of impressing or pressuring them: "this hardship doesn't count, people in North Korea and southern Africa are waiting for our help."
One user made a direct accusation: "Arrest a couple corrupt officials in Sichuan, then you'll have [the money needed to build the road.]"
People in Liangshan's 1,600 villages have been especially poverty-stricken in recent years due to erosion that has destroyed much of their harvest. Relocation is impractical due to the lack of available land nearby, so many have been deserting the region altogether.