School Shooting Video Game Sparks Outrage (+Photo)
March 25, 2013 10:58 pm Last Updated: July 18, 2015 5:21 pm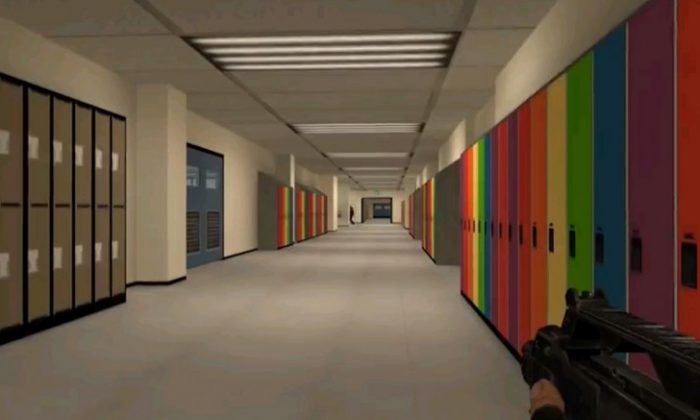 The producers of a "Counter-Strike" map have been the target of condemnation after creating a map that replicates the inside of a high school near Vancouver, Canada.
CBC reports that the map of Port Moody Secondary School was made in "Counter-Strike," a popular first-person shooter in which players shoot at one another with automatic rifles and pistols.  
Port Moody school officials were alarmed after a video of the map was posted on YouTube, especially in the wake of deadly school shootings like the one last December at Sandy Hook Elementary School in Newtown, Conn.
"I love that school," Port Moody physical education teacher Alex Devlin told CBC. "We have amazing students, we have a wonderful caring staff."
In a video posted last week, the player is moving through the facility and shooting at terrorists. There are no students, teachers, or any other civilians on the level.
Devlin added, "The distinguishing thing about our school is the rainbow-coloured lockers … it makes you feel good. And to see that violence that same senseless violence in our hallway, our rainbow-coloured hallway, it was devastating."
Port Moody Police Department said the map is "ill-conceived" but is not a crime.
A student at the school, who wished to speak on condition of anonymity, told the broadcaster that he helped make the map.
"There are no students being killed. The gameplay is the same as all counter strike games, where you have two teams fighting against each other, much like most other shooters which use public settings as game environments," he said, adding that "let us start by saying Port Moody Secondary is a great school."
He said there is also no malicious intent behind the map.
Aarman Rahim, a graduate of the school, said that he provided maps to the map's creator, reported the Globe and Mail.
"Why Port Moody Secondary? In high school, a close but large group of friends passed time playing the stock maps of Counter-Strike," Rahim told the paper. "Following graduation, the developer thought it would be nice to play a game many bonded over, in an environment everyone was familiar with. There is no ill intent; this is simply a game all alumni and peers could associate with."
Rahim also said that the map took thousands of hours to create and was in production before the Sandy Hook massacre that left 26 people dead.