A Georgia school planned to drop using the Pledge of Allegiance and replaced it with a school chant, but it later backtracked, it said in a statement, while citing "miscommunication."
Atlanta Neighborhood Charter School said Aug. 9 the school would do away with the pledge in favor of the "Wolf Pack Chant."
"Students will continue to lead the meeting by asking our community to stand to participate in our Wolf Pack Chant together. Students will also be given the opportunity to say the pledge at another point during the school day within their classroom," the school's elementary campus president, Lara Zelski, said in a statement, according to Fox News on Aug. 9. Her statement was deleted from the school's website.
In another, later statement on Aug. 9, the school said it had reversed course, saying it "will continue to provide students with an opportunity to recite the Pledge of Allegiance each school day."
"However, it appears there was some miscommunication and inconsistency in the rollout. Starting next week, we will return to our original format and provide our students with the opportunity to recite the pledge during the all-school morning meeting," the statement said.
"We support our students in their growth and see it as our duty as educators to respect their First Amendment rights," the statement said.
Superintendent Morcease J. Beasley of Clayton County told the Atlanta Journal-Constitution: "Students are offered the opportunity to participate in the Pledge of Allegiance. If they choose to participate or not is their individual and constitutional right and the reason the flag of the United States of America exists. Anything that removes their right to choose to participate as their conscience dictates, in my opinion, is un-American and immoral."
After news broke that the pledge would be scrapped, the school received heavy criticism on social media.
Georgia House Speaker David Ralston, a Republican, criticized the move. "I'm sure our House Education Committee will examine whether taxpayer funds should be used to instill such a divisive ideology in our students," he said, according to the Atlanta Journal-Constitution.
Georgia gubernatorial candidate Brian Kemp, a Republican, also pilloried the school. "There's no question about it. Reciting the Pledge of Allegiance is the right thing to do. At school, students should stand united to honor the flag, our country, and those who have sacrificed for our freedom," he wrote on Twitter.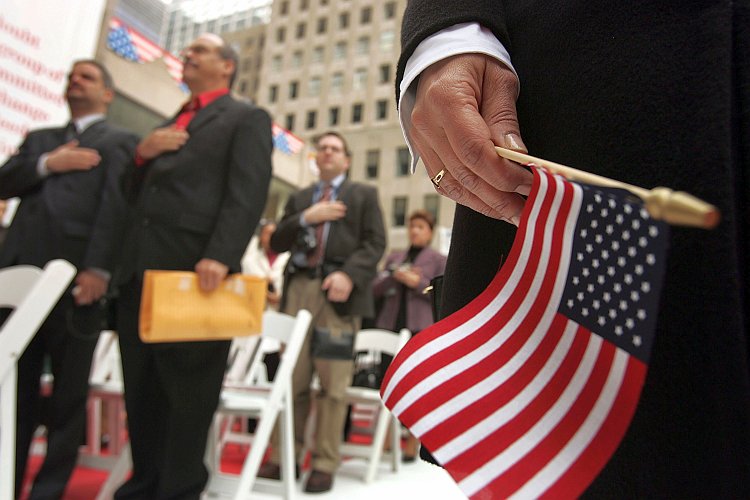 Origin of the Pledge
The Pledge of Allegiance was first introduced in 1892 by the socialist minister Francis Bellamy. However, the lyrics were altered in 1923, and the words, "the Flag of the United States of America" were added.
During the threat posed by the Soviet Union and other communist states in the 1950s, President Eisenhower encouraged the phrase "under God" to be added, and its included in the pledge that Americans say today, according to USHistory.org.
The Pledge of Allegiance is included in Section 4 of the U.S. Flag Code.
Last month, a Connecticut official was heavily criticized after she was captured on video kneeling during the Pledge of Allegiance during a meeting. Melissa Schlag, a Democratic selectwoman from Haddam, Connecticut, took a knee during a Board of Selectmen meeting on July 16, which was caught on video.
At the time, Republican Tim Herbst, the former mayor of Trumbull running for governor of Connecticut, tweeted that she "must resign immediately! It should be the basic responsibility of any public official to respect the Flag. Haddam and Connecticut deserve better leadership!"