Scholars Acclaim Gao Zhisheng for His Inspirational Courage
April 12, 2010 4:15 am Last Updated: October 1, 2015 8:24 pm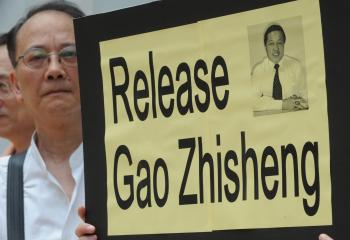 Scholars throughout China expressed their admiration and unwavering support for Gao Zhisheng, when interviewed by The Epoch times. They spoke of his courage in standing up for Falun Gong, of the impact his sacrifice and selfless actions have had, and of their confidence that his legacy will continue to inspire others.
Chinese human rights crusader Gao had been missing for over a year when he resurfaced in an exclusive interview with the Associated Press on April 8. At that time he stated he would no longer criticize the government. He is hoping he will be allowed to reunite with his family who had secretly fled China in early 2009 to escape incessant harassment by authorities.
Sun Wenguang, a retired professor at Shandong University, said people were excitedly spreading the news that Gao has survived his ordeal. He described him as "a very noble man," and hopes his freedom is soon restored.
Ai Xiaoming, a professor at Guangzhou's Sun Yat-sen University, said the news that Gao is still alive came as a relief.
She commented on his photo which was published by the Associated Press. "It hurt me to see the recent photo. His face and eyes are very different from what they used to be, which says a lot about the physical and mental torture he has suffered. If we cannot manage to put an end to the on-going violence and torture, perhaps one day all of us will wear a similar expression", she added.
Wang Zang is an independent scholar and poet from Guizhou Province. "What Gao has been through is cruelty beyond our imagination. It is distressing and painful to even read about it," he said.
In early 2009, Gao Zhisheng published a letter in which he recounted in great detail the tortures he experienced after being kidnapped by the communist authorities in 2007. He disappeared shortly after releasing the information.
"The Chinese Communist Party (CCP) has been doing its utmost to eradicate those who speak up for Falun Gong by devastating them mentally and spiritually," Wang said.
Enormous impact
Professor Sun Wenguang considers Gao's achievements truly remarkable. "Gao Zhisheng spoke up for Falun Gong and called for an investigation. For that, he was detained and tortured. However, he persisted and even made public what he had suffered, which lead to even greater persecution. What he has done is truly brave—something no ordinary person could ever accomplish."
Wang Zang spoke of the significance of Gao Zhisheng—a someone who had been recognized as one of the "Ten Outstanding Lawyers of China"—standing up for Falun Gong. "Under Gao Zhisheng's influence, many lawyers began to defend Falun Gong practitioners. In a sense, Gao has exerted his influence not only on the legal profession, but also on the democratic movement of China as a whole. I think he has had an enormous impact."
"The fact that Gao Zhisheng did such great things, that he stood and spoke for Falun Gong, shows he must have a noble soul. Without that, it would be impossible for one to accomplish so much," Wang said.
Wang added, "Gao has given strength to many, has lit up the hearts of many victims with warmth and courage, and has kept their hope alive. The significance of all this eclipses the slander and attacks against him. Light will penetrate the clouds, and no slander can obscure it."
Beijing scholar Fan Yafeng also spoke of his deep respect for Gao Zhisheng and the enormous contributions he has made to China's human rights movement in the past few years. He acknowledged the huge sacrifice that both Gao and his family have made. Because of Gao Zhisheng, he said, more influential people will step forward, ultimately turning China into a country with less violence and suffering.
Read the original Chinese article