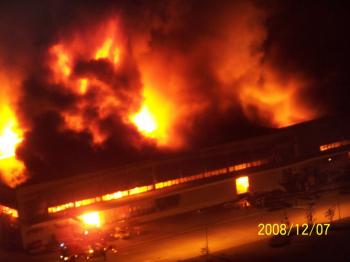 A massive fire broke out at 6:27 p.m. on December 7 in a warehouse belonging to French enterprise Schneider Shanghai Electrical Apparatus Co. Ltd. About 5,000 square meters of the 8,000 square-meter warehouse located in the Putuo district of Shanghai was destroyed in the blaze.
A huge mushroom cloud of smoke in the sky could be seen from a far distance and the smell of the fire extended as far as several kilometers away. The estimated loss exceeds over 100 million yuan (US$ 14.55 million).
The fire broke out around the same time Chinese media broadcasted reports about the French president's visit with the Dalai Lama.
French president Nicolas Sarkozy had finished a brief meeting with the Dalai Lama in Gdansk, Poland on December 6, making him the first rotating EU president in the history of European Union who has met with the leader of the Tibetan government in exile.
China's foreign ministry spokesman blasted Sarkozy's decision to meet with the Dalai Lama. The Chinese regime also cancelled the EU-China summit that was scheduled in Lyon on December 1.
Chinese bloggers have again instigated and launched an anti-French petition and called for a boycott of French merchandise.
So far no connection has been found between the anti-French campaign and the fire incident.
A witness by the name of Mr. Zhang said that people near the fire scene could see clearly the flame dancing wildly in the night, and that people who were one kilometer away could feel the heat distinctively.
One businessman who used to do business with Schneider Electric said that usually there were not many people in the warehouse, and that they implement strict regulation and measures in wire connection and smoking.
To date, no injuries or fatalities have been reported. Schneider Electric have not released any information about the fire. The starting location of the fire is still unknown. The cause of the fire is under investigation.
Read the original article in Chinese