House Intelligence Chairman Adam Schiff (D-Calif.) warned GOP lawmakers that anyone who unmasks the alleged impeachment whistleblower during public hearings could face a House ethics investigation.
The first public hearings are slated to start on Wednesday, Nov. 13, and will feature testimonies from former diplomat Bill Taylor and George Kent, the deputy assistant secretary of state for European and Eurasian affairs.
In a memo to the panel's members on Tuesday, Schiff wrote that "it is important to underscore that the House's impeachment inquiry, and the Committee, will not serve as venues for any Member to further the same sham investigations into the Bidens or into debunked conspiracies about 2016 U.S. election interference." His memo didn't elaborate on the "debunked conspiracies" or "sham investigations."
He also said that "any efforts by President Trump or his allies to threaten, intimidate, or retaliate against the whistleblower who courageously and lawfully raised concerns about the President's conduct" will not be facilitated.
The committee, Schiff added, "has a long, proud, and bipartisan history of protecting whistleblowers—including from efforts to threaten, intimidate, retaliate against, or undermine the confidentiality of whistleblowers."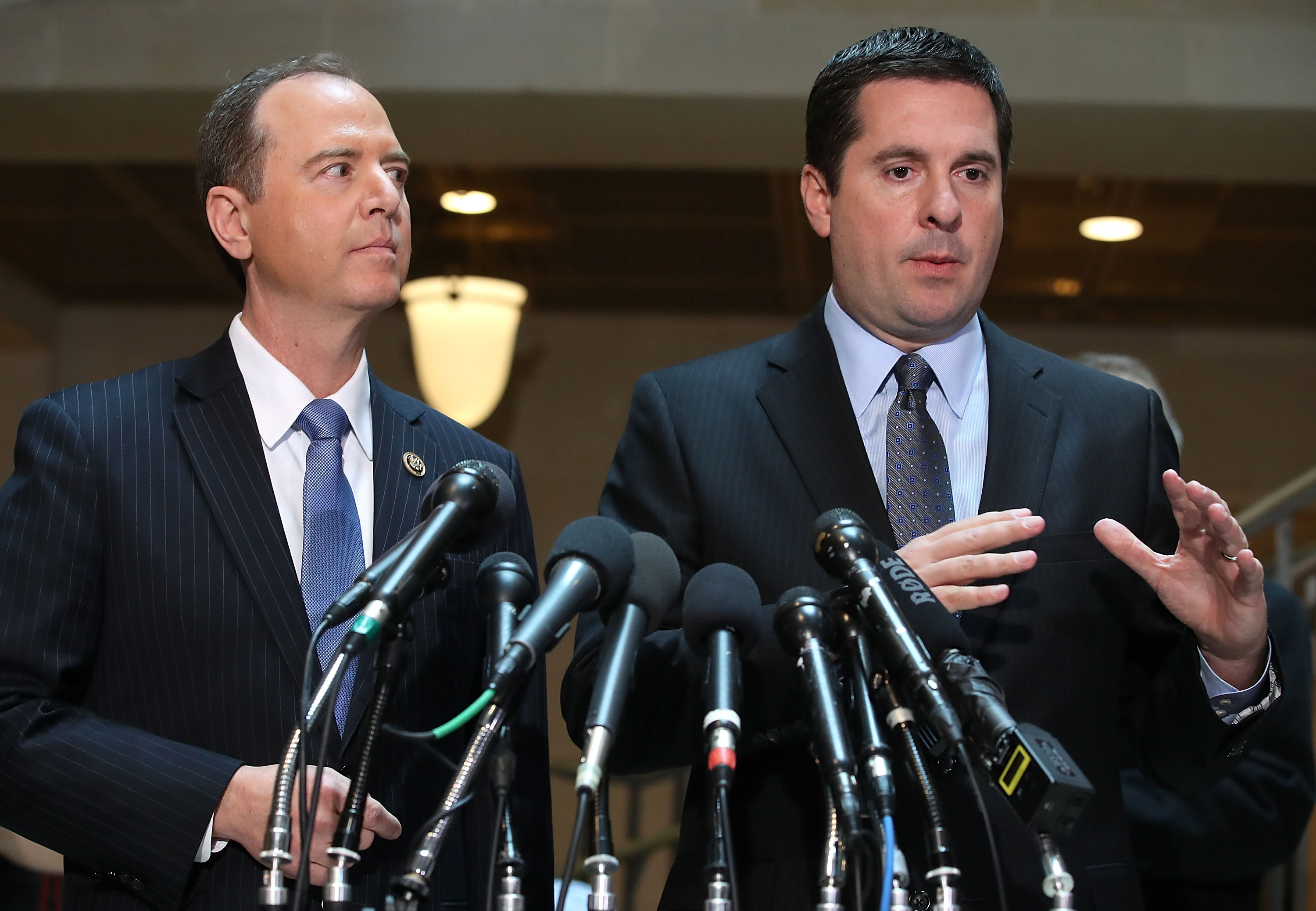 "Among other authorities, the Intelligence Authorization Act of 2010 and the Intelligence Community Whistleblower Protection Act include procedures for Intelligence Community personnel to make protected disclosures to inspectors general across the Intelligence Community and to the congressional intelligence committees. Among other things, Intelligence Community personnel are shielded from any action constituting reprisal or the threat of reprisal for making disclosures in accordance with these procedures," Schiff continued.
His letter added, "The statutory framework also prevents obstruction of lawful communications by federal employees with Congress, and of congressional proceedings. And, as mentioned above, the Code of Official Conduct for Members of Congress requires that every Member 'shall behave at all times in a manner that shall reflect creditably on the House.' The Committee on Ethics has historically viewed this provision as 'encompassing violations of law and abuses of one's official position.'"
A report in September said that a whistleblower raised concerns that President Donald Trump allegedly misused his office during the administration's dealings with Ukraine. The Democrats have said that quid pro quo existed when Trump asked Ukraine President Volodymyr Zelensky to look into the business dealings of former Vice President Joe Biden and son Hunter Biden, who sat on the board of a Ukrainian energy company when his father was in office.
Trump has denied the allegations and said the impeachment inquiry is a witch hunt.
Republicans have stated that the whistleblower should be unmasked as it could reveal any potential biases he had against the president.