DUBAI, United Arab Emirates—Saudi Arabia appointed its first female ambassador early Feb. 24 to serve as its top diplomat in the United States, pulling a son of King Salman back to the kingdom to serve as deputy defense minister.
Princess Reema bint Bandar Al Saud, a daughter of the kingdom's longtime ambassador to Washington Bandar bin Sultan Al Saud, replaces Prince Khalid bin Salman Al Saud, a son of King Salman and a former fighter pilot.
Princess Reema, who studied in America and is known in the kingdom for her philanthropic work, lived in the U.S. during her father's over 20 years as the Saudi ambassador there. Her father also served as the head of the country's intelligence service.
"I will work with God's permission to serve my country, its leaders, and all its children and I will spare no effort to that end," Princess Reema wrote on Twitter after her appointment.
Prince Khalid returns to Riyadh as a deputy defense minister. Prince Mohammed has held the position of defense minister even after becoming the next in line to the throne of the oil-rich kingdom.
With the ascent to power of young Crown Prince Mohammad bin Salman, the deeply conservative Islamic kingdom has seen an expansion in women's rights including a decision to allow women to attend mixed public sporting event and the right to drive cars.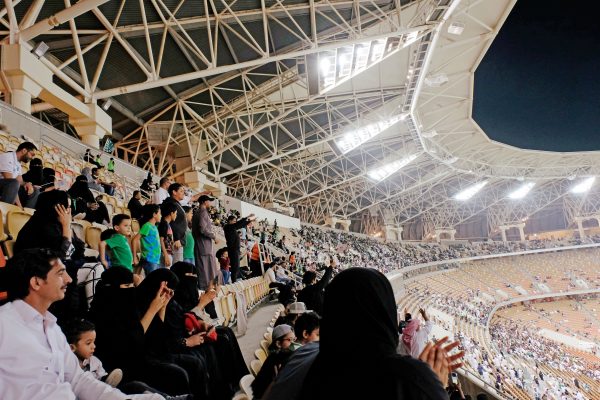 In March last year, Crown Prince Salman declared that women could decide whether or not wear a headcover or the black abaya—the loose-fitting, full-length robes symbolic of Islamic piety—as long as their attire is "decent and respectful."
Much of the kingdom's overwhelmingly young population supports Prince Salman's reforms, but many Saudis fear their speed could provoke a backlash from the extremists who infiltrated positions of power in 1979.
There has been significant mention of negative sentiments towards the crown prince by legacy media, many of which in their reports have squarely implicated him for last year's disappearance and supposed murder of journalist Jamal Khashoggi.
As the diplomatic disaster unfolded, reporters chose not to identify one of their main sources as they launched into reports that prominent companies were boycotting Saudi Arabia's upcoming investment conference. Many opinion pieces said that based on moral grounds, relations between Western allies and the kingdom would be forever changed after the Khashoggi incident.
Eventually, it was reported that the media's main source for inside information on the alleged Saudi involvement in the Khashoggi case had been Khaled Saffuri. Saffuri has purported ties to both al-Qaeda and Hamas and is a well-known associate of Abdurahman Alamoudi, who was part of an extensive al-Qaeda/Libyan plot to assassinate then-Crown Prince Abdullah.
"This is looking increasingly like an attempt at smearing the Saudis, bin Salman, and Trump, likely in the hope of getting the arms deal between the United States and Saudi Arabia called off," wrote Epoch Times columnist Brian Cates.
In 2017, the crown prince also provoked unease in an anti-corruption purge, when scores of royals and top businessmen were detained at the Ritz-Carlton Hotel in Riyadh. Most were freed after reaching settlements with the government.
Reuters and The Epoch Times staff contributed to this report.
Watch Next:
Saudi Arabia's 'Red Prince' & the Subversion of the West
There is more to Saudi Arabia than meets the eye, and a recent purge of Saudi princes and powerful leaders may have cleaned up a network of corruption that had grown forms of control and influence into the West.