Twitter has locked a satire website's account on the social media platform because it posted an article describing a Biden administration health official as its "Man of the Year."
According to a notice sent to The Babylon Bee, which has 1.3 million followers, the post violated Twitter's rules against "hateful conduct."
The rules mean that "you may not promote violence against, threaten, or harass other people on the basis of race, ethnicity, national origin, sexual orientation, gender, gender identity, religious affiliation, age, disability, or serious disease," according to Twitter.
The post that prompted the action directed people to an article stating that the Bee's "Man of the Year" is Dr. Rachel Levine, the assistant secretary for health at the Department of Health and Human Services.
Levine was born a male under the name Richard Levine.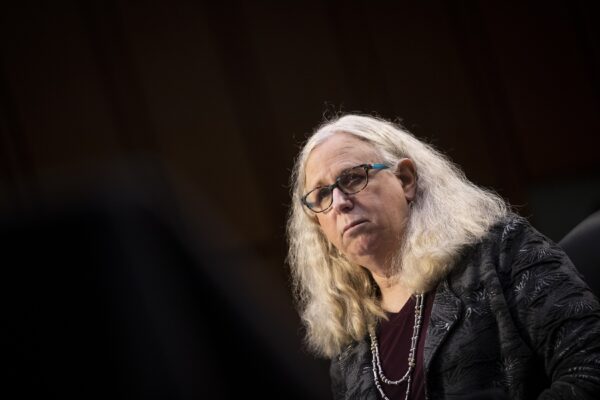 "Levine is the U.S. assistant secretary for health for the U.S. Department of Health and Human Services, where he serves proudly as the first man in that position to dress like a western cultural stereotype of a woman," the article reads. "Rachel's message is to 'be true to yourself,' and we couldn't agree more. This man is breaking barriers and showing us all the true meaning of courage."
The Bee stated that it had been alerted after publication that Levine identifies as a woman, but it wasn't rescinding the award because "his self-identification has no bearing on the truth."
The Bee describes itself as the world's best satire website.
Twitter, which didn't respond to a request for comment, told the Bee that it wouldn't restore its account unless it deleted the post that it said violated its rules against hateful conduct.
Bee CEO Seth Dillon said the company won't delete the post.
"Twitter could, of course, delete the tweet themselves. But they won't. It's not enough for them to just wipe it out. They want us to bend the knee and admit that we engaged in hateful conduct. We won't be doing that," Dillon told The Epoch Times in an email.
He encouraged people to join the Bee's email list and subscribe.
Levine's office didn't respond to a query.
Levine's past support for children receiving puberty blocks and genital surgery drew opposition following President Joe Biden's nomination of the doctor to a top health post. Several senators questioned Levine on the stances, but Levine refused to answer during the Senate confirmation hearing.
Levine was confirmed 52–48 in March 2021. All Democratic senators voted for Levine. They were joined by Sens. Susan Collins (R-Maine) and Lisa Murkowski (R-Alaska).
Biden celebrated the fact that Levine was the first Senate-confirmed official to be openly transgender.