I'm probably the last person who should be promoting a mantra of balance and harmony.
"Bigger, stronger, faster, better" has pulsed through my veins since I was a kid. But one Italian gentleman showed me the virtues of "less is more," and the heartwarming beauty of subtlety.
Tommaso Melani was born in Florence, the birthplace of the golden ratio, an aesthetic and philosophy that still permeates every facet of life, from Florentine values to architecture to couture.
"Florence has been an example of harmony and balance for almost 600 years," Melani says. "Starting in the Renaissance, everything happened in Florence … In the taste that has developed in Florence, keeping things harmonious is the imprinting."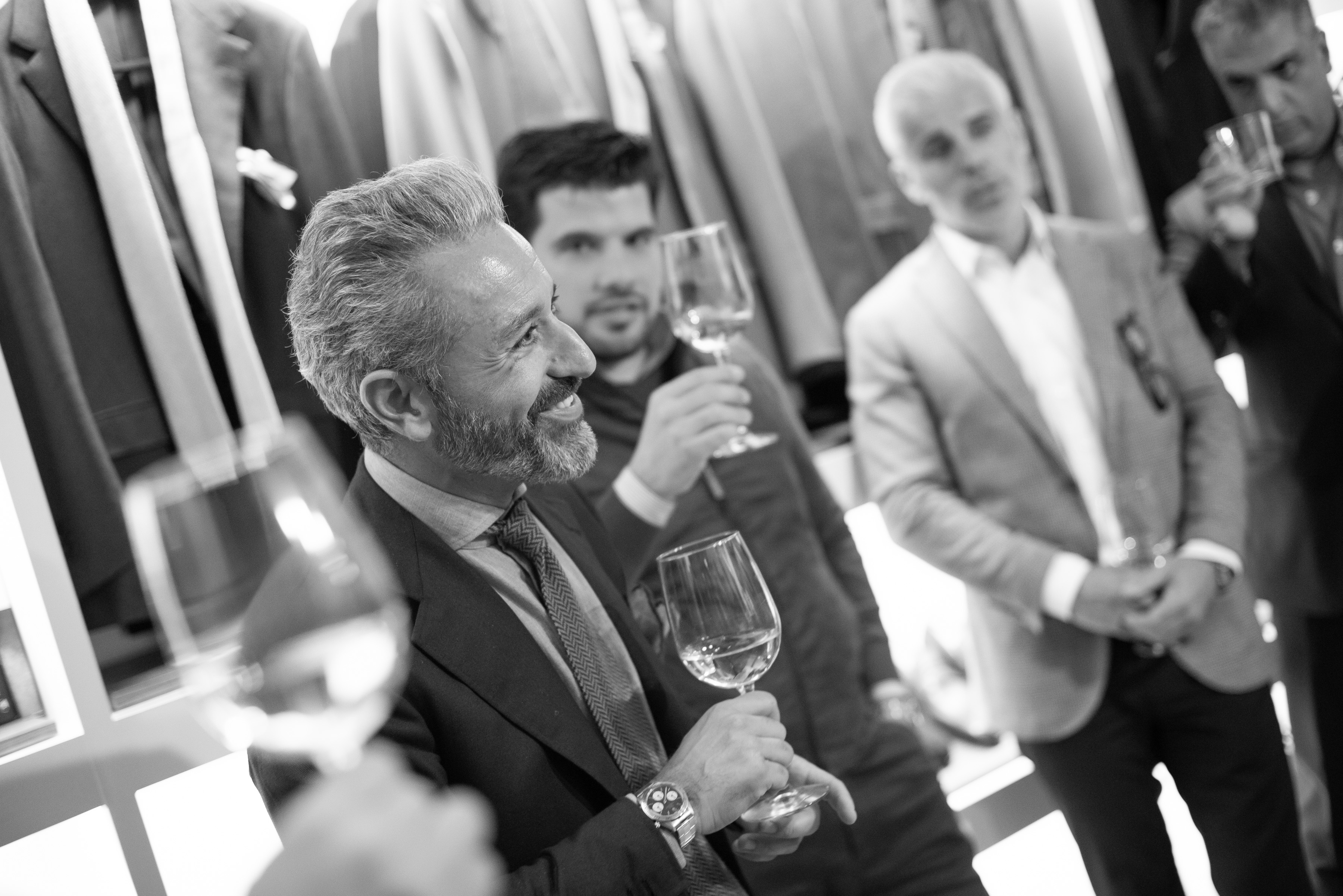 Melani is the fourth-generation owner of the luxury handbag company and leather-making school Scuola del Cuoio, situated inside the Basilica di Santa Croce, the church and burial place of some of Italy's most beloved icons, such as Michelangelo and Galileo. His grandfather founded the school and handbag company in 1949 to give World War II orphans a livelihood. That altruism and compassion is truly a different entrepreneurial starting point.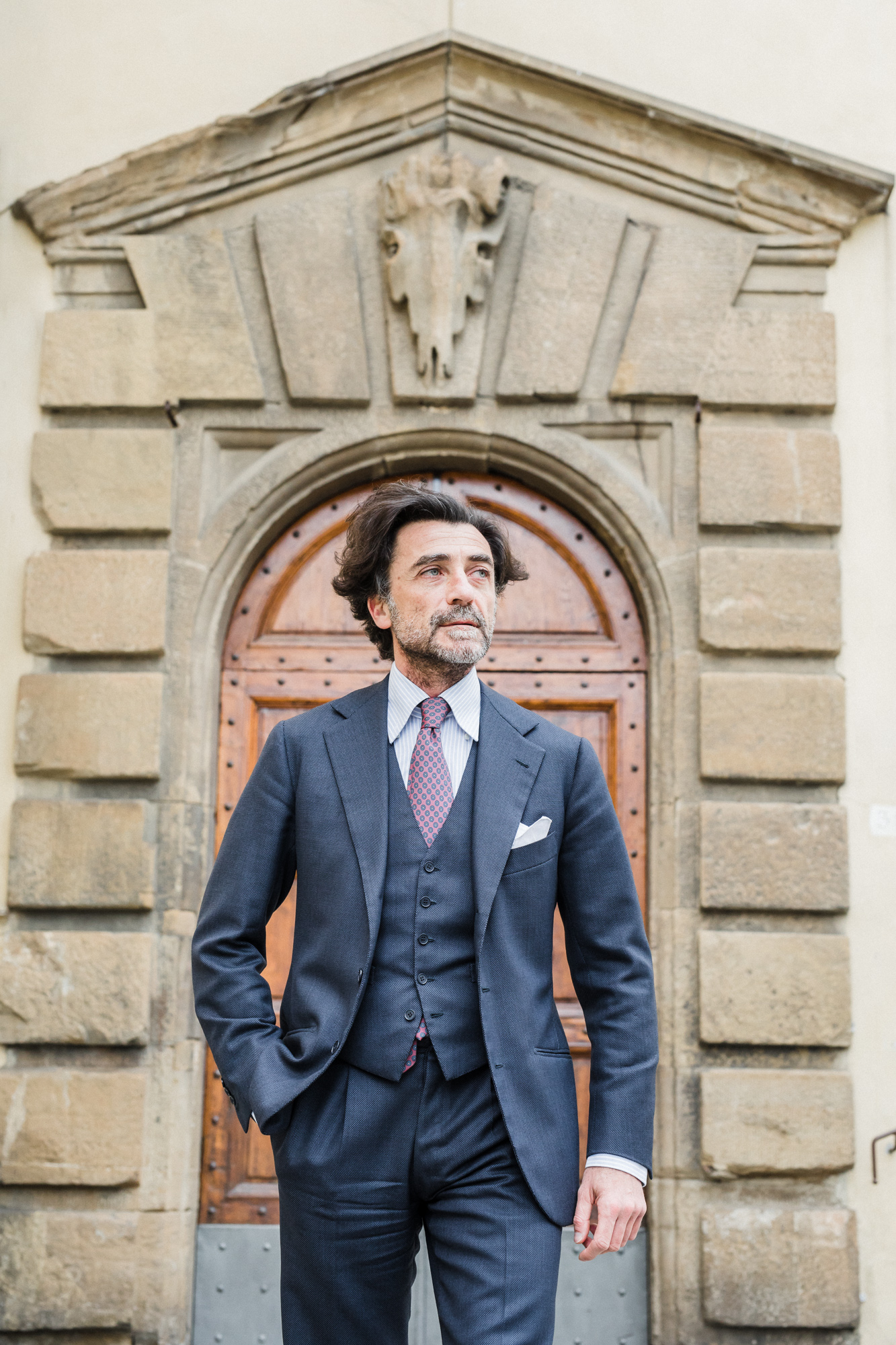 Melani's grandfather wasn't only a role model as a man and businessman, who dedicated himself to preserving his sacred Florentine heritage, he was also one of Melani's first sartorial influences.
"My grandfather was always in a sport coat or in a suit, but the kind of elegance that he would express was effortless," Melani says. In the summers, for example, for his own simple enjoyment, his grandfather would wear a white tuxedo to relax in the garden with a drink before dinner.
His grandfather's legacy and adoration for Florence, its craftsmen, and culture have lived on through the grandson. In 2012, Melani acquired the handmade shoe brand Stefano Bemer from his ailing friend and master shoemaker Stefano Bemer, in an effort to preserve authentic Florentine shoemaking.
Five years later, Melani learned that his personal tailor, Loris Vestrucci, one of the last remaining Florentine maestros, was retiring at the age of 78.
"When I heard that he was about to retire, it was such a shame," Melani says. "There was no real legacy."
The other tailors working in Florence had moved there from other regions, so none of them were trained in authentic Florentine tailoring. "They might have adopted a Florentine look and style, but they don't possess the legacy."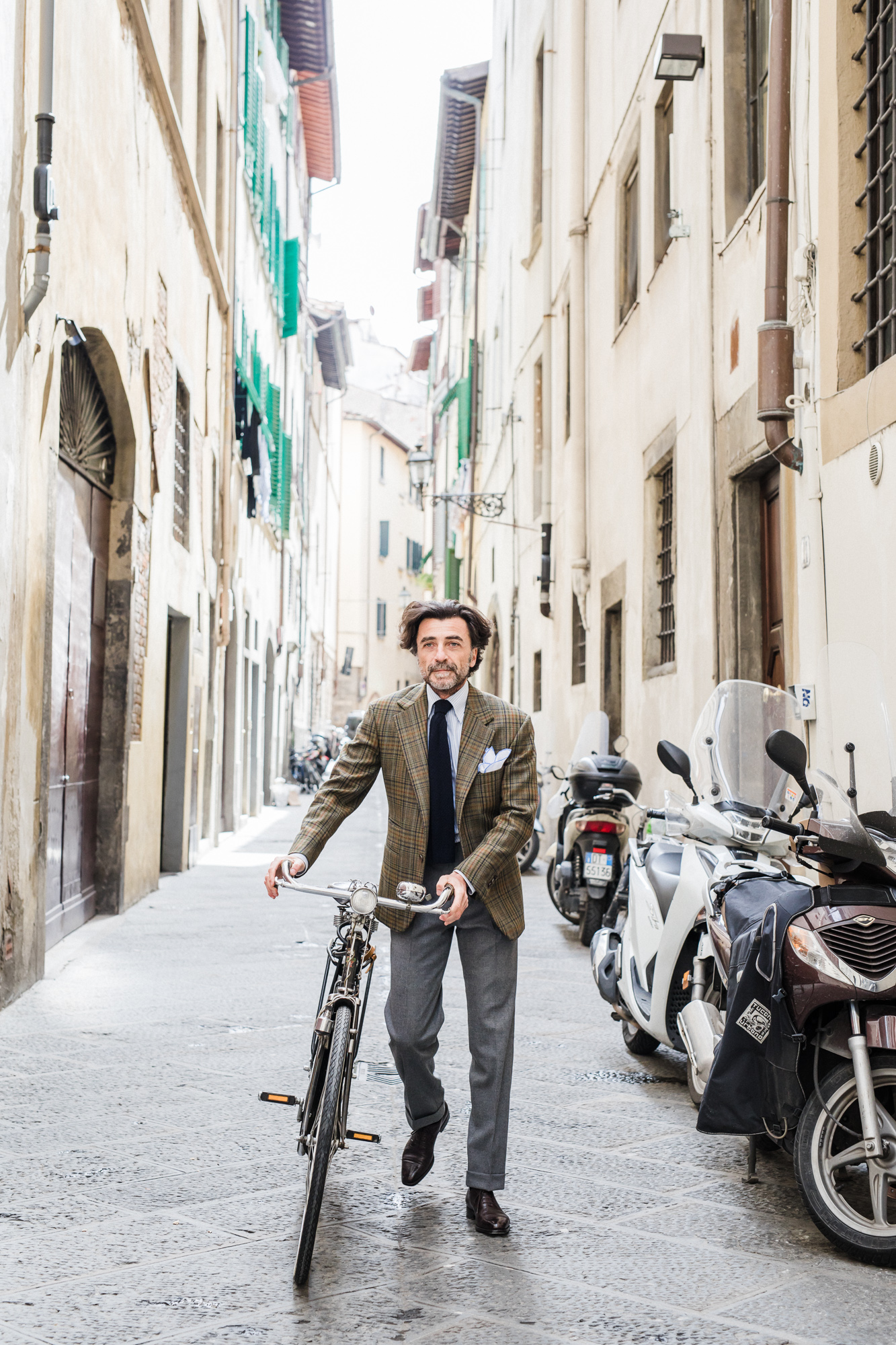 Melani emphasizes that Italian couture has many different styles, depending on the region.
"Florence is the balance between the flamboyant style of Naples, with open quarters, a very tight fit, and the unstructured spalla camicia [soft shoulder], which is fun but not elegant, and the stiffness of the Milanese tailoring, which has padded shoulders, very, very professional-looking," he says.
Melani believes that the cuts, design, craftsmanship, and trade secrets of Florentine men's couture would be lost forever unless a plan was implemented to preserve Vestrucci's know-how. Melani couldn't bear to see that happen.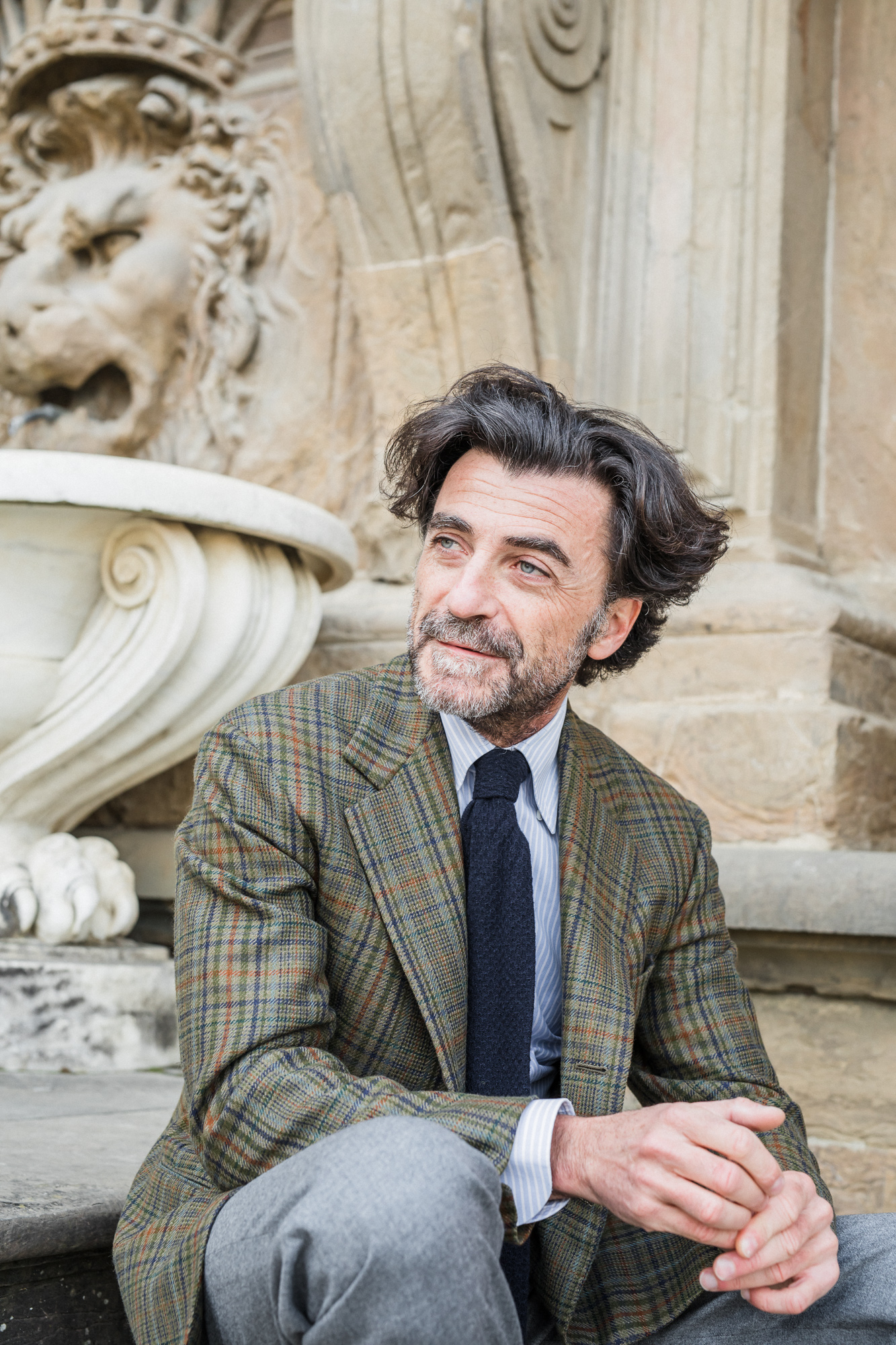 Melani asked Vestrucci, "If I give you the time, if I give you the resources, the space, the trainees, but most of all, if I relieve you from the daily stress of having to fulfill commissions for your clients, [and] you can focus on creating this quality, fit, style, construction, [and] legacy that we can use for a number of years to come when you retire, would you do it?"
"He said no a number of times, and then at the end, he said yes," Melani says. Together, they founded Sartoria Vestrucci, an authentic Florentine men's couture company.
"I did it because I really think that there is a history behind it; there's tradition; there's identity," Melani says. Like his shoe brand Stefano Bemer, "it's another very small niche brand that is never going to be scalable … But at the same time, it's a unique thing that needs to be preserved."
Melani isn't only preserving his Florentine heritage, he's protecting handmade, traditional artisanship and couture as well. He says the men's luxury market is full of fraudulent practices that have been kept hidden from the public.
For example, in men's high-end dress, such as suits above $2,000, roughly two-thirds of the clothing is made in China and Thailand. That's the case even if the brands don the "Made in Italy" label, which has meaningless standards. The garment just needs to undergo some superficial change in Italy, like sewing on buttons.
Regarding a famous Italian fashion house that does close to a half-billion in revenue annually, Melani says, "If you just do the math, either [all Italians] work for them in Italy or there's another source." Clearly, the entire Italian population doesn't work for this one brand. He also says he hears horror stories of Chinese workers getting paid almost nothing for making expensive products by these famous Italian fashion houses. 
"For me, the wealth and well-being of the craftsmen that have been with us for 35, 40, or 50 years are as important as the wealth of the company," Melani says. "Just the idea of not giving my employees more than a fair wage or not treating them like family, it's impossible."
There's also been a boom of online direct-to-customer brands, which pretend to be great quality at a bargain price. These online brands have boutique tailoring shops in New York City, where you get measured, you pick out your fabric and style, and then you order. These companies falsely give an air that you're ordering a made-to-order or bespoke quality suit for half the price. While the suits have a more tailored European look, they use the cheapest mass-production craftsmanship. The suit jackets are fused, or glued, for example, meaning the interlining is glued to the fabric; all stitching is purely ornamental.
Many problems arise from a glued suit: they're less breathable and too insulating, causing you to overheat and sweat, especially miserable in humid summers; a flat lapel is the obvious hallmark of a cheap suit, and when the interlining and fabric become unfused, they'll form ugly blisters, or wrinkles, on the lapel; lastly, they aren't comfortable, since the suit feels like thin cardboard, rather than flowing with your body as you sit or move.
Since they aren't made to last and are part of the throw-away economy, ironically, you'll end up spending more during a 10-year period throwing away cheap suits every couple of years, rather than simply buying one quality suit that will never wear out.
In contrast, with a traditional handmade suit, the interlining, or canvas, is hand-stitched to the fabric, which makes it more flexible, three-dimensional, and more flattering, as it moves with your body. Over time, a properly made suit actually begins to form to your body, so that it looks better and more comfortable, becoming like a second skin.
"We decided to put quality first," Melani says. "The reviving of craftsmanship, it is true, it's happening, and there's more and more of it."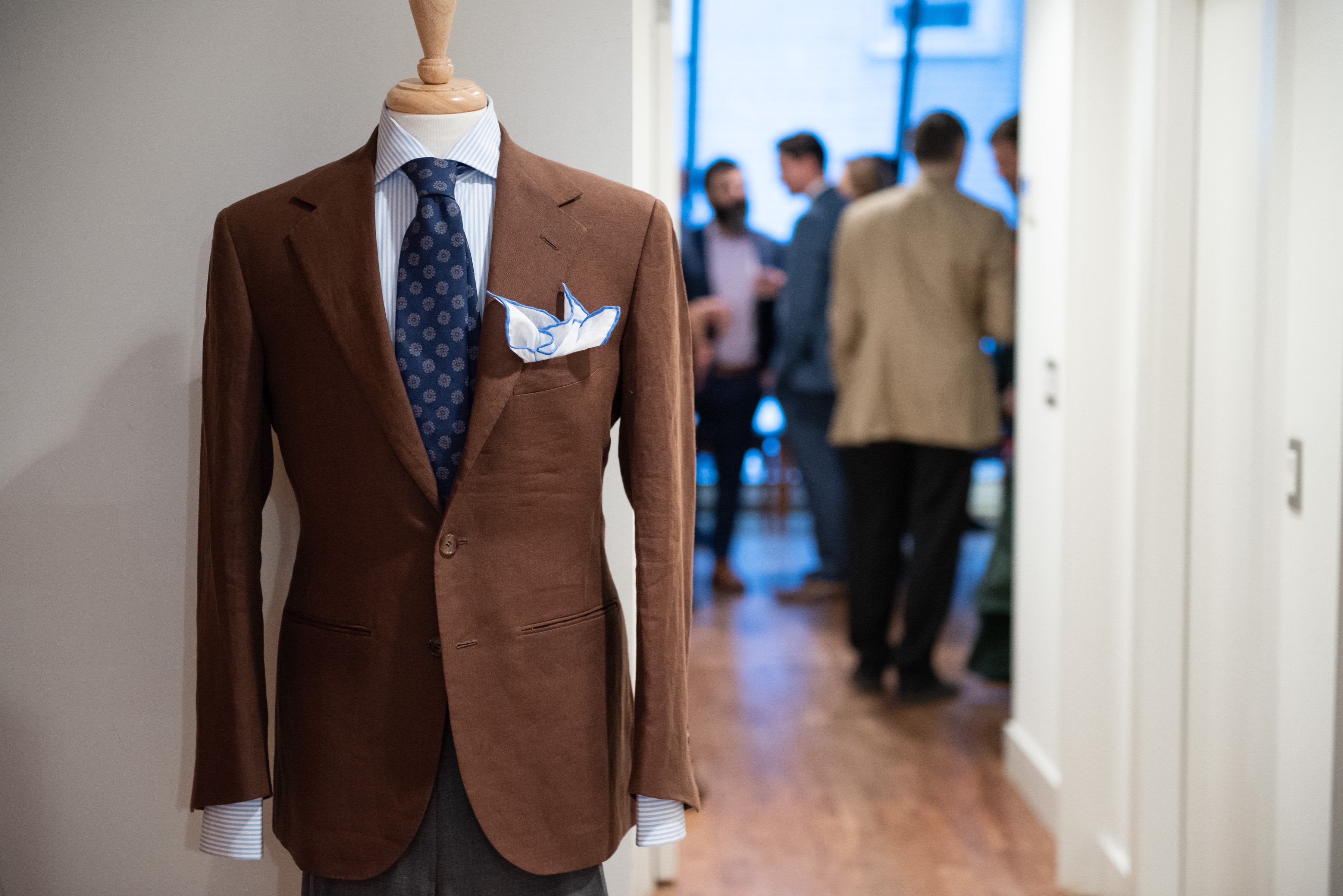 Sartoria Vestrucci offers three lines, each based on regular sizes and made by the hands of master tailors in Florence: ready-to-wear, made-to-order, and made-to-measure. Ready-to-wear garments are in stock, ready to be bought either online or in-store. Made-to-order clothing is made expressly for a client, who can choose the fabric and details of style, such as the pattern or type of buttons. Lastly, made-to-measure offers the stylistic choices of made-to-order, yet the garments can also be altered, such as shortening the sleeve length or changing the shoulder width.
Sartoria Vestrucci has doubled in sales this year at the boutique shop, inside the Stefano Bemer store in Manhattan. Melani is excited to continue passing on this Florentine style, artisanship, and tailoring tradition to the world.
"Nothing has changed in the last hundred years," Melani says of Florentine couture. "[Sartoria Vestrucci] is the attempt to deliver what Florentine gentlemen [wore, like] my grandfather."
J.H. White is an arts, culture, and men's fashion journalist living in New York.