Fox News announced on Aug. 22 that former White House Press Secretary Sarah Huckabee Sanders will join the network as a contributor.
The network said in a statement that Sanders will be providing political commentary and analysis across a number of Fox News programs and will make her debut on Fox & Friends during its next live audience show on Sept. 6.
"FOX News has been the number one news organization in the country for 17 years running and I am beyond proud to join their incredible stable of on-air contributors in providing political insights and analysis," Sanders said in the statement.
She also announced it on Twitter on Aug. 22: "Excited to join @FoxNews as a contributor, looking forward to being with the @foxandfriends team for my first hit on September 6th."
Excited to join @FoxNews as a contributor, looking forward to being with the @foxandfriends team for my first hit on September 6th. https://t.co/Jb2HCFc1aM

— Sarah Huckabee Sanders (@SarahHuckabee) August 22, 2019
Sanders, who is the daughter of former Arkansas Gov. Mike Huckabee, served as President Donald Trump's press secretary from July 2017 to June 2019. During an emotional speech following the resignation announcement, Sanders expressed appreciation for being able to serve the president and that she loved "every minute" of it.
"This has been the honor of a lifetime, the opportunity of a lifetime," Sanders said. "I couldn't be prouder to have had the opportunity to serve my country and particularly to work for this president. He has accomplished so much in these two and a half years, and it's truly been something I will treasure forever."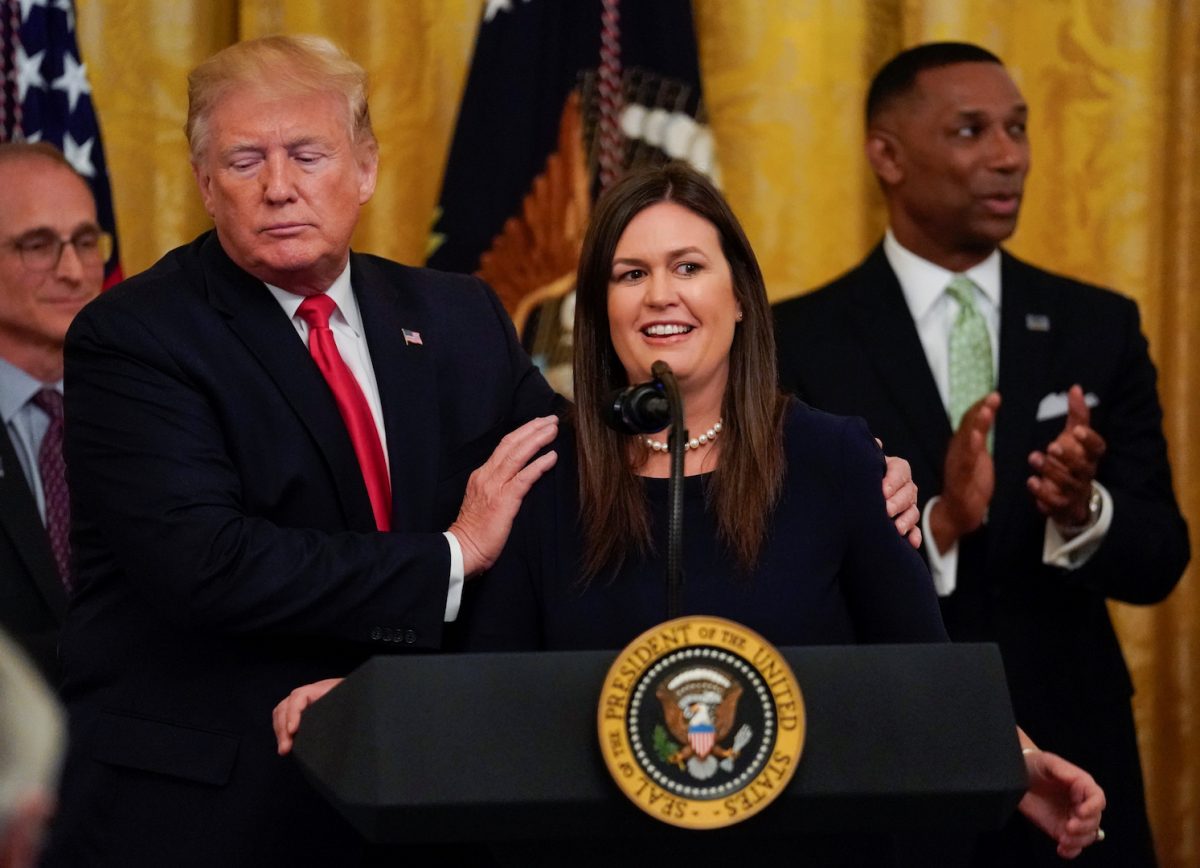 "It's one of the greatest jobs I could ever have. I've loved every minute. Even the hard minutes, I have loved it. I love the president. I love the team that I've had the opportunity to work for. The president is surrounded by some of the most incredible and most talented people you could ever imagine. And it's truly the most special experience."
Apart from returning to Arkansas, Sanders did not announce her post-White House plans, but her father told Fox's "America's Newsroom" at the time that his daughter would likely spend the next few months readjusting to life outside the nation's capitol. Prior to becoming White House press secretary, Sanders served in numerous roles for senators, governors, and presidential campaigns including as field director for her father's 2002 reelection campaign and was the national director for his 2008 presidential bid.
Sanders holds a Bachelor of Arts degree in political science from Ouachita Baptist University in Arkadelphia, according to the statement.
Sanders has taken a similar route to other former members of Trump's White House communications team. In October 2018, former White House Communications Director and Director of Strategic Communications Hope Hicks also joined Fox Corporation as the company's chief communications officer.