White House press secretary Sarah Sanders gave an emotional farewell speech on June 13 after President Donald Trump announced she'd be departing his administration.
Speaking in the East Room on Thursday evening about an initiative to help former inmates find jobs, Trump thanked Sanders for her service, calling her "a great magnificent person."
"I just saw her in the room and I really wanted to call her up. She's a special person, a very, very fine woman. She has been so great. She has such heart. She's strong but with great, great heart. And I want to thank you for an outstanding job," he added.
Sanders, who will be moving to her home state of Arkansas with her family, gave the speech after the president invited her to say a few words.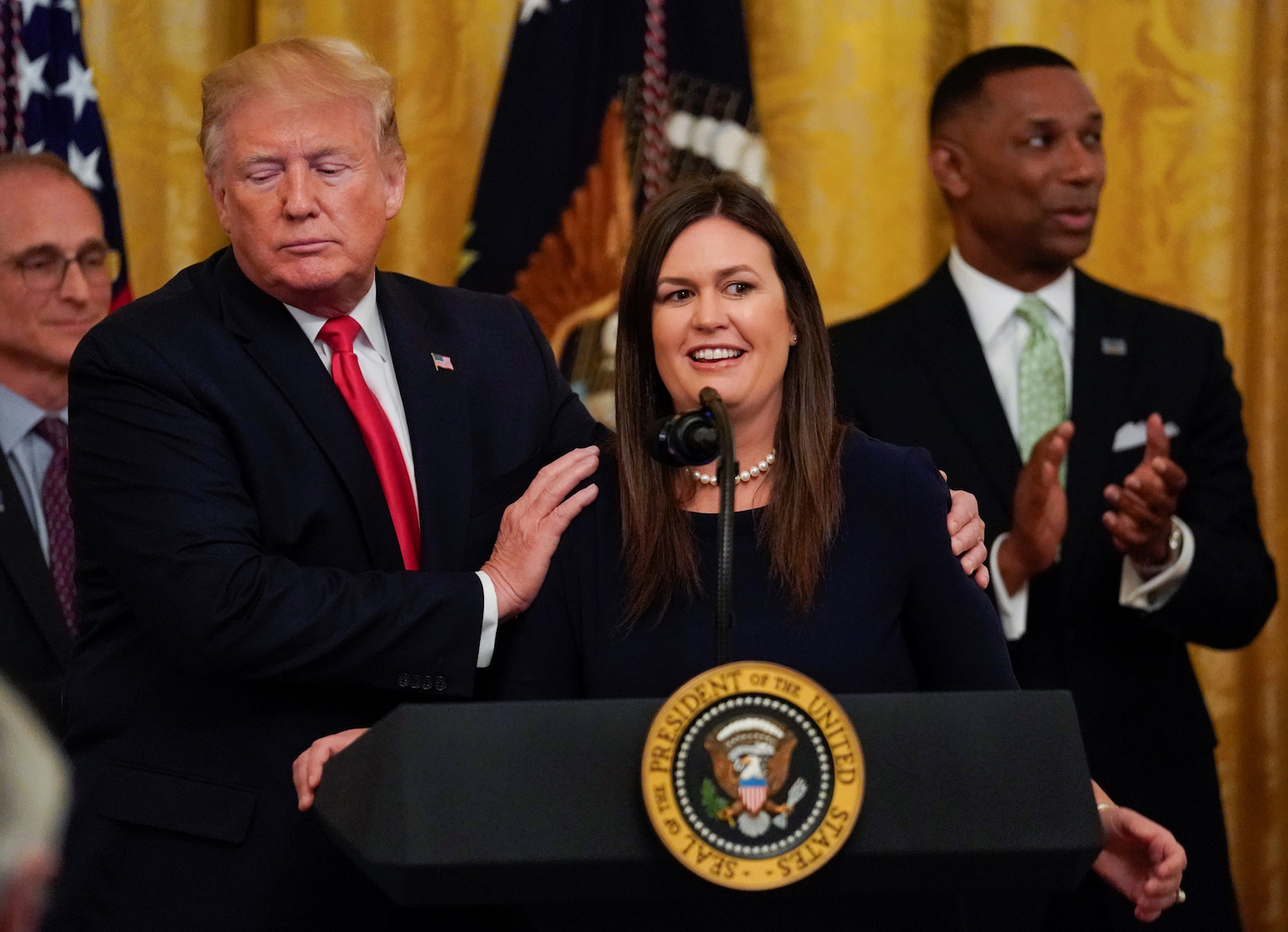 "Thank you. Thank you so much. I'll try not to get emotional because I know that crying can make us look weak sometimes, right?" Sanders said.
"This has been the honor of a lifetime, the opportunity of a lifetime. I couldn't be prouder to have had the opportunity to serve my country and particularly to work for this President. He has accomplished so much in these two and a half years, and it's truly been something I will treasure forever," she said.
"It's one of the greatest jobs I could ever have. I've loved every minute. Even the hard minutes, I have loved it. I love the President. I love the team that I've had the opportunity to work for. The President is surrounded by some of the most incredible and most talented people you could ever imagine. And it's truly the most special experience."
The only thing better than serving in the Trump administration, Sanders said, was being a mother.
I am blessed and forever grateful to @realDonaldTrump for the opportunity to serve and proud of everything he's accomplished. I love the President and my job. The most important job I'll ever have is being a mom to my kids and it's time for us to go home. Thank you Mr. President! https://t.co/wHNnq06AMg

— Sarah Sanders (@PressSec) June 13, 2019
"I have three amazing kids, and I'm going to spend a little more time with them. And, in the meantime, I'm going to continue to be one of the most outspoken and loyal supporters of the President and his agenda," she said.
"And I know he's going to have an incredible six more years and get a whole lot more done, like what we're here to celebrate today. And I don't want to take away from that. So I certainly want to get back to the tremendous thing that the people behind me have done. And thank you so much, Mr. President. It's truly an honor."
Trump then called Sanders "a warrior" and thanked her again.
Trump wrote in his announcement that Sanders should run to be governor of Arkansas, a theme he returned to on Thursday.
"I don't know … if we can get her to run for the governor of Arkansas, I think she'll do very well. And I'm trying to get her to do that," he said.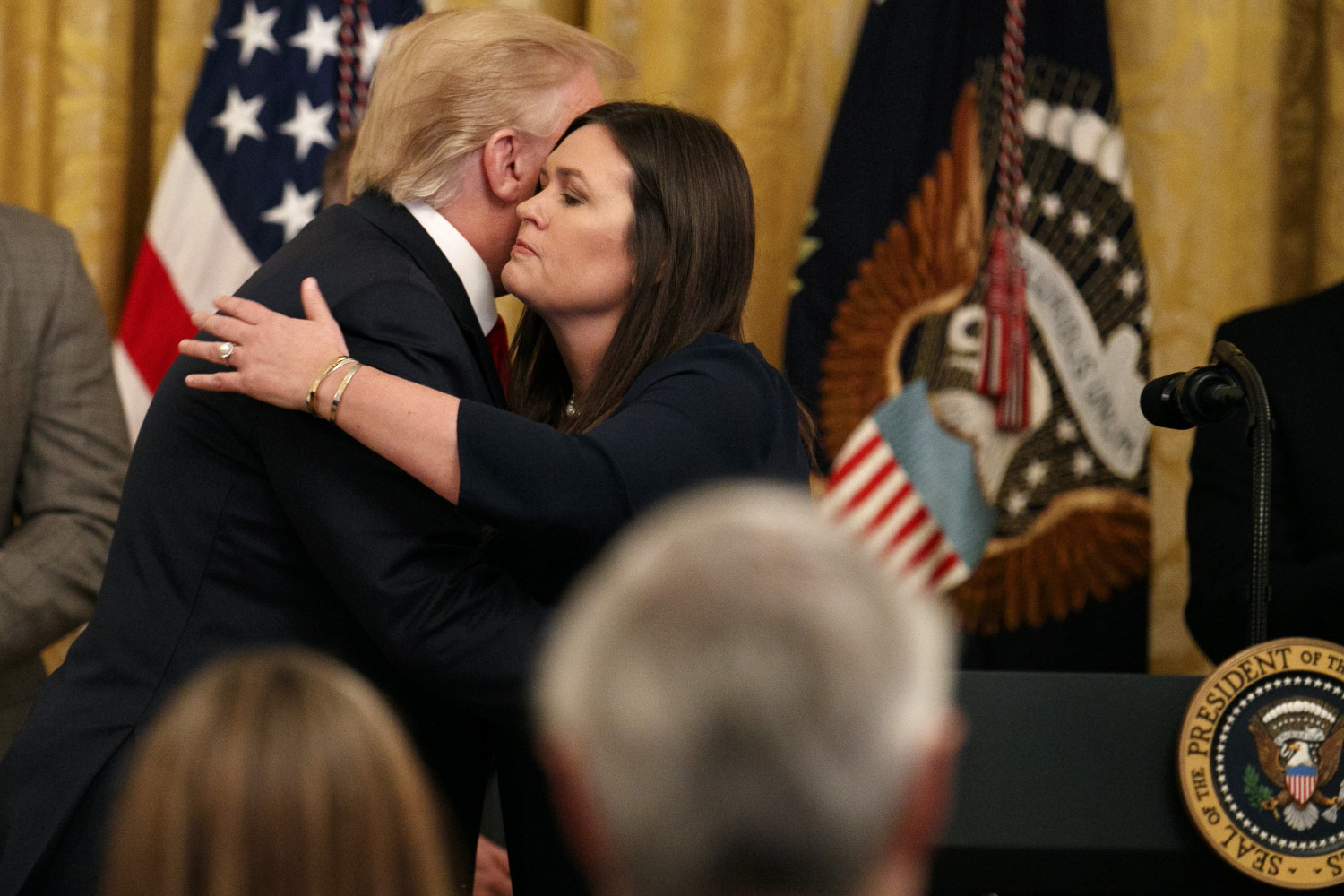 Arkansas is a heavily Republican state; its current governor is Asa Hutchinson, who was elected in 2015.
Sanders' father, Mike Huckabee, is a Trump ally who served as governor of Arkansas from 1996 to 2007.
Huckabee took to Twitter to react to the news, writing: "Well, President Donald Trump is losing press secretary Sarah Sanders, who is a great one."
"I say that with as much objectivity as Fake News CNN toward POTUS," he added.
From NTD News