Police and city officials in Santa Ana are launching a multifaceted crime-fighting initiative in response to a rise in homicides and other violent crimes.
"The increase in violent crime, unfortunately, is consistent with patterns, both in small and large cities across the country throughout 2020," Santa Ana Chief of Police David Valentin said during a March 11 press conference.
"The department remains committed to community-oriented policing and partnering with our community to address violent crime."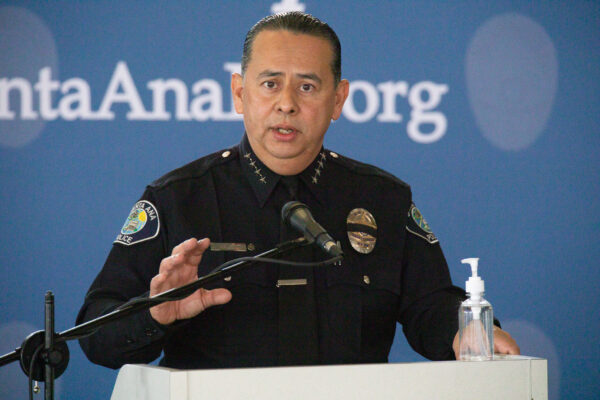 There have been eight homicides in Santa Ana so far this year, compared with one homicide during the same period last year, he said. Half of this year's slayings were gang-related, and an additional three were related to illegal gambling dens. Another death was the result of domestic violence.
Shootings are also up year-over-year, although there has been an overall decrease during the past five years.
Community First
To combat violent crimes, Santa Ana police and city officials spearheaded "Operation Community First," a policing approach that includes community engagement, investigative resources, and collaboration with code enforcement officers.
One of the initiative's top priorities will be getting illegal guns off the streets; Santa Ana police seized 71 illegal weapons during the first 70 days of the new year.
Santa Ana Mayor Vicente Sarmiento highlighted the need for transparency during a time of higher crime.
"As we address these spikes in crime, these irregular activities that we're experiencing in the city, we're going to do it in a responsible way, we're going to include the public, and we're going to include the community, and not just rely on traditional methods and conventional ways of dealing with workplace function, but really engaging with our public," Sarmiento said during the press conference.
Crime Crackdown
Crime-fighting efforts among the Santa Ana police's gang unit have led to 68 arrests, 15 seized firearms, and more than two pounds of illegal drugs.
Under-the-table gambling rings, which can be a haven for organized crime, have been a focus for police this year, the police chief said.
"[Illegal gambling dens] have forced adjacent businesses to close and tormented neighborhoods with violence, crime, and public disorder," Valentin said.
"Our police department developed a comprehensive strategy to target and address the nuisance created by these establishments. A three-pronged approach targeting customers, business operators, and property owners was utilized. To date, the city of Santa Ana has closed, via search warrant, arrests, and voluntary compliance with business owners, a total 36 of these 41 illegal establishments."
The increased enforcement on slap houses this year has resulted in 103 arrests, the seizure of two firearms, $87,111 in currency, 169 gambling machines, and a half-pound of narcotics.
Additionally, the city is developing partnerships with nonprofit organizations such as Taller San Jose, which provides job training and resources to adult offenders to reduce recidivism rates in the city.