Sandy Hook Shooting Used in PAC-Backed Campaign Mailers
September 6, 2013 12:55 pm Last Updated: September 7, 2013 10:25 am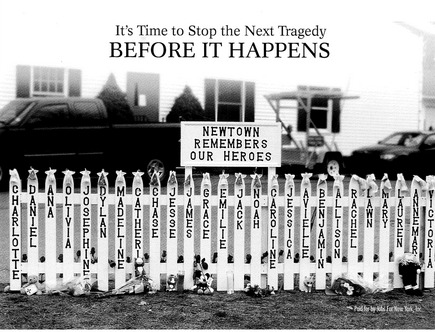 NEW YORK—Jobs for New York, the real estate industry-backed Political Action Committee (PAC), is using the Sandy Hook Elementary shooting in a campaign mailer in support of City Council candidate Paul Vallone.
The mailer, which shows a picket fence with the names of the 26 victims, claims, "It's time to stop the next tragedy before it happens."
A gunman entered Sandy Hook on December 14, 2012, killing 20 children and 6 adult staff. It is the second deadliest shooting in U.S. history.
The shooting was used as a poster case for national gun reform, however Congress failed to pass the reform measures earlier this year.
Jobs for New York, which is supported by the Real Estate Board of New York (REBNY), has spent $3.4 million supporting City Council campaigns this election cycle, as of September 4, according to Campaign Finance Board records.
Jobs for New York has spent the most money on Vallone, shelling out $217,316 in support ads, as well as $44,996 in negative ads on his opponents Austin Shafran, Chrissy Voskerichian, and Paul Graziano.
In comparison, Vallone has only spent $117,683 of his own money. The spending limit for a Council member is $168,000.
Vallone has never publicly condoned the support or any of the ads used by Jobs for New York. He has said it is out of his hands.
Candidates do not coordinate with the PACs on which ads they produce, and candidates who have publicly decried the support have not been able to stop it.
The Vallone ad is the latest in a series of inflammatory ads produced by Jobs for New York.
A Chinese language ad to re-elect current Councilwoman Sarah Gonzalez features a gun pointed at a smiling family.
Out of context quotes, as well as unflattering photos of candidates have been used in slanderous negative ads paid for by Jobs for New York.
An online Tumblr post has been set up cataloging some of the ads. Jobs for New York is within its legal right according to the landmark 2010 Supreme Court decision Citizens United.
Council member Brad Lander will be proposing legislation to bring more transparency to the ads.
Lander would like to close the "LLC loophole" which allows Limited Liability Corporations to donate at the individual maximum level ($150,000) instead of the company max ($5,000). LLCs are usually privately owned companies.
Lander is also proposing that top donors be listed on mailers, not just the name of the PAC.
A spokesperson for Jobs for New York said in an email responding to request for comment: "Gun violence is an important issue for the next Council to focus on."