Sen. Bernie Sanders (I-Vt.) told Democratic voters on Wednesday that they face a serious choice in picking between him and former Vice President Joe Biden.
"What this campaign is, I think, is increasingly about is: which side are you on," Sanders said at a press conference in Burlington in his home state.
Sanders said that his campaign is about taking on "the entire corporate establishment," including insurance, drug, and oil companies, and "the entire political establishment," which has been "working frantically to defeat us."
Biden, by contrast, is running a campaign with support from both establishments, Sanders alleged. Biden wouldn't bring about the changes needed in the country, he said.
Calling Biden "a very decent human being," Sanders added: "Joe and I have a very different voting record. Joe and I have different vision for this country. And Joe and I are running very different campaigns."
Biden will need to explain to voters why he supported free trade agreements, a Wall Street bailout, and the war in Iraq, Sanders said.
Biden hasn't spoken publicly on Wednesday. He reacted on Twitter to former New York City Mayor Michael Bloomberg quitting the race. Bloomberg endorsed Biden.
"I can't thank you enough for your support—and for your tireless work on everything from gun safety reform to climate change. This race is bigger than candidates and bigger than politics. It's about defeating Donald Trump, and with your help, we're gonna do it," Biden said in a statement.
He didn't mention Sanders, but added that Democrats "have to get [President] Trump out of the White House."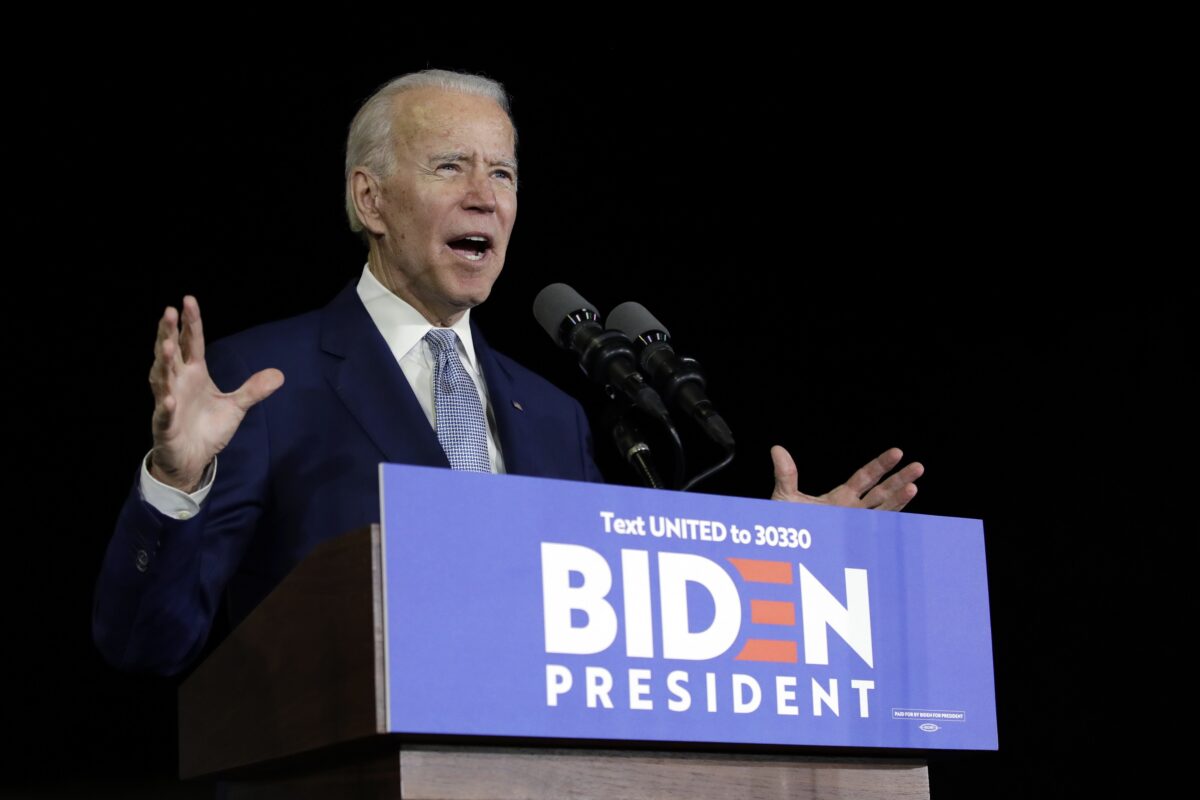 Both Biden and Sanders have posited that they are better positioned to beat Trump.
Biden and Sanders have sparred in debates over a host of issues, including healthcare. Sanders favors a government-run healthcare system, while Biden has argued for a revision to Obamacare, known as the Affordable Care Act. Sanders has repeatedly criticized Biden over his vote for the Iraq war, which Biden has said was a mistake.
Sanders made the appearance a day after Super Tuesday, when voters in 15 states and territories went to the polls in Democratic primaries and caucuses.
Sanders won four states as of Wednesday afternoon: California, Colorado, Vermont, and Virginia.
Sanders got second in the other contests, coming behind Biden, 77, who secured wins in 10 states, including Alabama, Maine, and North Carolina.
Sanders previously won Nevada, while Biden won South Carolina over the weekend.
Biden is now ahead in delegates, with 566 to Sanders' 501, according to one tracker. Sen. Elizabeth Warren (D-Mass.) trails far behind with 61 delegates.
Warren's campaign manager Roger Lau sent an email to staff members on Wednesday telling them: "We are obviously disappointed, and we are going to announce shortly that Elizabeth is talking to the team to assess the path forward."
Sanders said he spoke with Warren, adding that he wanted to give her "the time and space" to make a decision on her campaign.
Rep. Tulsi Gabbard (D-Hawaii), the only other contender left in the field, got her first delegate from American Samoa on Tuesday. The 38-year-old is staying in the race for now.
The next votes will take place on March 10 in states including Idaho, Michigan, and Washington state.