Sen. Bernie Sanders (I-Vt.), a 2020 Democratic presidential candidate, responded to critical comments made by former Secretary of State Hillary Clinton about his decades-long work in Congress.
During a Fox News town hall on Monday, Sanders was presented with a clip from moderators Bret Baier and Martha MacCallum that included Clinton's recorded comments.
"Bernie just drove me crazy," Clinton said. "He was in Congress for years. Years. He had one senator support him. Nobody likes him, nobody wants to work with him. He got nothing done."
The former first lady alleged Sanders is a "career politician" and didn't have a job until he was elected into office when he was aged 41.
"It was all just baloney and I feel so bad that, you know, people got sucked into it," she remarked.
According to Politico, Sanders graduated from the University of Chicago in 1964 and worked as an aide at a hospital, teaching preschoolers for Head Start, the Vermont Department of Taxes as a researcher, and also worked for a nonprofit.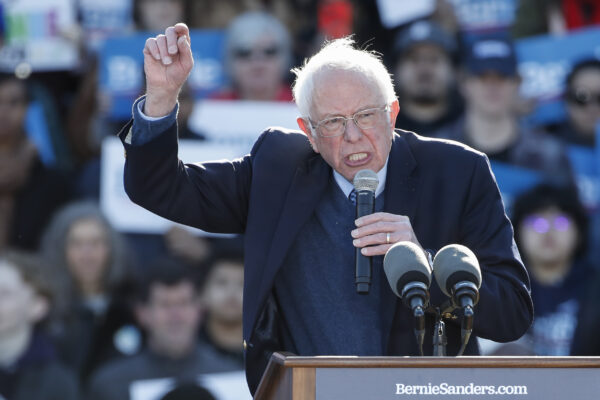 The report noted that Sanders had acknowledged that he bounced around jobs and struggled to pay the bills for much of his 20s and 30s. He was elected as the mayor of Burlington, Vermont, in 1981 and was in office until 1989. However, a widely-circulated resume of the senator's work history from the 1980s showed his first job as being the mayor of Burlington.
Sanders didn't directly address Clinton's criticism, but he told the Fox panel: "Unlike Secretary Clinton, I don't want to relive 2016. We're in 2020 now."
"But also, if you guys looked at some of the polling that they do for United States senators, you know they do polls that—how popular you are. In most cases I turn out to be the most popular United States senator in the whole country," he added.
Sanders is jockeying for position in a head-to-head Democratic primary race with former Vice President Joe Biden, who also had a long career in politics, serving as a senator from Delaware for nearly 40 years.
Voters in several states, including all-important Michigan, will cast ballots in the Democratic presidential primary on Tuesday, as 352 pledged delegates are on the line. In 2016, Sanders won Michigan over Clinton.
Biden is currently leading Sanders in the delegate count after a strong showing during last week's Super Tuesday vote.