Sen. Bernie Sanders (I-Vt.) responded to the rise of rival Democratic presidential candidate Michael Bloomberg's rise in the polls, warning voters that the former New York City mayor wouldn't be able to generate excitement to win the White House.
"The simple truth is that Mayor Bloomberg, with all his money, will not create the kind of excitement and energy we need to have the voter turnout we must have to defeat Donald Trump," Sanders told a Democratic party gala.
Bloomberg, who has poured hundreds of millions of dollars into his campaign, isn't competing in Nevada or South Carolina, instead trying to make his mark during Super Tuesday, where voters from a number of states cast ballots on March 3.
And Sanders, currently considered the front-runner, is trying to leverage his recent win in New Hampshire. During the Democratic gala, the longtime senator faulted Bloomberg's policies on stop-and-frisk policing, minimum wage, and Wall Street regulations.
Democrats "will not create the energy and excitement we need to defeat Trump if that candidate pursued, advocated for, and enacted, racist policies like stop-and-frisk, which caused communities of color in his city to live in fear," Sanders said Saturday, reported Reuters.
The former New York City mayor's campaign issued a response to Sanders's remarks, saying Bloomberg raised taxes on the rich when he was in office.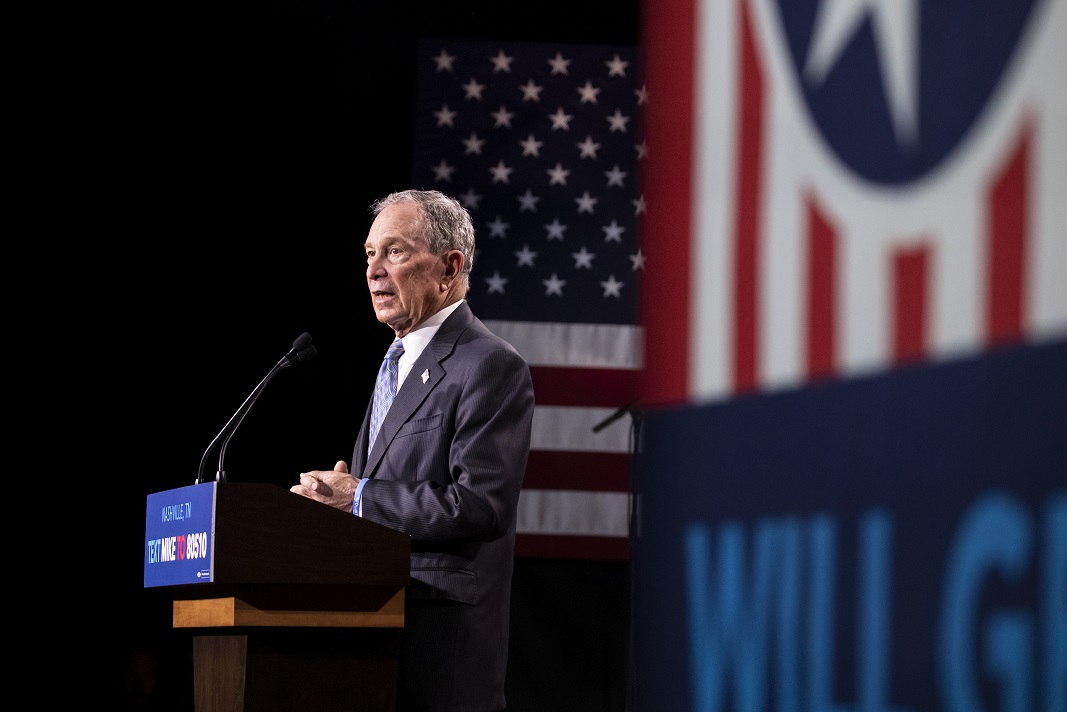 "As president, Mike will raise rates on high-income earners, tax capital income more equitably, close loopholes, and bolster enforcement," campaign spokeswoman Galia Slayen said. "He will get it done because he's done it before."
Over the weekend, he released a plan for American workers, promising that he would raise the federal minimum wage to $15 per hour.
"I started out in an entry-level job, and in building my business, I have always believed that our company's most valuable asset is our 20,000 employees—and that's why we are committed to providing good pay and the best benefits money can buy, including industry-leading paid parental leave," Bloomberg said in a statement.
Bloomberg's campaign hasn't responded to a request for comment.
After declaring his candidacy, Bloomberg has apologized for the controversial stop-and-frisk policy that he implemented during his tenure as mayor.
"I believe we need to end mass incarceration, and during my tenure, we reduced incarceration by 40 percent and juvenile confinement by more than 60 percent," his campaign said last week after audio surfaced from 2015 where Bloomberg was heard strongly defending the policing method.
And before he entered the primary, Bloomberg again issued a mea culpa.
"I was totally focused on saving lives. But as we know, good intentions aren't good enough. As crime continued to come down as we reduced stops—and as it continued to come down during the next administration, to its credit—I now see that we could and should have acted sooner, and acted faster, to cut the stops," Bloomberg said last year, according to the New York Post.
Nevada holds its Democratic primary on Feb. 22, which is followed by South Carolina's primary on Feb. 29. Then, Alabama, Arkansas, California, Colorado, Maine, Massachusetts, Minnesota, North Carolina, Oklahoma, Tennessee, Texas, Utah, Vermont, and Virginia will all hold their presidential primaries on Super Tuesday.