A suspect accused of assaulting an 88-year-old San Francisco woman earlier this month was arrested on the evening of Jan. 19.
On Sunday, the San Francisco Police Department announced that 18-year-old Keonte Gathron was arrested after another robbery in the city.
#SFPD Arrest 18 year-old Keonte Gathron, in Visitacion Valley Assault Case of an 88 year-old female who is still being treated for life-threatening injuries. > https://t.co/GFAIdOUClY #SF pic.twitter.com/HcWi0PeE02

— San Francisco Police (@SFPD) January 20, 2019
On Jan. 8, officers found the elderly woman, badly beaten, in a park on Visitacion Avenue. She was suffering from life-threatening head injuries and transported to the hospital for treatment.
A witness at the scene reported seeing the suspect leave from a staircase in a residential area and walk east on Visitacion Avenue. After investigation, authorities found more evidence that led to identifying Gathron.
"San Francisco Police Department investigators worked tirelessly to identify a suspect in this case," said San Francisco Police Chief William Scott in the statement. "This is an ongoing investigation and we will have further details to follow later in the week. But we want to express our gratitude to neighbors and leaders in the Visitacion Valley community who worked closely with our investigators to address this act of senseless violence."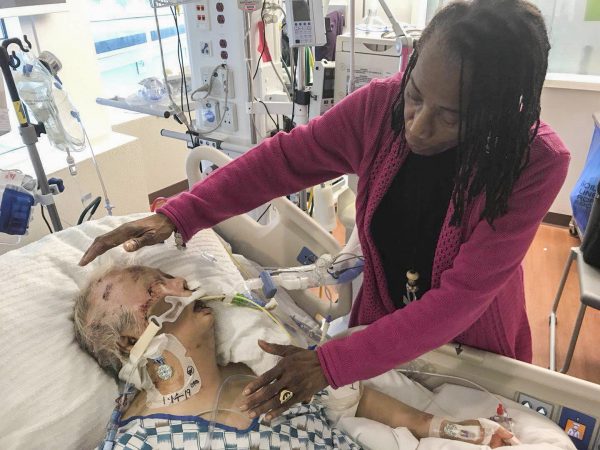 The family created a GoFundMe page and has raised over $12,200 in nine days.
"For over 30 years, Grandma Huang called Visitacion Valley her home and has befriended neighbors from different backgrounds despite speaking a different language. She cherishes spending time with her children, grandchildren and great-grandchildren. Some of her favorite activities including eating "dim sum" and making nutritious herbal soups for her loved ones. She loves watching Chinese soap operas on the television, and she would keep her mind sharp by memorizing the many actors' names.  Grandma Huang is a "rosy-cheeked, jolly grandmother" and could be seen every morning at Visitacion Valley Playground keeping fit and active through exercise."
Even though Gathron is arrested, the statement is also requesting that those who have additional information about the incident to contact the San Francisco Police Department at 415-575-4444 or Text a Tip to TIP411.
Other Cases of Elderly Assault
A similar incident occurred in Montreal, Canada. Earlier this month, a 92-year-old woman was beaten by another passenger while on public transportation. The passenger was writing quietly, but suddenly hit the elderly woman, leaving her face badly bruised.
This past Christmas, a 70-year-old Los Angeles grandmother was shot in a robbery and died later. Her family also created a GoFundMe page.
According to a fact sheet (pdf) from the Office for Victims of Crime (OVC), the overall rate of violent crimes against the elderly have decreased from 1995 to 2015. However, assault against older adults are still underestimated.
"People age 65 and older experience the same crimes as the rest of the population, including financial victimization, neglect, and physical, sexual, or emotional abuse. However, older adults may be less likely to recover from their victimization, and are often sought out because of their age and decreased likelihood of reporting," according to OVC.
Elderly women are also a higher target. For every 1,000 violent victimizations, about 7 were committed against women age 65 and older, compared to 3 of every 1,000 violent victimizations against men age 65 and older.
"Additionally, while studies demonstrate that older adults are most commonly maltreated by family members or acquaintances, roughly half of violent victimizations are perpetrated by strangers," according to OVC. "Maltreatment is not always a criminal offense, but the intimate nature of many of these victimizations means that older victims are less likely to report offenses committed by someone they know."