SAN FRANCISCO—A group of San Francisco residents protested in front of City Hall on Nov. 2 after learning that the city may issue more permits for recreational marijuana stores.
The organizer of the protest, San Francisco Coalition for Good Neighborhoods (SFCGN), which supports a "Drug Free America," said the rally was dedicated to protecting children, families, and workers, according to an SFCGN press release.
The crowd at the rally repeatedly yelled "enough is enough" and "illegal is illegal." The gathering attracted many people to stop and take photos, while many who passed by gave a thumbs-up to the protesters.
The city currently has 50 recreational cannabis businesses in operation, although a quick search on Yelp indicates there may be more than that In a city of about 47 square miles, that means there is at least one cannabis store per square mile.
Ellen Lee Zhou, a city social worker who was also a mayoral candidate in this year's primary election, said the city had 247 pending applications for pot stores by the end of last month.
While California voters approved the legal use of recreational marijuana through Prop. 64 in 2016, it is considered illegal by federal law, based on the Controlled Substances Act of 1970. Marijuana is classified as Schedule I controlled substance by the Drug Enforcement Administration (DEA).
"Just because it is legal in California, it doesn't mean it is safe," said Lou Ann Bassan, a candidate running for Sunset District (District No. 4) supervisor. Bassan said that she was the only candidate in her district who's been against recreational marijuana since the beginning.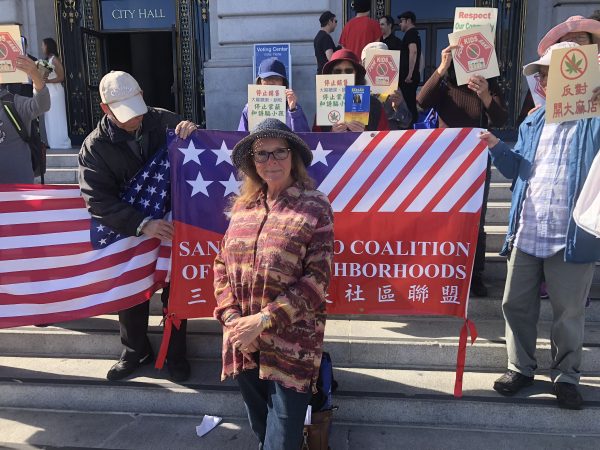 Bassan said that she represents a majority of residents in Sunset District who want recreational marijuana banned in the district.
"We want what Chinatown already has," Bassan said.
The San Francisco Board of Supervisors passed a resolution at the end of July to ban any cannabis stores in Chinatown in response to vehement opposition from the Chinese community.
"Why do we have a federal government with a war on drugs, and a San Francisco government turning around, condoning and putting out a red carpet for cannabis?" Bassan said.
Bassan says the city government allowed the marijuana dispensaries for the purpose of collecting tax money, while the opioid crisis nationwide indicated that cannabis should not only be regulated, but be banned.
The rally in front of the city hall attracted many people to stop and take photos. Many others who passed by the rally gave participants the thumbs up.
"We will continue our fight even with one last person standing," said Zhou.
In the midterm elections on Nov. 6, three states voted to relax marijuana laws. Marijuana now will be available recreationally in Michigan and medicinally in Missouri and Utah. A recreational measure in North Dakota was defeated; medical use of cannabis was already legal in that state.
Thirty-three states and the District of Columbia currently have passed laws broadly legalizing marijuana in some form.