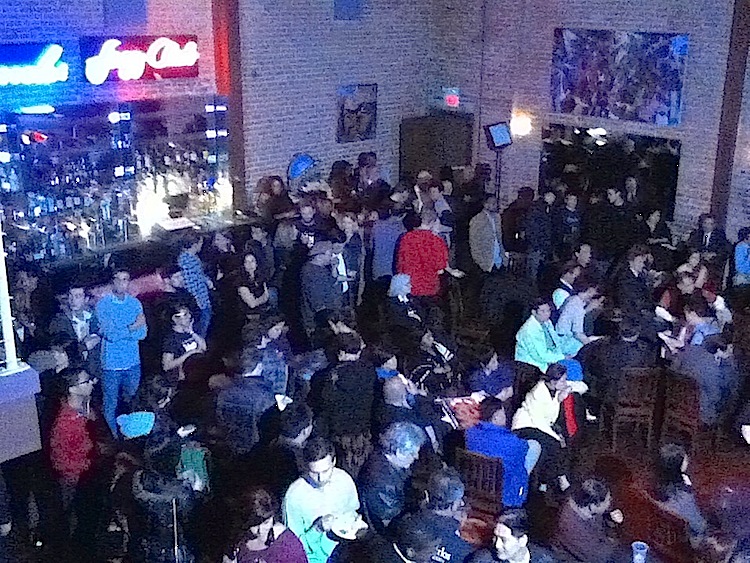 SAN FRANCISCO—Election night in San Francisco wrapped up with the incumbent Ed Lee holding less than the majority he needed for an outright win. Ballot-counting and the distribution of preferences extended into the night, and will stretch across the next several days until a winner emerges.
As ballots were tallied on Nov. 8, the choice of setting for electoral festivity (or wound-licking) said a lot about the platforms being run by each of the candidates.
Dennis Herrera, in third place by the end of vote-counting before the ranked-choice process kicks in following Lee and John Avalos, had picked out the trendy nightspot "Club Mighty" for his party. It featured loud, thumping music, a mostly trendy 30-something set, and frightfully expensive beverages.
In his thank-you speech Herrera characterized it as a "seminal election" for San Francisco–the most important in the last 20 years, and the most important for the next 20.
Click here for the current official results from the San Francisco Department of Elections
But for all that, only a third of registered voters cast their ballots (making it, in total, only 17 percent of the population of the city). The incumbent Lee already had a commanding lead when initial results were released: they included the absentee ballots from Chinatown, where irregularities and ballot tampering have been reported. Absentee ballots were returned from Chinatown at a rate of nearly 80 percent, while other areas of the city came back at less than 10 percent.
Over at the Herrera event, Kate Wilsenbeck, who said she is "old enough" and works for a corporate law firm that she declined to name, said she had come to check out the atmosphere. She said that Herrera is a community guy; her local Democratic club endorsed him.
She thinks a Lee administration would be about "development," adding: "He's a Willie Brown guy. He's a Rose Pak guy. I'm not a fan."
The Central Subway? "Let's put money into fixing what we have. Muni is broke. I'm a daily commuter," she said.
Leland Yee had chosen the homelier Rasselas Jazz Club on Fillmore. Chinese aunties stood behind a table serving cuisine from foil trays, while bread rolls were piled to the side. The crowd could have been around 100 people. Raymond Chow, head of the Hongmen Tong and former inmate, said "I don't believe in a community-political-mafia. That's why I support Leland." He laughed uproariously.
Adam Keigwin, Yee's press man, declared that the city was corrupt, and that if Ed Lee wins there will be more of the same. He congratulated Lee on being the first Chinese mayor, but was emphatic that "We need to kick the powerbrokers out."
Yee was buzzing in and out of the venue, while the TV carried clips of Willie Brown presiding over Lee's much more expensive convocation. Everyone booed when Rose Pak's large figure dominated the screen.
She and Brown were over at the opulent Palace Hotel, quaffing wine and spritzers. If anyone wanted to make the case that Lee stood for the monied interests in this town, his election-night party might be Exhibit A: suits and gowns, plates of cheeses, waiters in bow ties, and that "2 Legit to Quit" video funded by Silicon-Valley investors on constant repeat.
Greg Doxey, 50, a mortgage professional and member of the Osiris Coalition, which supports local hiring policies among other things, was there in support. He likes Ed Lee because Lee likes "local hiring" policies.
Doxey acknowledges, but is not overly concerned about, the influence that Rose Pak and Willie Brown will have on a Lee administration. "In society, it's the lesser of two evils," he said. "I don't worry what happens behind the scenes, as long as everyone wins."
John Avalos's gathering was the starkest counterpoint to the Lee soiree. Present were between 300 and 400 people, packed into the Roccapulco community bar in the heart of the Mission District. A band serviced the young crowd, who mostly wore t-shirts and jeans.
Avalos said in a telephone interview with The Epoch Times, above the din: "What we've established in the Avalos campaign is a candidacy of the people, grassroots communities around San Francisco. We want to change what the city's about and make it work for us."
It's possible that Avalos will advance from his initial 18.6 percent, as lower-ranked candidates are eliminated and their votes redistributed. He can win as long as Lee is not on those ballots. "It's open tomorrow. We can certainly close it… I'm hoping we can," he said.
"Do I think I can? I think I can," he said. "Will I? Who knows."