Over 100 medical staff and community members gathered in front of Rady Children's Hospital in San Diego on Oct. 1 to oppose the hospital's denial of its employees' vaccine exemption requests.
California has required medical staff to be completely vaccinated by Sept. 30, or apply for a vaccination exemption based on medical, religious, or personal beliefs. However, Rady Children's Hospital stated that since more than 70 percent of the hospital's patients are in the age group that cannot receive vaccinations (12 years and younger), medical staff who are in direct contact with patients must be vaccinated and cannot apply for an exemption.
"They denied everyone's religious and medical exemptions that they submitted to not to get a vaccine," Alicia Fregoso, a registered nurse of 15 years working in the intensive care unit at Rady Children's Hospital, told The Epoch Times.
"We had three or four days to get it or else we would be placed on a leave of absence, which is why I'm here now. I don't have the vaccine, and I can't come to work now."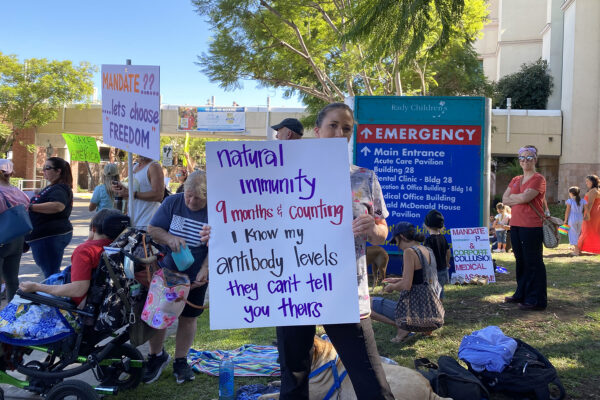 For several months, unvaccinated medical workers at the Rady Children's Hospital had to undergo biweekly COVID-19 testing. On Sept. 27, the hospital suddenly refused to accept medical and religious exemptions, Fregoso said.
"Rady's reason is that the majority of our patient population cannot get the vaccine yet, so it's for their safety. However, as a nurse, I had COVID before. I have natural immunity and I have antibodies. I check on a regular basis, and I know that my immune system is still working," she said.
Fregoso said her vaccinated peers at the hospital did not need to undergo testing, "and they are still allowed to work, even if positive, [as long as] they don't have symptoms."
Another registered nurse at Rady Children's Hospital of 15 years who requested anonymity said, "Everybody knows the factual evidence that whether you're unvaccinated or vaccinated, you can still spread COVID disease, either way. Why am I not safe to care for the babies that I take care of, and families each day, and they [vaccinated] are?"
"I have followed all of the testings twice a week, as the state has set in place and the Rady Children's Hospital has adhered to. I had worn all the PPE required, and yet they've completely denied us of [our] rights."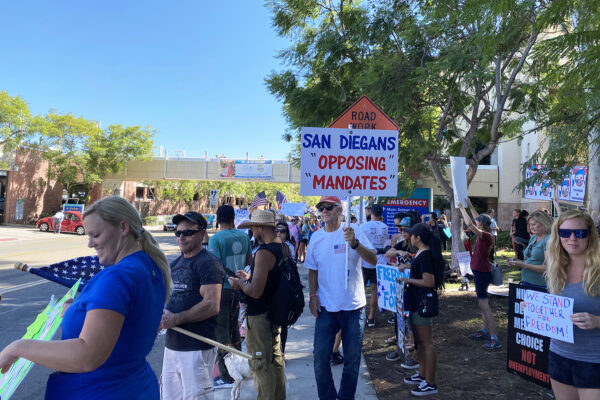 Some of the protesters at the rally worked at other hospitals and live in nearby communities.
Laura George, a registered nurse who works at Sharp Memorial Hospital in San Diego, said that her hospital allows medical staff to apply for an exemption, so she came to participate in the protest to support her children's hospital colleagues who couldn't apply for the exemption. She also said that many nurses who had been infected with COVID-19 have gained natural immunity.
"The vaccine is not lowering the spreading, and they are not testing them. The only people getting tested are the unvaccinated," George told The Epoch Times.
"There's no science behind it at all. If you talk with any upper person in the hospital, they will tell you that it has nothing to do with science."
Denise Bond, who had worked as a registered nurse at another Sharp Memorial Hospital for 34 years, said she was terminated from her job because she didn't comply with the COVID-19 nasal swab testing. She spoke out against the mask, testing, and vaccine mandates during the rally.
"That's tyranny. We live in the United States of America, where we have, or should have, the right to choose," Bond told The Epoch Times.
Among the protesters, some were waving American flags and many were holding handwritten signs that read: "Mandate? Let's choose freedom," "We stand together for freedom," "No vaccine Passports!" and so on.
There are also signs that read, "Last year's heroes, this year's zeroes," referring to the medical staff who worked at the forefront when the COVID-19 pandemic raged last year.
Ben Metcalf, a spokesman of Rady Children's Hospital, told reporters that the hospital wasn't accepting media inquiries on Oct. 1. However, the hospital previously said that out of the 5,166 medical staff, a total of 201 people had applied for COVID-19 vaccine exemptions and were rejected.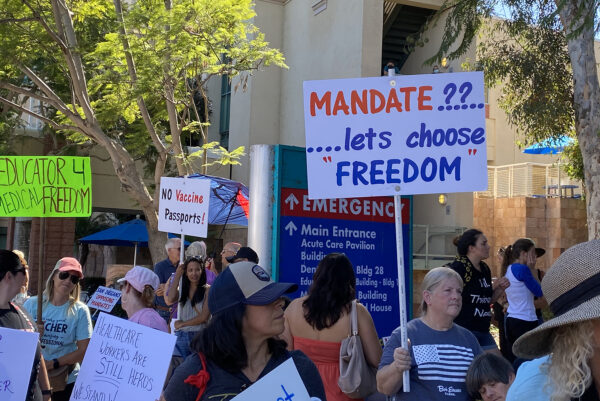 Jane Yang contributed to this report.