Thirty-eight people, including 19 students from the Cajon Valley Unified School District (CVUSD), were rescued by U.S. troops from Afghanistan. But a family with three students in the district is still stranded, officials said during a Sept. 2 press conference.
"There has been some success and we're delighted to have these kids back in school and their parents united, but we also know that there's a lot more work to do," said Rep. Darrell Issa (R-Calif.), whose district includes El Cajon.
Students and their parents who traveled to Afghanistan over the summer to visit relatives reached out to the school district's community liaison's office on Aug. 16 to inform the district that they were stranded in Afghanistan and to hold their spot at school.
The school district worked with Issa's office, which contacted U.S. government and private military special operations personnel to locate and evacuate these students and their families that had been hiding from the Taliban.
"Our employees communicated through WhatsApp and Facebook Messenger to help direct the ground troops to find them and extract them to give them safe passage to the airport," David Miyashiro, superintendent of CVUSD, told The Epoch Times.
"These are people that worked for the US military. They're not friends of the Taliban, so they have to hide from the Taliban."
Miyashiro said the special operations teams rescued "one family at a time. They weren't all together. So it was a 24/7 mission."
The last family in the district stranded in Afghanistan has been located, but there are currently no ground troops present to rescue them, Miyashiro said.
"We know where they are, [but] there's no more ground troops there to help," he said. "The U.S. needs to do something."
Miyashiro said there are more than 1000 American students still stranded in Afghanistan, "and that's a conservative estimate."
"People, as they come back to school and seats are empty, they are going to realize that those are those children. Had this team not acted, our students would be there too because they are in hiding, they are unsafe from the Taliban," he said.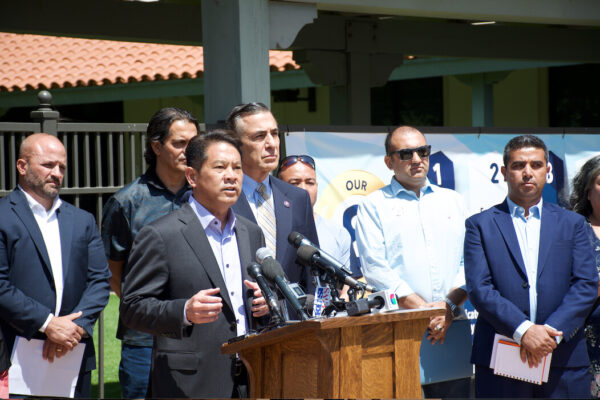 Fraidoon Hashemi, the school district's community liaison, said there are thousands of "invisible families" in Afghanistan whose U.S. passports, green cards, special immigration status, or visa documents have been destroyed by the U.S. Embassy in Kabul to protect their identities.
"People are still there, and I hope we try our best with the Congressman on our team to help these families, to get them out. We are not talking about just only one family … It's about 1000 people who are invisible, who need our help to get them out from Afghanistan," Hashemi said.
Parents of students in CVUSD said at the press conference they had to flee Kabul and pass through Taliban checkpoints to make it safely to the airport.
Mohammad Faizi has four children attending schools in CVUSD and came to the U.S. in 2017. This summer he and his wife took their children—the oldest is 13 and the youngest is 2—to visit their relatives in Afghanistan.
"I know that the United States is going to withdraw its troops, so I thought, this is the last time I have returned to Afghanistan to visit relatives," Faizi said.
"I didn't think the Taliban would take Kabul before Aug. 31. Unfortunately, things have changed."
His family arrived in Afghanistan on July 19 and had a return ticket to the U.S. for Aug. 17. But unexpectedly, on Aug. 14, he learned the tickets were canceled. He started calling for help and asked the school district to keep the children's place in school.
"We are safe here now, but it was a really tough time that we came out from Afghanistan. There was more than ten thousand people out [in front] of the [airport] gate. We had to make our way past those people and get through the Taliban checkpoint … to get to the Army. It took us three days to get to the Army … Inside there was more than ten thousand people on one gate. We stopped there for four days to board the plane," Faizi said.
There wasn't any shade at the base, and his family was exposed to the sun for four days. Between seven family members, they shared two blankets. The U.S. military provided Faizi's family with plenty of food and water, he said.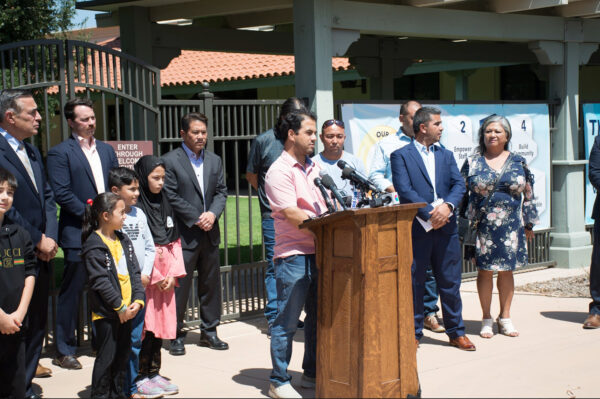 Mr. Juma, a translator for the U.S. government, fled with three of his children and his wife. He said that when he woke up in Afghanistan on Aug. 15 and saw that all of the U.S. government posts were abandoned, he realized "there was nobody in power."
"On Aug. 16, the Taliban took over. Everything changed," Juma said.
He was hiding for five days because of his work translating.
He said there are still thousands of families in Afghanistan that are special immigration applicants and green card and passport holders.
Many of Juma's friends who have families and documentation are too scared to go to the airport.
"Most of them are afraid of coming to the airport because coming to the airport you need to pass Taliban checkpoints in the city streets. … Most of [the Taliban] are checking the documents, so it will be very hard to get into the airport," he said.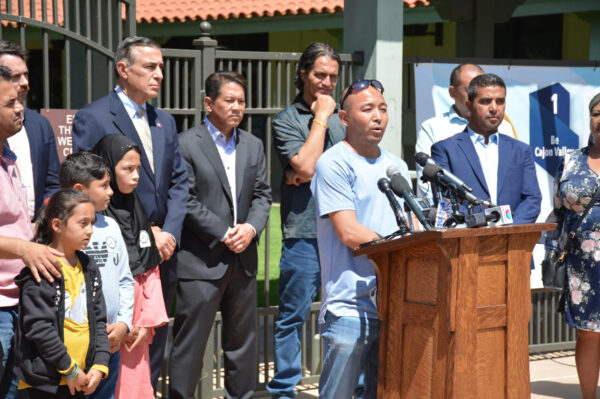 Issa said, "How many tens of thousands are languishing, either in the process in Afghanistan or in neighboring countries, waiting to come here?"
Issa estimated that about 500 eligible U.S. residents that want to come to the United States are still stranded in Afghanistan. However, that number is likely in the thousands if their family members and others who have helped translate for private U.S. companies are included.
"We made promises in Vietnam we did not keep for generations. Let's make sure that the promises we made to the Afghan people are fully kept and kept at a time that saves their lives and saves their families' opportunities," he said.
Issa told The Epoch Times that his office is working on a rescue strategy for those left behind in Afghanistan by coordinating with Pakistan, Qatar, Turkey, and other countries because they still have embassies in Afghanistan.
"We're going to leverage their resources until or unless there are more U.S. resources available," he said.