SAN CLEMENTE, Calif.—Landslides brought on by recent heavy rainstorms forced evacuations March 15 after some coastal apartment buildings near Pico Beach began to collapse toward the ocean.
Around 8:20 a.m. Wednesday, Orange County Fire Authority crews responded to the landslide and evacuated residents living on the 1500 block of Buena Vista. No injuries were reported.
One Orange County resident Diana, who did not provide her last name, said she had come to see the landslide for herself.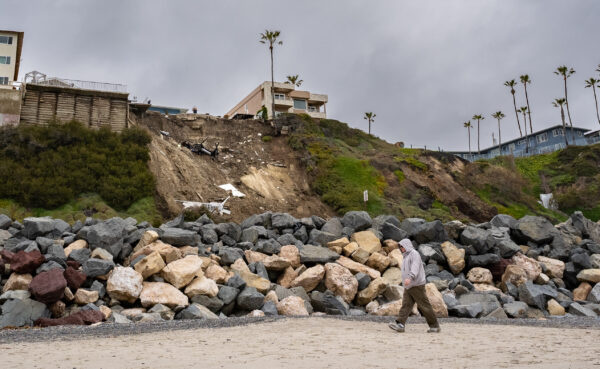 "I used to spend my summers here as a child, great memories," she told The Epoch Times. "This landslide is so sad, and I hope it is repairable."
Four cliffside apartment buildings were red-tagged, meaning they are now too dangerous to be inhabited, according to the Orange County Fire Authority.
Portions of Buena Vista in the area remain closed and beach trail access below the landslide also remains off-limits due to the instability of the cliffside area.
Residents have been urged to avoid the area.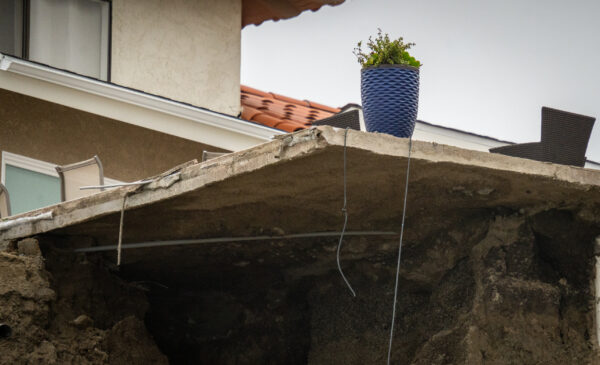 "We're closely watching the adjacent neighborhood here … I would strongly encourage residents in the surrounding area to be prepared to evacuate should the [evacuation order] be extended," fire authority Cpt. Thanh Nguyen said.  "We're coming up with a plan for what we're going to do next."
President Joe Biden had approved California's state of emergency declaration earlier this month, which has been expanded by Gov. Gavin Newsom March 14 to include Orange County. Residents can now receive federal relief, according to county officials.
According to Orange County Supervisor Katrina Foley, approximately $4 million dollars of damages have been reported in the county since Tuesday. County officials expect the number to grow as more assessments are completed in the following days.
"It is critical that residents who have personal damages to their property or businesses tell their local officials, so we can access critical state and federal resources and find solutions for anyone who needs help," Foley said at a press conference Thursday afternoon near the landslide area.
The storms also brought different levels of damage to other parts of the county.
A mudslide caused the partial closure of PCH in Dana Point, as well as a sewage spill in the city leading to temporary beach closures.
In Newport Beach, above the Back Bay Nature Preserve, pipes and pumps were being used to drain water out of the hillside on Galaxy Drive. One home is red-tagged and neighboring houses are yellow-tagged because of the unstable hillside.
In Huntington Beach, PCH was closed due to flooding between Warner Avenue and Seapoint Street.
City News Service contributed to this report.