Samoan Prime Minister Tuilaepa Sailele Malielegaoi has called for calm, faith in God, and prayer as the Christian Pacific island nation faces its first potential CCP virus case.
This comes after a Samoan sailor tested positive for COVID-19, the disease caused by the CCP (Chinese Communist Party) virus, on Wednesday, but then tested negative in two subsequent tests.
The sailor will be tested for a third time on Saturday to determine whether Samoa has its first official case of the novel coronavirus that has plagued the world since it spread from Wuhan, China in January.
Malielegaoi assured Samoans on Thursday that the government is prepared to respond to an outbreak of the CCP virus.
"Let us continue to remain calm and not to lose our faith in our never-ending divine blessings from our Father in Heaven. I remain firm that our Father will never forsake our country and our people," said Malielegaoi.
The prime minister also acknowledged the power of prayer and appealed to all Samoans to "remain united in prayers for the Almighty's continued divine blessings by protecting Samoa from the deadly virus," a government press release said.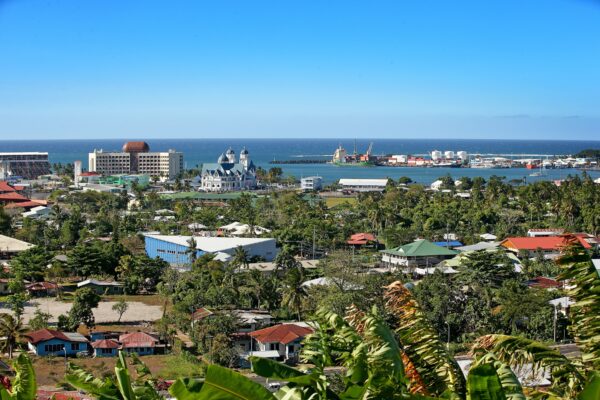 Samoa's Ministry of Health confirmed that the sailor and 25 of his colleagues had returned from Europe via New Zealand on a repatriation flight together with 274 Samoans on Nov. 13.
All passengers registered negative test results before boarding the flight and upon arrival at Faleolo International Airport before they began 14-day quarantine.
But four days later on Nov. 18, the sailor registered a positive test result when the passengers were tested again per protocols.
Health officials isolated the sailor and his quarantine roommate at the National Hospital. Despite having shared a room at their quarantine accommodations, the roommate continued to test negative for the CCP virus.
Neither the sailor nor his roommate has shown any symptoms, according to the health ministry.
Malielegaoi announced on Thursday that although the sailor had tested negative early that morning, government officials were remaining vigilant.
"It's all systems go for the Government's COVID preparedness and response plan," Malielegaoi said. "All the necessary health measures are enforced to eliminate any possible danger to our country."
Media outlet Samoa Observer reported on Thursday that following a Cabinet meeting, Director-General of Health Dr. Take Naseri said that although the sailor tested negative in two follow up tests, the health ministry will operate on the assumption that the case is positive while they investigate if a human error caused the discrepancy in test results.
The health ministry sent blood samples to New Zealand for testing on Friday.
Samoa is a 98 percent Christian nation, with many denominations, and has been fortunate until now that the CCP virus had not reached its tropical shores.
However, in 2019, the nation suffered a tragedy when a measles plague claimed 100 lives, mostly babies less than one-year-old, Samoa Global News reported.
As the Pacific islands saw cases of COVID-19 begin to spread in the region in March, Samoa declared a state of emergency and ordered all families to observe a week of fasting and prayers as one of its measures against the virus.
Now, Samoa has again declared a state of emergency with Emergency Order 33 coming into effect from Nov. 20, replacing Emergency Order 32. The November order still includes the wording pertaining to the week of fasting and prayers in March.
The Epoch Times sought confirmation from the Samoan government about whether Emergency Order 33 required Samoan families to observe another week of fasting and prayers but did not immediately receive a response.
While all public gatherings are restricted and social distancing measures are in effect, church services are still permitted as long as church-goers remain two metres apart, and church ministers are responsible for ensuring the rules are adhered to.
Most public transport and markets will operate as normal, except on Sunday which is generally respected as a holy day and most businesses don't operate.
The CCP virus pandemic has seen Australia and its regional partners, like the United States, Japan, and India, manoeuvre to sure up relationships with like-minded nations in the Indo-Pacific region that also want to maintain a rules-based international order, and blunt the Chinese regime's aggressive ambitions in the region.
Through its Belt and Road Initiative, the Chinese communist regime has offered unsustainable predatory loans to developing countries—like Samoa—for infrastructure projects, which critics have warned is not just a "debt trap" but potentially a security risk.
After Samoa signed on, Beijing planned to build at least two ports in the country. Experts grew concerned that the Chinese regime was seeking to increase its military presence in the Pacific through the Samoan investments.
Samoa local newspaper Iniini Samoa quoted its pro-Beijing prime minister in June 2019, who said China's investments were purely financial support.
But the BRI projects have already saddled Samoa with a significant amount of debt. According to figures by China's ambassador to Samoa, the Pacific island nation now owes US$1.1 billion to China, which is roughly half of the island nation's GDP.
Watch Next
"Leaked Documents: CCP's Samoan Projects Saddled With Problems in Quality"
Epoch Times reporter Nicole Hao contributed to this report.