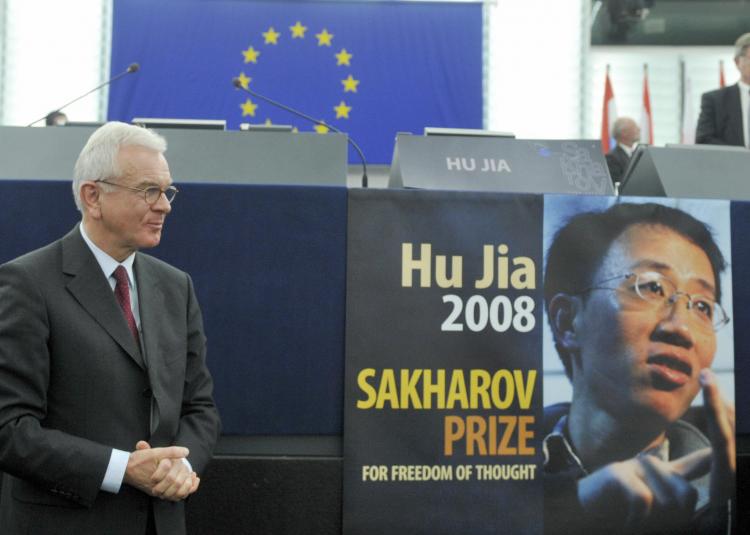 The 2008 Sakharov Prize for Human Rights Awards Ceremony was held at the European Parliament conference building at noon on December 17. The prize was awarded to Chinese human rights activist Hu Jia, who is currently incarcerated.
Hu Jia was arrested on December 12 for criticizing China's human rights situation prior to the Olympics. He was sentenced to three and half years for inciting subversion of state power. His wife and one-year-old daughter are under house arrest in Beijing and are not allowed to travel about freely.
The Sakharov awards ceremony was held at noon. The building was covered by posters of Hu's face. It seemed that everyone present, from the President to all the members of the European Parliament, were all wearing pins with Chinese characters for "Freedom."
Hans-Gert Pottering, President of the European Parliament hosted the awards ceremony. On his left side sat Elena Bonner, widow of Russian physicist and human rights activist Andrei Sakharov. The empty seat on his right hand side bore the name, Hu Jia..
In his opening remarks, Pettering praised Hu's surmounting courage. Last November, Hu was able to join the council meeting for the European Human Rights Committee, at which time he presented his case via telephone. He said that Hu "was nominated as the representative of the silenced voices of China and Tibet, but today we will hear that voice." He believes Hu will one day gain his freedom and formally accept his award in person.
Zeng Jinyan: A Harsh Reality And Hope For The Future
Hu Jia's wife, Zeng Jinyan's video message recently recorded from home was played during the ceremony. She remained very calm throughout the over 10 minutes' message except when mentioned how difficult it was for their one-year-old daughter who cannot hear her father's voice.
Zeng said that she last saw Hu on November 21, 2008. He seemed to be better than before. However they were both warned not to mention Hu was awarded the Sakharov prize.
Zeng said that Hu had hoped to be the last prisoner of conscience. However after he was arrested, Huang Qi, Zeng Hongling, Chen Daojun and many others were also arrested for speaking out.
Zeng mentioned that the wives of Chen Guangcheng and Guo Feixiong had similar experiences. She respects Hu's hope of building a financial network to help family members of human rights activists. Therefore she decided to use the £50, 000 (US$ 77, 611) Sakharov Prize money to establish a foundation to help families of human rights activists.
In the end, Zeng gave many thanks to the European Parliament and all their friends around the world. She said without such support and encouragement, they wouldn't have the courage to face such a difficult social reality.
After Zeng's video was played, the whole room became silent. Many members of the European Parliament and their staff were in tears. Hans-Gert Pottering, President of the European Parliament said that European Parliament will pay close attention to its relationship with China. Europe and China need each other. On the human rights issue, the European Parliament would like to have a good working relationship with the Chinese people. However it will not turn a blind eye to this issue.
The conclusion of the video inspired a long standing ovation among those in attendance showing their support to Hu's family and the human rights cause.