Sadie Robertson says that when she and Mark Ballas get a favorable reaction from the Dancing With the Stars judges for dances such as the Adam and Eve one last Monday, "it's the best feeling ever."
The pair earned a 38 out of 40 score, and rave reviews from all four judges.
"I love your creativity, I love your passion, I love your commitment to this show," judge Len Goodman said. "Well done."
"I absolutely loved it," added judge Julianne Hough. "There was a maturity we haven't seen from you," she told Sadie.
"Conflict, struggle, temptation–you portrayed all of this with such a level of maturity," judge Bruno Tonioli told Sadie. "The detail in the choreography, and the difficulty that he threw at you, it was just amazing how you did it."
"You nailed it," judge Carrie Ann Inaba concluded. 
"That's amazing, because we put in a lot of work … we put in 7 hours a day just to do a minute-and-a-half dance, so to get the response like that it's the best feeling ever," Sadie told KTLA.
However, Sadie and Mark have notably gotten some negative reviews for some of their other dances.
"But whenever they don't like it–like the Halloween one–it's crushing," Sadie added.
MORE: Mark Ballas and Sadie Robertson Had a Unique Way of Training to Toss Apple in Adam and Eve Dance (+Video)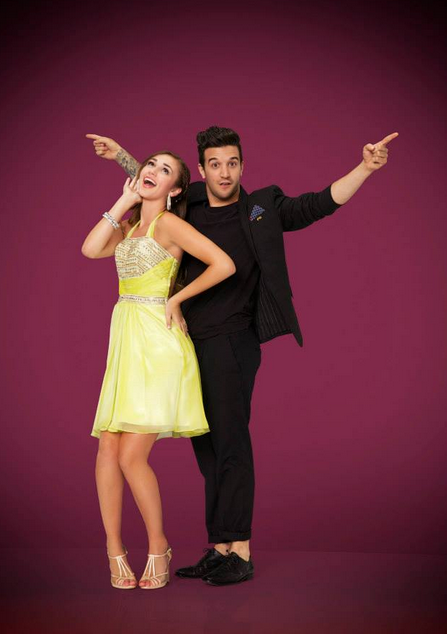 The 17-year-old also revealed that sometimes when she's presented with the dance by Mark, she thinks "Oh my gosh, there is no way I'm about to do that," but with all the work they pull it off.
And she said that she really appreciates the support that her family has shown–her grandmother lives with her in Los Angeles, while her mother and/or father is there every week to see her dance. Her boyfriend Blake Coward has also visited several times.
"It helps me a lot whenever my family is out there," she said, "it puts me back at home."
She also admitted that she and Mark feel that the team to beat is Alfonso Ribeiro and Witney Carson.
"Alfonso's definitely the guy … the one that we're looking out for," she said.
Dancing With the Stars week 9, with six teams left, is slated for Monday, November 10.