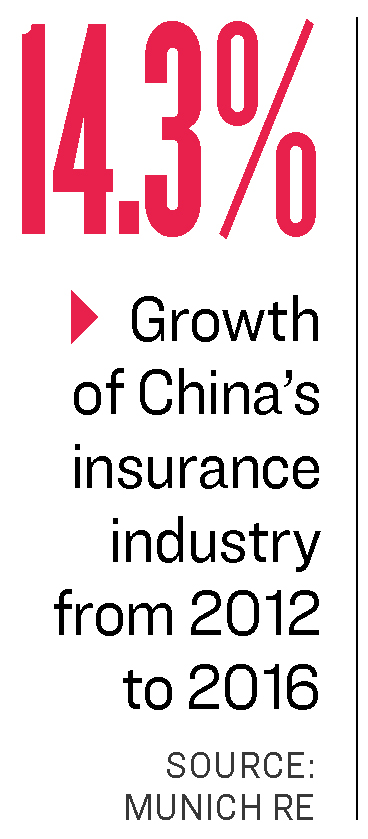 China's powerful financial sector has officially been put on notice.
Xiang Junbo, chairman of the China Insurance Regulatory Commission (CIRC), was placed under investigation for "severe disciplinary violations" last week, according to the Chinese Communist Party (CCP)'s top anti-corruption organ.
So far, Xiang is the highest-ranking cadre from the financial industry caught in Chinese leader Xi Jinping's anti-corruption campaign.
The inquiry into Xiang could open the floodgates on future investigations into the Chinese financial industry. Sources close to Zhongnanhai—the headquarters compound of the CCP and the State Council—told The Epoch Times that Xi is targeting corruption within the financial sector in 2017 and Xiang is the first "tiger" captured in the effort.
Sources suggested that Xiang's crimes are "very serious" and relate to the industry's frenzied asset purchases in recent years that exacerbated stock market volatility. The investigation could also lead to corruption implicating top officials at other financial regulatory bodies, such as the China Banking Regulatory Commission and the China Securities Regulatory Commission.


Xiang, 60, has extensive connections and experience in China's financial sector. Prior to his appointment at the CIRC, Xiang was chairman at the Agricultural Bank of China, one of China's "big four" state-owned commercial banks. Before that, Xiang was a deputy governor at the People's Bank of China, the country's central bank. He worked at the Audit Commission earlier in his career.
The sacking of Xiang has surprised many in the Chinese financial sector. He was one of China's top finance officials and a member of the CCP's Central Committee. His commission oversaw an insurance industry with rapidly growing clout and a penchant for overseas asset acquisitions.
Chinese Premier Li Keqiang has been hawkish on reforming the financial sector in recent months. At a speech on March 21, Li urged authorities to take powerful measures to prevent corruption in the financial sector, which is vulnerable to the advent of shadow banking, bad assets, and illegal internet financing, according to state-controlled media Xinhua.
Billionaire Investor's Testimony

Xiang's capture was likely precipitated by the recent disappearance of CCP insider Xiao Jianhua, a billionaire Chinese investor residing in Hong Kong.
Xiao disappeared from his residence at the Four Seasons Hotel in Hong Kong in late January and was brought back to Beijing for interrogation. His testimony could have served as one of the bread crumbs leading to Xiang's investigation.
The Zhongnanhai source told The Epoch Times that Xiao provided information on a number of top-level officials with allegiances to the "Jiang faction."
Jiang Zemin was head of the CCP for over a dozen years (1989–2002) and continued holding sway over the Party through a network of cronies for another 10 years (2002–2012). Since taking power, Xi has waged a battle to uproot the influence of Jiang and his faction.
China's insurance industry has garnered immense power—and controversy—during Xiang's oversight.
Xiao is among China's richest individuals, with sprawling investments across several sectors, including banking, property, information technology, and rare-earth minerals. He was worth $5.8 billion as of 2016, according to the Hurun Report.
It's unclear where Xiao stands politically in the current divide between Xi and the Jiang faction, although he seems to have established connections to both. In 2006, Xiao assisted Zeng Wei, the son of former Party Vice-Chairman Zeng Qinghong, to privatize state power company Shandong Luneng through a series of shell companies owned by Xiao. Qinghong was a top CCP official during the Jiang Zemin and Hu Jintao regimes.
And in 2012, an entity owned by Xiao acquired shares worth at least $2.4 million from Qi Qiaoqiao and Deng Jiagui, respectively the sister and brother-in-law of Xi Jinping.
Insurers Gone Rogue
China's insurance industry has garnered immense power—and controversy—during Xiang's oversight in the last six years.
From 2012 to 2016, China's insurance sector grew 14.3 percent overall, and non-life insurance grew 16.5 percent in premium volume, according to data from Munich Re. Last year, China overtook Japan to become the world's second biggest insurance market by premiums.
Under governance of the Xiang-led CIRC, the insurance sector has turned into a den of corporate raiders.
Traditional insurers are bastions of conservatism, holding stable assets such as government securities and corporate bonds. Insurers by nature must consider preservation of their clients' capital as paramount.
But not in China. Sensing opportunity in a low interest rate environment, over the last few years Chinese insurers expanded outside of traditional insurance activities by issuing wealth management products called universal life policies. These products, which offer high interest rates and are a hybrid between a bond and a life insurance policy, have been popular with consumers dissatisfied with bank deposit rates of around 1 percent.

Flush with cash but saddled by promises to pay high yields, Chinese insurance companies poured money into risky and volatile assets not typically associated with insurers. These firms took large positions in Chinese publicly listed companies and snapped up overseas assets including foreign companies and real estate.
Evergrande Life—a unit of property developer China Evergrande Group—saw its premiums increase more than 40-fold in 2016.
Evergrande and Foresea Life—a unit of Baoneng Group—have used their proceeds from universal life policies to amass a large stake in real estate developer China Vanke during the last year. A public and protracted dispute to wrest control of Vanke from founder and CEO Wang Shi ensued, creating a market firestorm that was finally dispelled after Beijing intervened late last year.
The raid on Vanke was far from the only instance of aggressive asset accumulation by insurers, but its virulent nature—Baoneng and Vanke engaged in a public war of words—created the most headaches for Beijing.
As an industry, insurance has also been a major vehicle for funneling money abroad in the form of foreign acquisitions, at times in opposition to Beijing's official stance on stemming the outflow of yuan.
Anbang Life was at the forefront of such purchases and made headlines in 2015 for purchasing New York's Waldorf Astoria hotel for nearly $2 billion. In 2016, Anbang bought Strategic Hotels & Resorts from Blackstone Group for $6.5 billion. The company's biggest gambit was a failed $14 billion bid to acquire Starwood Hotels & Resorts Worldwide.
For years, the cavalier investment strategies of insurers had the implicit blessing of the CIRC. After Xiang took the reins of the regulator, he endorsed more flexible usage of insurance premiums and insisted on "giving innovation the biggest freedom" within the industry, according to South China Morning Post.
The insurance industry's contribution to recent stock market gyrations (via equity purchases) and downward pressure on the Chinese yuan currency (through foreign asset purchases) could be factors in Xiang's downfall. But allegations against Xiang may go beyond the insurance industry, given his previous stops at the Agricultural Bank of China and the People's Bank of China.
Xiang had not been seen in public for several weeks leading up to February, stirring rumors about a possible arrest. He reappeared on Feb. 22 at a news conference, where he railed against the insurance industry for their recent activities. Xiang stated that the CIRC "will punish top executives and revoke their licenses, and definitely not allow the insurance industry to be turned into a regal club."
The CIRC has stepped up efforts to rein in the activities of insurers in the last few months. A mid-December announcement lowered the ratios of equity to be held at insurers and barred them from using insurance deposits to fund equity purchases. By the end of February, CIRC had already rejected four license applications, matching the total for all of 2016.
But for Xiang, it was perhaps too little, too late.