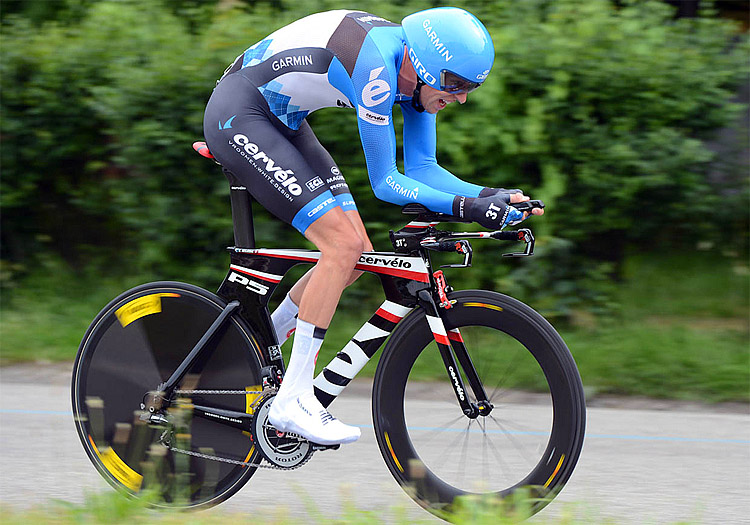 Garmin-Barracuda's Ryder Hesjedal became the first Canadian to win a cycling Grand Tour Sunday, his sixth-place finish in the Stage 21 time trial good enough to catapult him into the overall lead.
Hesjedal completed the flat but twisting 28.2-km course in 34:15, 1:09 slower than stage winner Marco Pinotti, but 47 seconds faster than the race leader, Katusha's Joaquim Rodriguez. Hesjedal started the stage 31 seconds behind Rodriguez; the time trial result left the Garmin rider 16 seconds in the lead.
"Just an unreal experience from Day One—just incredible what the team was able to do," Hesjedal told Eurosport.com. "I couldn't have done it without them."
"I knew I was good when I came to this race. I just stayed focused every day and took every opportunity. The team was behind me 100 percent, and I just kept thriving off that support—and especially from the fans back home in Canada. It's been unreal, the support.
"I kept digging deeper and deeper and deeper every day, and I kept getting rewarded for that effort. I want to thank everybody."
Hesjedal pushed hard, nearly crashing on a few corners, but his bike-handling skills, honed as a mountain biker, helped him keep upright and moving.
This was not only the first Grand Tour win for a Canadian rider; it was the first Grand Tour win for a member of the Garmin-Barracuda team.
Rodriguez rode well and pushed hard, but he is a climber, not a time trial specialist; the Katusha rider finished 26th, almost two minutes off the pace. His time was good enough to keep him second in the general Classification, and he also won the points competition; some consolation for losing the overall lead, at least.
Thomas De Gendt, the 25-year-old Belgian rider who shocked everybody with his powerful attack in Stage 20, needed to make up 2:18 to win the race. This was too much to ask, even though De Gendt is a good time trialer.
The Movistar rider turned in another excellent ride, despite being sore from the day before. He finished fifth in the stage and third overall. This is a rider with a future.