A walkout by pilots in five European countries on Friday, Aug. 10, has forced budget airline Ryanair to cancel almost 400 flights, affecting about 55,000 passengers.
The 24-hour strike involve pilots in Ireland, Germany, Sweden, Belgium, and the Netherlands, who are striking in response to pay and conditions.
In recent days, Ryanair announced the cancellation of 250 flights in and out of Germany, 104 to and from Belgium, and another 42 in Sweden. About a quarter of its pilots are to strike in Ireland.
The strikes in Germany alone are thought to impact 42,000 passengers.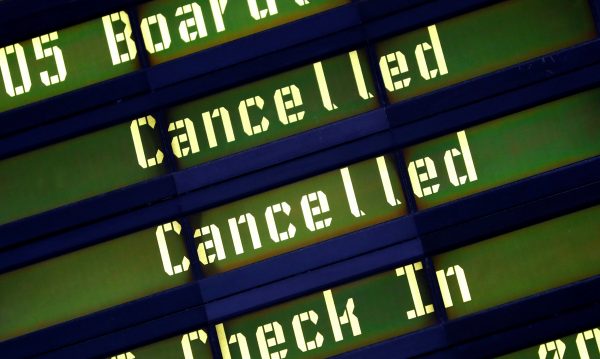 The Irish-based company, which has faced a string of strikes recently, said in a statement, "Despite the regrettable and unjustified strike action taking place in 5 of our 37 markets on Friday, over 2,000 Ryanair flights (85 percent of our schedule) will operate as normal."
It added, "The majority of customers affected have already been reaccommodated on another Ryanair flight. We want to again apologize to customers affected by this unnecessary disruption."
Ryanair last year agreed to recognize unions for the first time in its 30-year history, averting widespread strikes. But slow progress has frustrated workers' groups.
On Thursday, the airline took a union that represents 50 of its Dutch pilots, to court, aiming to stop them striking on Friday. The Association of Dutch Pilots wanted to protest slow progress in negotiating a collective labor agreement.
The union won the case, but Ryanair later said that all of its flights there will run on schedule.
The strike topped the 300 flights a day Ryanair had to cancel last month when cabin crews in Belgium, Portugal, and Spain went on strike for 48 hours
The strike action, which comes during peak holiday season, has sparked frustration among passengers.
Hi @Ryanair @RyanairFlights @Ryanair_ES @ryanair

Can you explain all of us (people from 7 DIFFERENT FLIGHTS) why, after a + 2 HOUR DELAY, we have been waiting for ANOTHER 1h30 for our luggage? At 2am? Are you serious? pic.twitter.com/5AJ5EH0Xgi

— Nico Ferreres (@NicoFerrere) August 9, 2018
Thanks @Ryanair for cancelling our flights that we had booked months ago for my birthday ruined a whole weekend ??

— jojo (@jojo110110) August 10, 2018
#ryanair cancelled my flight in the last min because of pilots strike. They offer me to change my tickets online which it's not possible because of their system crash. Noone is on the phone and livechat. They even don't do a refund. Ryanair is an headache pic.twitter.com/JXdHjSiMru

— jzff (@jzf_f) August 9, 2018
But some felt the pilots had no choice other than strike.
"What I find unjustified is that the pilots draw the short straw, because people want to fly cheaply," said Daniel Flamman at Frankfurt airport, who sympathized with the pilots. "It's annoying that it's happening in the summer holidays, but it's the only means they have."
The unrest is one of the biggest challenges to face long-term chief executive Michael O'Leary, who was once quoted as saying he would rather cut off his hand than recognize unions and on another occasion crossed a picket line of baggage handlers to help load a plane.
Reuters contributed to this report