Ryan Hunter Reay Wins Second-Closest Indianapolis 500 in History (+video)
May 25, 2014 6:34 pm Last Updated: May 25, 2014 7:24 pm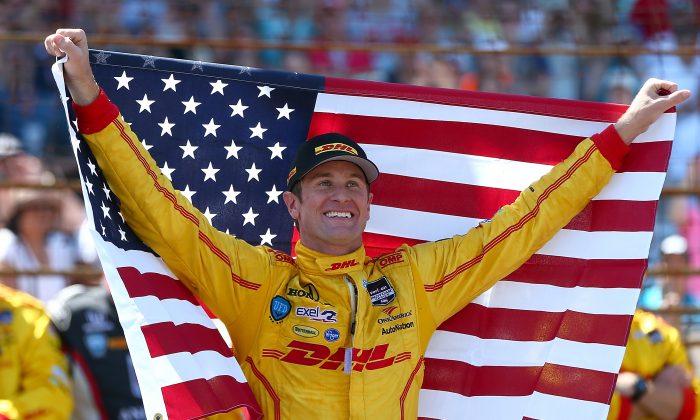 After 250 laps around the most famous racetrack in America, it was a driver nicknamed Captain America who became the first U.S.-born Indy 500 winner of the unified IndyCar era—and by the second-smallest margin of victory in the race's history.
Ryan Hunter-Reay won his first Indy 500 by six-hundredths of a second, barely beating three-time winner Helio Castroneves across the line after the pair swapped the lead four times in the final five laps.
"It hasn't sunk in yet," Hunter-Reay told ABC a few seconds after climbing out of his racecar. "To be in this race car two years in a row and have a shot at winning the greatest race in the world—A dream has come true today. I'm a proud American boy."
IndyCar features some of the best drivers from around the world, but it is an American sport, and the Indy 500 is the quintessential American race, something Hunter-Reay, a Texas native, grew up understanding.
"I have watched this race since I was in diapers, sitting on the floor in front of the TV," he recounted. "My son today got to watch me win. I am thrilled.
"This race is American racing. This is American tradition. This is just as good as a championship for me."

Ryan Hunter-Reay crosses the finish line 0.06 seconds ahead of Helio Castroneves to win the 98th running of the Indianapolis 500. (AP Photo/Dave Parker)
Hunter-Reay made sure to thank Andretti Autosport, the team which gave him a chance and gave him the cars to win a title in 2012, to almost win the 500 in 2013, and then to seal the deal in spectacular fashion in 2014.
"Andretti Auosport—this is my fifth year with Andretti Autosport doing it with these guys and such a great support team they've been behind me every step of the way.
"Nobody can stand here on their own without a good team behind them, and these guys did it. This #28 DHL Honda they gave me won the Indy 500—I don't even know what to think.
"We didn't qualify well; we started 19th—but we ran it right to the front. I was just biding my time, making the right adjustments on the stops—we did everything right today. That's what it takes to win this race."
After the previous four Indy 500s ended under a caution flag, this one ended under green, and the racing in the final seven laps made up for all those anticlimactic endings. Castroneves, seeking his fourth Indy 500 win, and Hunter-Reay, fighting for his first, passed each other in ways that neither had tried before.
"There was no practicing for what we did; we never ran those lines at all the whole month. That was all new—everything we were doing at the end was all new," Hunter-Reay explained.
"It was a fantastic fight to the finish and it went green the whole way—I loved that, because I wouldn't have wanted to win under yellow. I'd win it any way I can, don't get me wrong, but winning it under green like that, it was just a fantastic finish with Helio. We all raced each other clean but really hard. I think that was some fantastic racing. I hope the fan loved it because I was on the edge of my seat, that's for sure."
The fans were not on the edges of their seats—they were standing and screaming—and after Ryan Hunter-Reay took the checkered flag, the first American winner since 2006, they were chanting "USA! USA!"
Among the Fastest at the Finish
Despite the poor showing in qualifying, Andretti Autosport did come through for Hunter-Reay on race day.
His #28 DHL Dallara-Chevrolet was probably the fastest car on the track for most of the race. RHR's engineers had found the perfect balance so the car could maneuver through traffic and still run fast in clean air, and they maintained it through changing track conditions.
After the first set of pit stops, only a few other drivers could keep up—teammate Marco Andretti, pole-winner Ed Carpenter, and three-time Indy winner Helio Castroneves in his Chevy-powered Penske Dallara.
The race stayed green for the first 148 laps, obliterating the old record of 67 laps without a caution. The first yellow flag waved when Charlie Kimball spun and smacked the wall in Turn Two. Twenty Laps later three-time and current series champ Scott Dixon lost the back end entering Turn Four.
Chaos erupted on the restart as Townsend Bell, Ed Carpenter, and James Hinchcliffe tried to go three-wide through Turn One. Bell moved down and bumped Carpenter into Hinchcliffe, ending the race for the other two drivers while Bell drove away.

The wreckage was cleared and racing resumed with 20 laps left to go. With Carpenter out of the race, Hunter-Reay, Andretti, and Castroneves resumed their three-way fight for the lead.
Hunter-Reay had the lead at the restart, but lost it to Andretti on lap 183. RHR took the lead back on the next lap; Helio followed him by into second, then passed Hunter-Reay on the next lap. Hunter-Reay took it back a lap later, and managed to pry open a three-tenths gap.
This meant RHR was still in the lead when Townsend Bell, his car possibly damaged by earlier contact, lost control and went hard into the wall on lap 191.
Debris scattered across the track and the SAFER barrier was damaged; race director Beaux Barfield decided to red-flag the race, giving the safety crew time to thoroughly clean up and make repairs. This guaranteed a seven-lap shootout to finish the race—with the cars starting on cool tires after sitting in pit lane waiting for the green.
Neither Andretti Autosport driver had ever won the 500—Marco nearly did on his first attempt in 2006 (at that time the second-closest Indy 500 finish,) but bad luck and bad strategy had ruined every attempt since. RHR had been right up front at the close of the 2013 race, but got caught by a caution in the final few laps before he could make his move.
Castroneves had won three times, but he desperately wanted another to join that very exclusive club of IndyCar heroes, A.J. Foyt, Al Unser and Rick Mears, with four wins.
When the race restarted with seven laps left, each of the fastest three drivers was determined that this year would be his year.

Ryan Hunter-Reay in the #28 DHL Andretti Autosport Dallara-Honda, Helio Castroneves in the #3 Pennzoil Ultra Platinum Penske Dallara-Chevrolet, and Marco Andretti in the #25 Snapple Andretti Autosport Dallara-Honda, race during the closing laps of the 98th Indianapolis 500. (Robert Laberge/Getty Images)
Four Lead Changes in Five Laps
The restart went off cleanly despite cold tires and the pressure of the approaching end of the race. Ryan Hunter-Reay's car hooked up phenomenally, giving the AA driver a tenth-of-a-second gap on Helio Castroneves, but the Penske driver was determined—he pushed inside Hunter-Reay entering Turn One on lap 197.
On the next lap, Hunter-Reay set up to pass Helio on the outside—then, traveling at almost 220 mph, dived almost to the grass to squeeze by on the inside. It was a risky pass, but Hunter-Reay had the car control to pull it off safely.
Marco Andretti was not sitting back as a passive observer—he challenged whoever was in second, trying to set up his own run for the lead. Castroneves had to spend the final three laps watching his mirrors as Marco kept looking for a way by—while still trying to set up his own pass on Hunter-Reay.
With one lap to go, Castroneves moved high to block Andretti and carried on with the high line to sweep past Hunter-Reay.
The Andretti Autosport driver had four chances to win the race—but he knew he had to wait, or else risk being repassed right before the line.
Hunter-Reay waited until the final lap, then pulled out and passed Castroneves exiting Turn One, duplicating the pass Helio had made on him a lap earlier. Castroneves tried to stay close enough to Hunter-Reay to get a run out of the final corner but he waited a fraction of a second too long to get the power down. Hunter-Reay crossed the line first by about a car length.
Winners and Losers
This was not only a great win for Ryan Hunter-Reay, it was a great day for the entire Andretti Autosport team. AA entered five cars, and four finished in the top six positions—RHR won, Marco finished third ahead of Carlos Munoz, and NASCAR star Kurt Busch finished sixth in his first IndyCar race. James Hinchcliffe was the only AA driver not to finish, but he was running fourth when Townsend Bell wrecked him.
Honda and Chevy power split the top ten—Andretti Autosport's move the Honda power worked out well for both parties.
Penske managed a decent day despite not taking the win, with three drivers in the top eight. AA and Penske took seven of the top eight spots—only Sebastien Bourdais of KV Racing interrupted them by finishing seventh.
One big loser was Target-Ganassi. Tony Kanaan was running well until he ran out of fuel on his second pit stop. Something stripped in the starter when the crew tried to refire the engine, and it took 17 laps to repair, ending the 2103 winner's day.
Scott Dixon was following his plan to stay near the top five until the final laps, and then charging, but he found that his car lacked a little bit of top end. He told his crew to take off some rear downforce—maybe too much, because he came out of the pits and smacked the wall on lap 168.
Target-Ganassi managing director Mike Hull claimed that the crew had barely touched the rear wing, and that had nothing to do with the wreck. Either way, the car was totaled and so were Target-Ganassi's Indy chances.
Laurel and Dart for pole-sitter Ed carpenter. As an independent owner-driver of a one-car team, he represents a era of IndyCar racing all but lost in history—and he represents that era well, winning the p[ole at Indy two years' running.
Carpenter was running up front until he blistered a rear tire and had to make an unscheduled stop which dropped him mid-pack. This could have worked out in his favor, depending on how the caution flags worked out.
As they worked out, his earlier problems didn't matter-after the first two cautions carpenter was back on schedule and running up front again.
Carpenter was the innocent victim of the three-car collision on the lap 175 restart. He was minding his own business when Townsend Bell tried to pass him on the outside in Turn One. James Hinchcliffe came up late and tried to squeeze through on the inside; likely bell never knew they were three-wide when he forced Carpenter down the track and into Hinchcliffe.
Carpenter had had every chance to win the Indy 500 until he was wrecked—his car was fast, and carpenter is a skilled oval racer. He deserves praise for his efforts.
And a bit of condemnation for his comments after the crash. Carpenter told an ABC-TV interviewer that he told Hinchcliffe that if the AA driver hadn't gotten a concussion in the Indy Grand Prix two weeks earlier, Carpenter would have given him one right there in the ambulance they shared. Kind of a classless comment—especially considering that Hinchcliffe was so gracious about the incident.
"I was last guy on the scene, so I've got to take a share of the blame," Hinchcliffe said, adding that Townsend Bell also deserved a share. "It was 100 percent not Ed's fault," Hinchcliffe concluded. That is how a gentleman addresses thorny issues.
Finally, the Sportsmanship Award goes to Helio Castroneves. The Penske driver had nothing but praise for Hunter-Reay and Andretti Autosport in his post-race interview—and of course he also expressed gratitude for Team Penske.
He finished the interview saying "It's great, but still second sucks"—and only after the camera started to pull away did his beaming smile start to fade, and it looked as though the defeated driver was about to burst into tears.
A moment later, he looked up, faced another camera and another microphone with his smile back in place, and prepared to give his next interview.
He might not have finished first, but Helio Castroneves ended the race as a winner.
IndyCar will be back in action on Saturday and Sunday with the Dual in Detroit doubleheader on the Belle Isle island circuit, in a shared weekend with the Tudor United SportsCar Championship.. Visit DetroitGP.com for tickets and more information.