Ryan Hunter-Reay Takes Pole for Honda Indy Grand Prix of Alabama
RHR smashes track record by nearly three seconds
April 8, 2013 10:24 pm Last Updated: November 2, 2017 8:06 am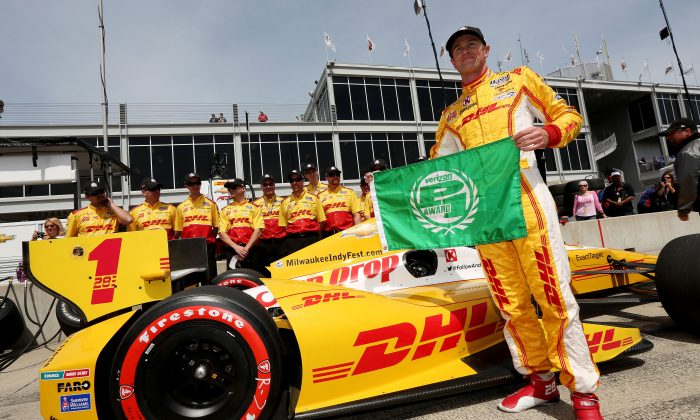 LEEDS, Ala.— Ryan Hunter-Reay, 2012 IndyCar champ demonstrated why he won the trophy with a smoking lap around Barber Motorsports Park Saturday morning, earning himself the pole for the 2013 Honda Indy Grand Prix of Alabama.
RHR dug deep for one really fast lap in the final round of knockout qualifying and ended up with a bigger gap between himself and the second-place driver, Will Power, than between any of the other drivers in the Firestone Fast Six.
"I think the No. 1 team certainly does a great job of staying after me to improve my driving in certain corners," Hunter-Reay told the post-qualifying press conference.
"I was a bit concerned that last run. On the first lap, I didn't get a good lap in. I was a half second down from my previous best. I was worried.
"That second lap, the time started coming. Coming out of Turn Six, I was only 2/10ths down from my quick lap. I was at a deficit at Turns 12 and 13 all weekend. I knew what I had to do there to fix it. It was harder to put into actual practice, to actually make it happen.
"I just put it together that last lap. It felt great.
"I have to have the car to do it. Those guys put the car under me to get it done. I knew in the last couple sessions it was sort of up to me to get the lap out of it."
Hunter-Reay got that lap. The Andretti Autosports driver lapped the 2.38-mile, 17-turn circuit in 1:07.0871, 0.2433 seconds faster than Penske's Will Power, and 2.7658 seconds faster than Power's 2012 record of 1:09.8529.
Power, who won at Barber in 2011 and 2012, qualified second, just 0.03 ahead of rookie sensation Tristan Vautier, who made it to his second Firestone Fast Six in his second IndyCar race. He nearly didn't—the 22-year-old Schmidt Peterson driver was knocked out in the second round of qualifying, but reinstated after Takuma Sato was penalized for interfering with Justin Wilson's lap. Sato was dropped to 12th.
"I was very upset with myself after the second round of qualifying," Vautier said after qualifying. "I was upset and looking at the time board. Right before the Fast Six started, I was looking at it, 'Guys, I see my car in the top six, maybe we should bring it back to pit lane.
"I have to give it to the guys. They brought the car back last minute and got it ready after the Fast Six started. It was a mix of emotions to be disappointed and then all of a sudden know I was in the Fast Six.
"I just tried to push very hard. My engineer made good changes on the car for the Fast Six and the tires were a bit more used. It was so cool because the cars have so much grip. You can really push hard and give it all."
There was quite a bit of talk about blocking. St. Pete winner James Hinchcliffe complained that Will Power held him up; at the post-qualifying Power said with a smirk, "I don't think I blocked him actually. Viso checked me up. [He's] just whining because he didn't get through, I think."
Scott Dixon was the best placed Target-Ganassi driver, finishing fourth only 0.0022 behind Vautier. His teammate Charlie Kimball made it into his first career Firestone Fast Six with a lap of 1:07.4987.
"The car was quick in Q1 and Q2, sort of miss-timed a little bit in Q3 there," Dixon said. "I don't think we would have had enough for Ryan, but definitely I think enough for maybe second position. A 10th-and-a-half would have helped a couple spots. But still a great starting position."
Kimball spoke of how hard the team had worked over the winter and at last month's test at Barber. "In the open test we made progress. We didn't come with the best car and left with a big step forward. It's really a credit to the engineering and mechanic crew on the 83 car. They've given me the information and I've been able to go out and perform."
Helio Castroneves, who won the pole in 2012, qualified sixth this year. It was a good effort for Team Penske. "The AAA car was really consistent," he told the press conference. "Unfortunately the last qualifying we decided to predict something. As a team decision, we decided to do something to the car, and it wasn't the right direction.
"I feel we have a very strong car for tomorrow."
Sunday's race will not only be very fast, it will be very close. The top 11 drivers were within eight-tenths of Hunter-Reay's time, and the entire field qualified faster than Power's 2012 record. As Power put it, "Competition is so bloody tight, it's unbelievable."
The Honda Indy Grand Prix of Alabama takes the green flag at about 2:40 p.m. Central time Sunday. It will be preceded by the Indy Lights Legacy 100 at noon. Tickets for both races are available at the gate or online at BarberMotorsports.com