Supreme Court Justice Ruth Bader Ginsburg was hospitalized after fracturing several ribs after falling in her office.
The Court made the announcement on Nov. 8, saying that the 85-year-old went home after the fall but had "discomfort overnight" and went to George Washington Hospital in the morning, the statement said.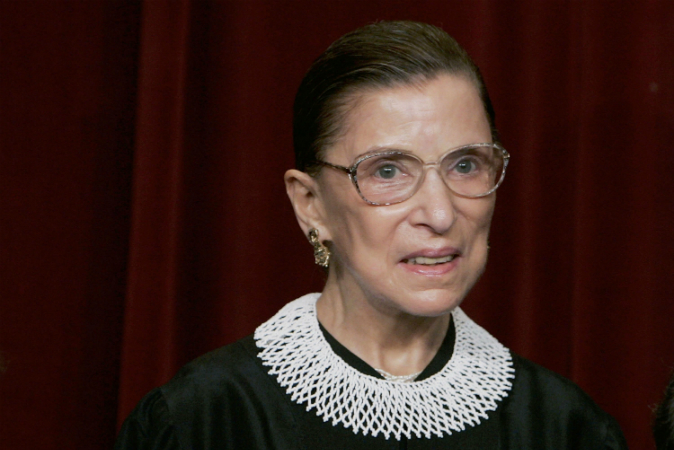 After tests, it was revealed that she was "admitted for observation and treatment," according to the statement.
"Tests showed that she fractured three ribs on her left side and she was admitted for observation and treatment. Updates will be provided as they become available," the statement from the Court reads.
Other details about the incident are not clear.
"I've known her for many, many years … got to see her just a few weeks ago here at the swearing-in of Justice Kavanaugh," White House counselor Kellyanne Conway told reporters about Ginsburg's hospitalization. She added:  "I hope she has a full and speedy recovery."
Ginsburg, 85, is the court's eldest member and is considered most senior of its liberal minority. She was appointed in 1993 by President Bill Clinton as the second woman to serve on the Supreme Court.
In 2014, she underwent a heart procedure to have a stent placed in her right coronary artery, CNN reported, and in 2009, she was treated for pancreatic cancer. She also had surgery to treat colon cancer in 1999.
Ginsburg said she wants to stay on the bench until 2020.
"I'm now 85," Ginsburg told the New York Times. "My senior colleague, Justice John Paul Stevens, he stepped down when he was 90, so think I have about at least five more years."
In the interview, she spoke about being close friends with the late Supreme Court Justice Antonin Scalia despite having different political views. "If I had my choice of dissenters when I was writing for the court, it would be Justice Scalia," Ginsburg told the paper. Scalia's seat was eventually filled by Justice Neil Gorsuch, who was nominated by Trump.