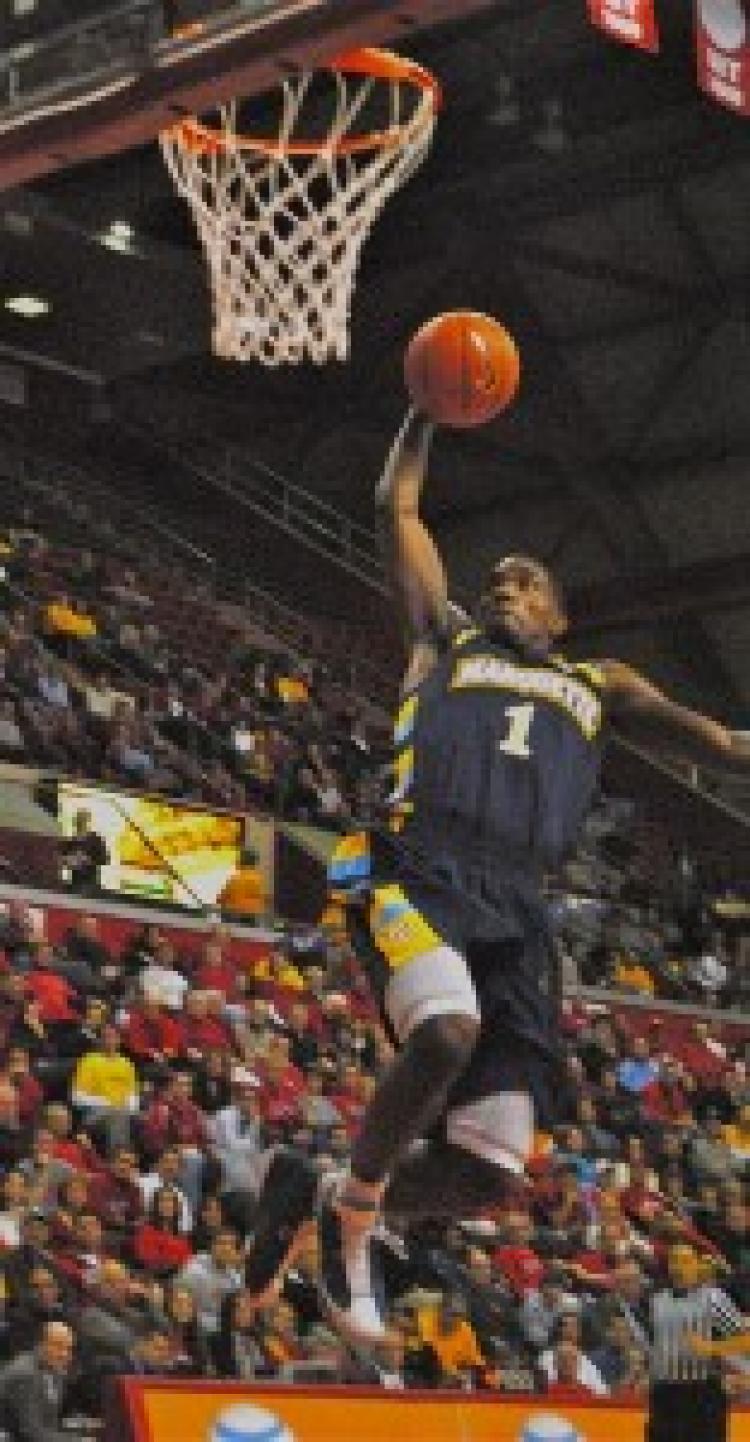 PISCATAWAY, NJ—In the first two games of the Big East schedule, Rutgers was in unfamiliar territory.
They were competitive and had a chance to win.
Hanging with the top teams in the conference is something the Scarlet Knights aren't used to. So closing out and coming back in those games is that much harder, especially when you're beating yourself.
"We have such a small margin of error, so if we don't attend to the details of the game…It costs us, and it cost us tonight," Rutgers head coach Mike Rice said.
Rice noted the details Rutgers lacked tonight in the 73–65 loss to Marquette were closing out with high hands, setting screens to get open on the wing, jump stopping, and boxing out.
He also said how consistent play was a key, which he got from his senior point guard James Beatty. Beatty had a career night with 24 points including six threes for Rutgers (9–5, 0–2). But Marquette (11–4, 2–0) had a hot hand in fellow North Carolina native Darius Johnson-Odom. The junior guard had 29 points with five threes.
Beatty's success came from being more aggressive, something the coaching staff has discussed with him.
"We can't win a ball game with him [Beatty] taking three or four shots," Rice said. "He's been very aggressive in practice, looking for his shot, picking and choosing."
And as the point guard, that's not always easy.
"He's my quarterback. He runs the offense. He wants to get everyone involved, but we can't win in the Big East if he only takes four shots," Rice said.
"He was tremendously aggressive, he was looking for it. With Jonathan [Mitchell] and Mike [Coburn] and Dane [Miller] in a complete funk, he stepped up and literally kept us in the game single handedly."
With Mitchell, Coburn, and Miller having nine points combined, Rutgers didn't get enough offensively from three of their key players.
Miller—regarded as the teams best offensive player heading into the season—was double-downed on all night and didn't score his first point until the 16:21 mark of the second half from the free throw line.
Senior Robert Lumpkins—who missed the last two games due to personal issues—tried to pick up the slack along with freshman Gilvydas Biruta. The forwards had 10 and 12 points respectively.
The Knights were also playing their first game without Austin Carroll, who will undergo surgery and miss 4-6 weeks after injuring his left knee against Villanova.
Having only nine scholarship players, the freshman guard's absence changes the rotation.
"I would have put J-Mitch [Mitchell] at three a little bit more and played a little bit bigger, but it's still the way we play. We're more of a motion team anyway so it hurts," Rice said.
"Especially someone who knows where to be and going to do it with an urgency. He makes good decisions even though he's a freshman."
But what the game came down to is playing a complete 40 minutes and closing out on comebacks. RU got to as close as four points a couple of times in the second half and were in a two-possession game a dozen times.
Closing out games is something Rutgers will have to get used to, as it appears they will be in a lot of close games in the conference under their first year head coach.
While they aren't used to being in such games, a key to winning them will be not acting that way.
"We can't act surprised," Beatty said. "We got to go out and take it to them like they are taking it to us for 40 minutes and when we do that we're going to win.
"But until we do that for 40 minutes we're not going to be successful."
Follow Matt on Twitter at www.twitter.com/MattSugam and tune in every Friday from 6 p.m. to 8 p.m. EST on WRSU-FM as he cohost's Scarlet Fever discussing Rutgers, Big East basketball and football, and N.Y. sports.