Russia's military is beginning a "combat readiness" inspection as tensions between the Kremlin and Ukraine have escalated in recent weeks.
"In accordance with the plan for the training of the armed forces, control checks have begun in the military administration bodies, formations, and military units," Russian Defense Minister Sergei Shoigu said in a meeting at the Defense Ministry on April 6. "The troops went to the training grounds for tactical, tactical-special, and bilateral exercises."
The official said that 4,048 military exercises will be held in Russia this month at more than 100 training grounds, with most training occurring in the Far East region in Siberia.
On April 2, Kremlin spokesman Dmitry Peskov told reporters that any NATO troop deployment to Ukraine would lead to more tensions between Kyiv and Moscow.
NATO voiced concern last week over what it said was a big Russian military build-up near eastern Ukraine after Russia warned that a serious escalation in the conflict in Ukraine's Donbas region could "destroy" Ukraine.
"Our rhetoric [over Donbas] is absolutely constructive," Peskov told reporters, according to TASS. "We do not indulge in wishful thinking. Regrettably, the realities along the engagement line are rather frightening. Provocations by the Ukrainian armed forces do take place. They are not casual. There have been many of them."
During the "silence" regime since July 27, 2020, 28 warriors have been killed by the shelling in Donbas, 24 of them this year. Since March 26 alone, we've lost 8 of our soldiers. Every day of the war costs us the lives of brave, patriotic men who must build the future of Ukraine

— Володимир Зеленський (@ZelenskyyUa) April 6, 2021
In late March, Ukrainian officials said that four Ukrainian military members were killed near Shumy, saying that forces loyal to the Donetsk People's Republic were responsible. Donetsk denied responsibility and later said the soldiers were killed by a landmine.
Ukrainian President Volodymyr Zelensky, who also spoke with President Joe Biden via telephone for the first time last week, wrote on Twitter on April 1 that "muscle-flexing in the form of military exercises on the border with Ukraine is an attempt to put pressure in the negotiations on ceasefire and peace as our value."
"We are always ready for provocations," he said, adding that Ukraine's "army is not only strength and power, but also wisdom and balance."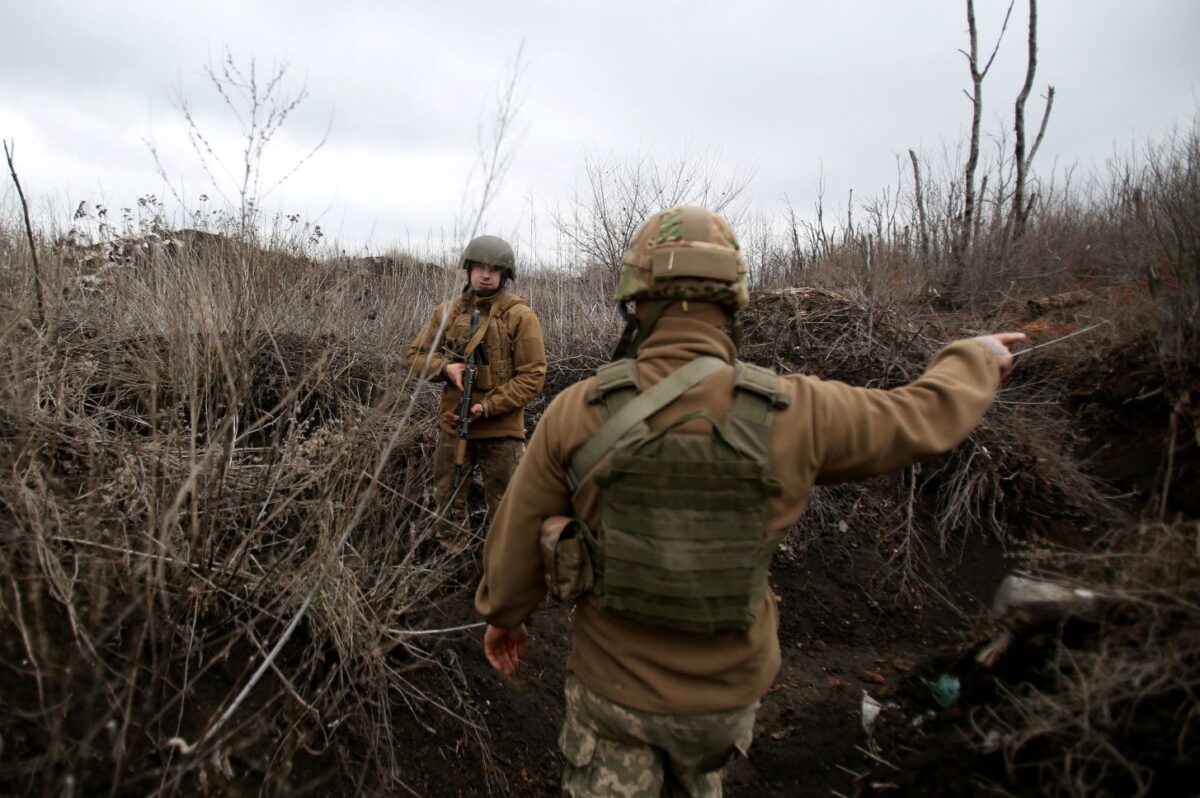 On April 2, the Donetsk People's Republic, which is backed by the Kremlin, announced military conscription of citizens born between the ages of 1994 and 2003, according to official documents posted online.
In the meantime, video footage uploaded on social media shows a significant influx in Russian military vehicles near Ukraine. Ukrainian tanks were also seen in the Donetsk and Luhansk regions.
Russia's foreign minister, Sergei Lavrov, told reporters on April 2 that he believes Ukraine's army doesn't truly want a "hot conflict" in the region. "I very much hope that they will not be 'incited' by politicians, who in turn will be 'incited' by the West, led by the United States," he said.