Boeing has announced it's pulling support for Russian airlines—including parts, maintenance, and technical support services—in a move that isolates the country's aviation industry and comes amid a biting sanctions response to Russia's invasion of Ukraine.
A Boeing spokesperson told The Epoch Times in a statement that the company was suspending major operations in Moscow and closing its office in Ukraine's capital, Kyiv.
"We are also suspending parts, maintenance, and technical support for services for Russian airlines. As the conflict continues, our teams are focused on ensuring the safety of our teammates in the region," the spokesperson added.
Russia's strike against neighboring Ukraine has been met with a raft of sanctions, including ones impacting aviation. Aircraft and engine manufacturers, as well as lessors and maintenance, repair, and overhaul providers serving Russian clients face a number of bans, including on leasing planes, exporting new aircraft, and providing parts.

Boeing's decision to pull support from Russian airlines comes as the Kremlin has intensified what it calls a "special military operation" to disarm Ukraine and decapitate its Westward-looking government, drawing widespread condemnation.
President Joe Biden on Wednesday ratcheted up sanctions on Moscow, joining Canada and the European Union in banning Russian planes from U.S. airspace.
"We will join our allies in closing off American airspace to all Russian flights, further isolating Russia and adding an additional squeeze on their economy," Biden said in his State of the Union address, adding that the Justice Department would seek to seize yachts, luxury apartments, and private jets of Kremlin-tied Russian oligarchs.
"He has no idea what's coming," Biden added, referring to Russian President Vladimir Putin, who ordered a multi-pronged invasion of Ukraine last week and whose offensive has met resistance from Ukrainian forces.

A miles-long Russian military convoy north of Kyiv has made little progress toward the capital, though military analysts say Kremlin forces are likely regrouping and resupplying for a renewed offensive.
Some analysts have expressed surprise at the apparent logistical gaffes of Putin's forces, with images on social media of Russian tanks stalled on the roadside due to lack of fuel as they overran supply lines and got stuck with no support.
The invasion has sparked a humanitarian crisis. The U.N. refugee agency said Tuesday that about 660,000 people have fled Ukraine for neighboring countries since Russian tanks rolled into Ukraine.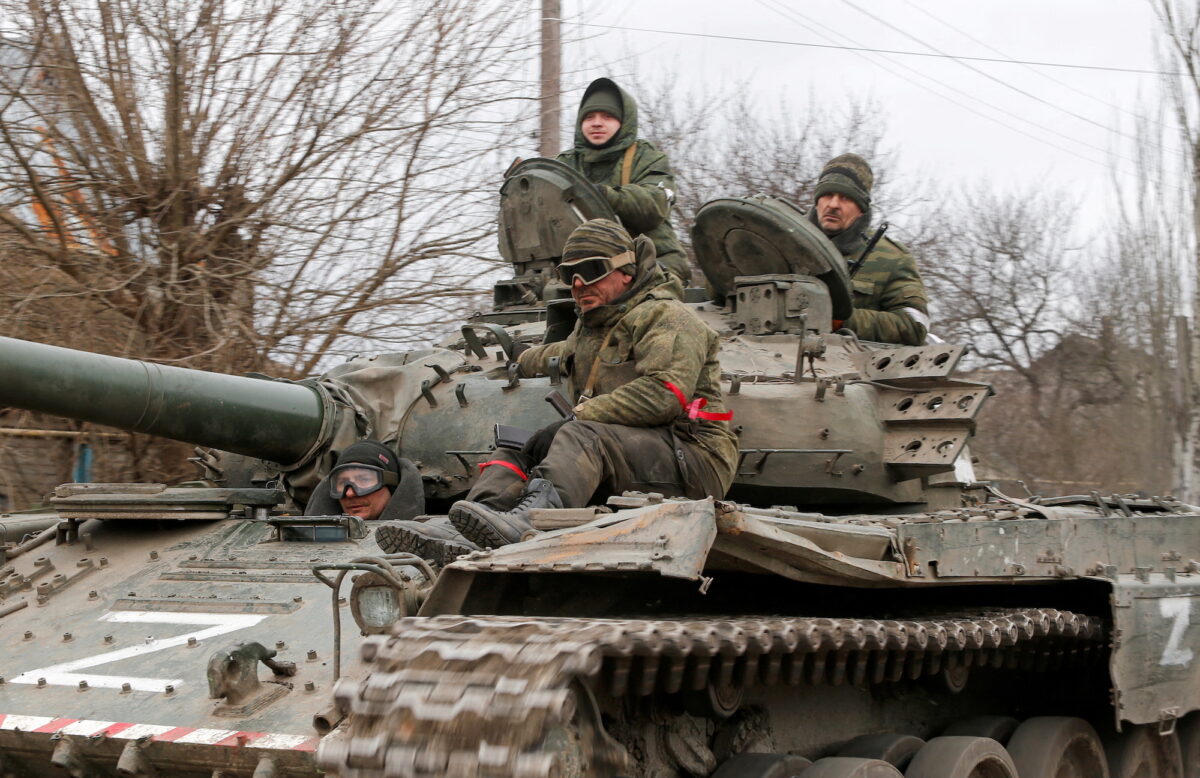 While Biden made clear that U.S. forces would not be engaged in the conflict in Ukraine, he reiterated his pledge to defend NATO territory.
"I have made crystal clear: The United States and our allies will defend every inch of territory that is NATO territory with the full force of our collective power. Every single inch," Biden said.
"While he may make gains on the battlefield, he will pay a continuing high price over the long run," Biden said.
Russia's Deputy Prime Minister Yury Borisov said on Wednesday that Russian authorities have calculated the whole range of potential sanctions and are able to weather the storm.
"There is no panic," Borisov said, according to state-run Russian news agency Tass.