The Russian military said on April 11 that it destroyed S-300 air defense missile systems provided by an unidentified European state to Ukraine's military.
The Russian Defense Ministry said it struck a hangar "on the southern outskirts of the city of Dnepropetrovsk" that housed "equipment from an S-300 battery supplied to the Ukrainian regime by one of the European nations," according to state-run media.
Moscow didn't say how many of the S-300 systems, which were produced during the Soviet Union, were destroyed or damaged. It's also not clear what country provided the S-300s to Ukraine.
Russian Defense Ministry spokesman Maj. Gen. Igor Konashenkov also said in a statement on April 11 that about two dozen Ukrainian soldiers also were targeted in the airstrike. The Russian military used Kalibr cruise missiles to carry out the attack, he said.
Last week, Slovakia, which shares a small border with Ukraine and is a member of NATO, announced it would donate one of its S-300 systems to Kyiv. The weapon system was provided to Slovakia when it formed the eastern half of Czechoslovakia during its Warsaw Pact days.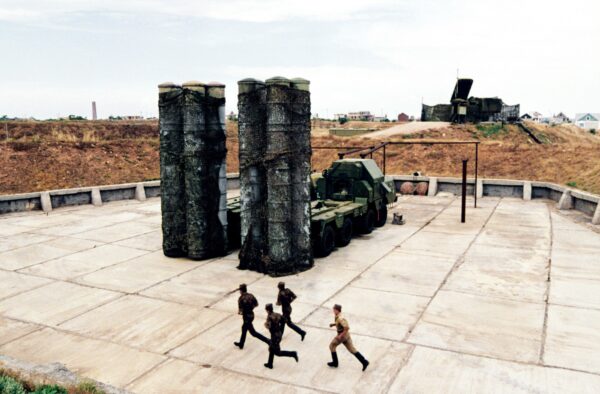 But Slovak Prime Minister Eduard Heger said Russia's claims about destroying an S-300 system is "a hoax" and that this was "officially confirmed" by Ukraine.
"Our S-300 system has not been destroyed," said Lubica Janikova, spokeswoman for Heger, in a statement on April. It's not clear whether the Slovak officials were referring to the same airstrike that Russia was referring to.
"It is our duty to help, not to stay put and be ignorant to the loss of human lives under Russia's aggression," Heger said last week about providing the S-300 system to Ukraine's government.
On April 11, meanwhile, Kyiv said its forces are still fighting and holding out in the besieged city of Mariupol.
"Communication with the units of the defense forces heroically holding the city is stable and maintained," Ukraine's military commander-in-chief, Gen. Valerii Zaluzhnyi, wrote on Facebook. "We are doing the possible and impossible for the victory and the preservation of the lives of personnel and civilians in all directions. Believe in the Armed Forces of Ukraine!"
Also on April 11, Russian foreign minister Sergei Lavrov said the Kremlin wouldn't halt its operation for any new round of peace talks.
"A decision was made that during the next rounds of talks, there would be no pause [in military action] so long as a final agreement is not reached," he said.
Reuters contributed to this report.