NEW DELHI—Russia's invasion of Ukraine is redirecting the world's attention toward the old Cold War and away from the Chinese regime's expansionist agenda in the Indo-Pacific, experts say.
Meanwhile, the action against Ukraine indicates a Chinese–Russian convergence that's creating new challenges for the existing global order.
Cleo Pascal, an associate fellow at the London-based think tank Chatham House, says the Russian attack on Ukraine helps China in multiple ways.
"First, it refocuses the West on Cold War 1.0 … with Russia, and takes its focus away from the Cold War with China, which is rapidly turning warmer," Pascal said.
The situation has given Beijing a "free hand" in the Indo-Pacific, says Madhav Nalapat, a strategic analyst and vice chair of the India-based Manipal Advanced Research Group. He says the Biden administration and NATO member states are responsible for the strategic distraction.
"The revival of Cold War 1.0 (Moscow–Washington) taking oxygen majorly away from Cold War 2.0 (Beijing–Washington) is a blunder of historical proportions where the democracies are concerned," he said.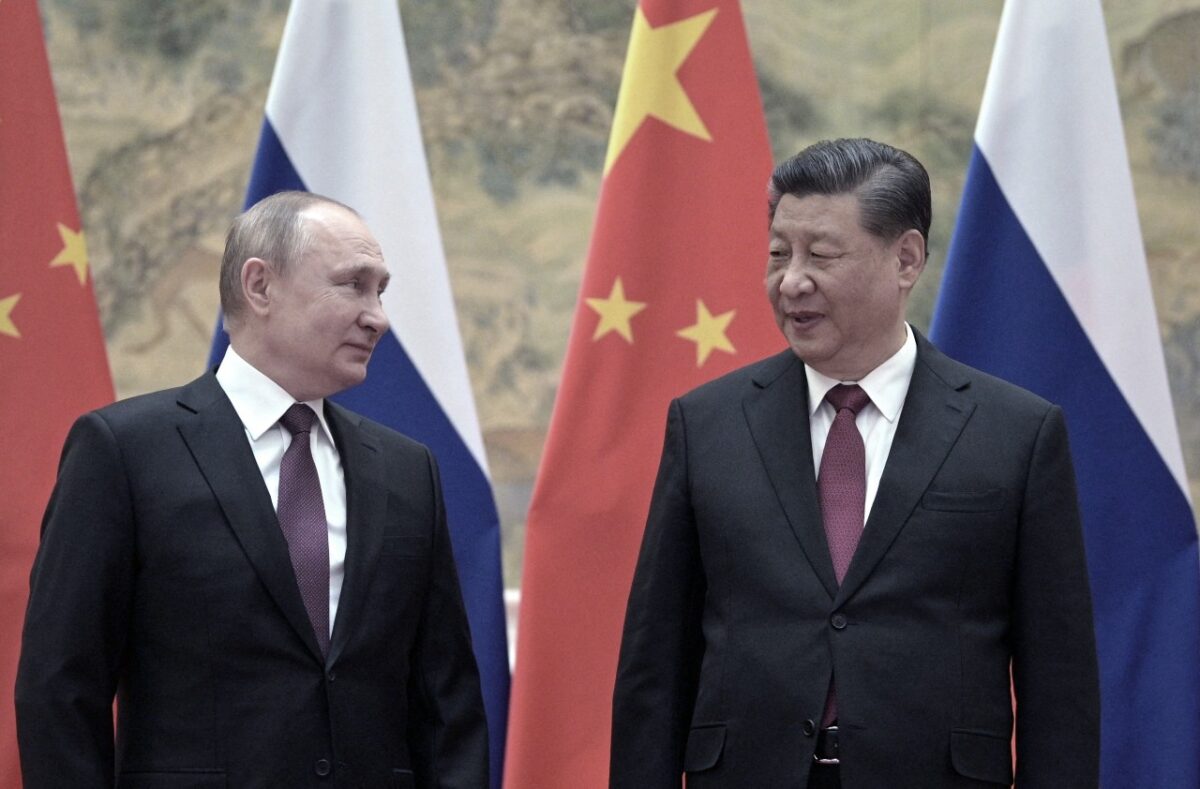 China–Russia Ties
Since the Ukraine invasion, China has been walking a diplomatic tightrope, refusing to take a firm position backing either side. The regime has repeatedly refused to call the attack an "invasion" or to condemn Russia, and has instead blamed the United States for "fanning the flames" of war.
Less than three weeks before the invasion, Russian President Vladimir Putin and Chinese leader Xi Jinping met in Beijing on the opening day of the Winter Olympics, which resulted in both leaders declaring a "no limits" partnership. Xi also voiced support for Russia's opposition to the expansion of NATO, the issue at the heart of the current crisis in Ukraine, while Russia expressed support for the Chinese regime's territorial claims over self-ruled Taiwan. The two countries also signed gas and oil contracts worth nearly $118 billion.
Frank Lehberger, a Germany-based sinologist, told The Epoch Times that his sources say that Xi and other high-level Chinese Communist Party officials in the Politburo held a secret meeting during the Beijing Olympics, where a "shouting match between Xi and [his] rivals happened."
"Xi was forced to take back the full backing of Putin. Now, China in the U.N. is not giving a full endorsement for Putin's invasion of Ukraine anymore," Lehberger said.
As the Russian forces entered the Ukrainian capital, Kyiv, on Feb. 26 after two days of airstrikes on cities and military bases around the country, Ukraine President Volodymyr Zelensky refused a U.S. offer to help him evacuate, responding that said he needed anti-tank ammunition and "not a ride." He asked his countrymen to "stand firm" against the siege.
Chinese state media took that as an opportunity to condemn the United States, alleging that it hadn't acted responsibly toward Ukraine.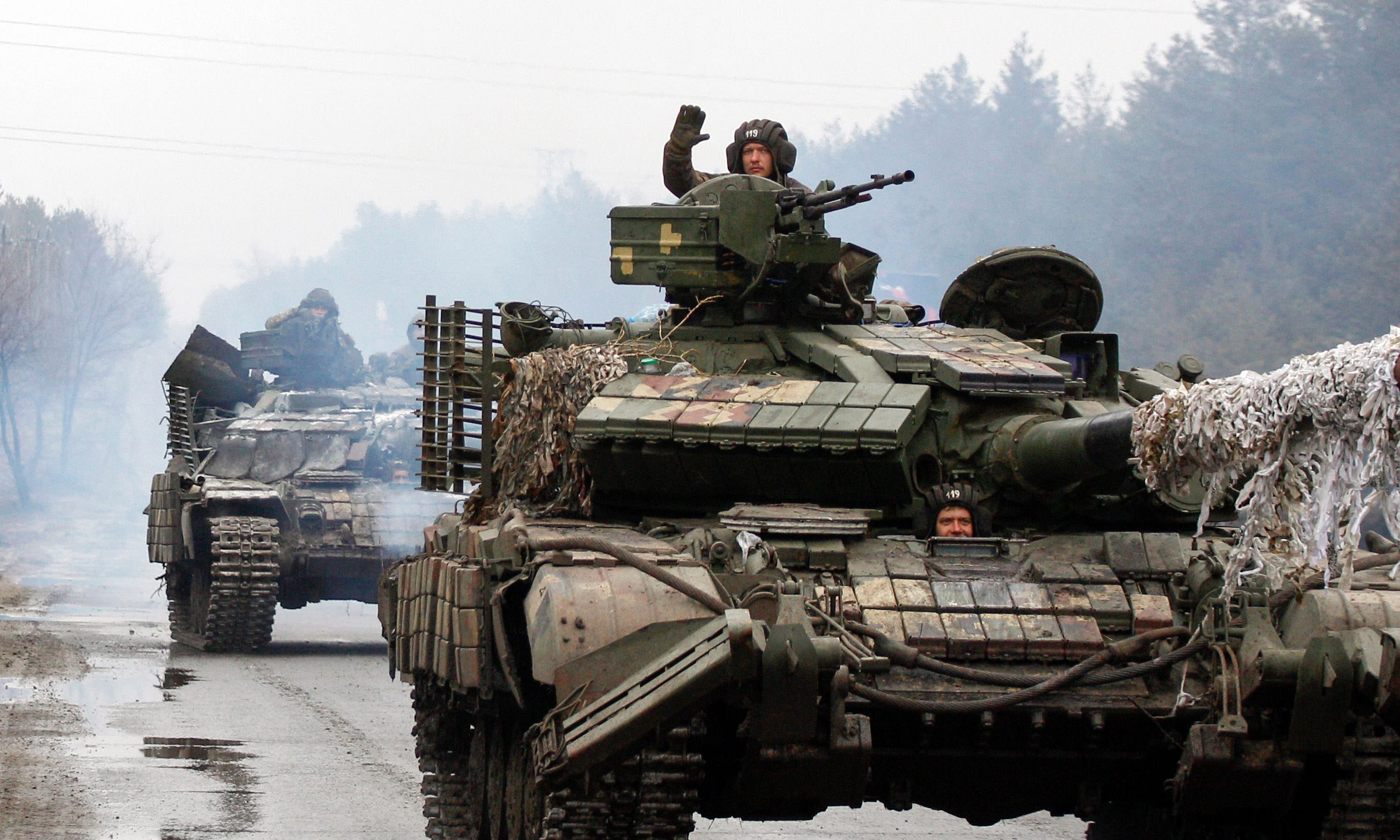 However, Lehberger said that the crisis in Ukraine is a diplomatic failure for Beijing because prior to the attack, a U.S. official had repeatedly warned China about it, but Beijing didn't take it seriously.
"Xi and the leadership were hoodwinked by their 'ally' Putin that he would not attack. They scoffed at the Americans and then, after the [Feb. 24] invasion, were totally taken aback," he said.
"There are 20,000 Chinese working in Ukraine, and they are now in the way of being slaughtered between the fronts."
Lehberger added that the Chinese trying to flee Ukraine are putting their national flags on their cars to "belatedly flee the killing zones in the city." Ukrainian air space was closed to all civilian flights after the Russian attack.
The Russian invasion came at an awkward time for the CCP, which is scheduled to hold an important meeting, the Party Congress, later this year, according to Srikanth Kondapalli, a professor of Chinese studies at the New Delhi-based Jawaharlal Nehru University. Xi is bidding for an unprecedented third term in power.
"Russia, which helped form the [Chinese] Communist Party in 1921, has a lot of political leverage in China and the Ukrainian developments are expected to play out in the domestic political struggles," Kondapalli said.
"Already several factional leaders in China are questioning the Russian actions. Despite the clampdown on any negative coverage of Russia in China's media, political dissonance in China is rising."
Do Sanctions Help China?
The United States, the European Union, the UK, Japan, Canada, Taiwan, and New Zealand have announced a raft of sanctions against Russia. Most recently, Washington and its allies moved to block certain Russian banks' access to the SWIFT international payment system, seeking to inflict a crippling blow to the country's economy.
Pascal said that the sanctions will help China because Russia, after being shut out by the West, will become more economically reliant on Beijing.
"[This] is probably why we saw those big economic deals around fossil fuels being signed between Russia and China, because it gave Putin the economic lifeline that he would need if he were going to get cut off to some degree by the West," she said, referring to Putin and Xi's meeting in early February.
The Chinese customs administration announced this week that it had decided to import wheat from all regions of Russia. China had earlier restricted wheat imports from Russia, the world's top wheat producer, over what it said were concerns about fungal contamination.
Australian Prime Minister Scott Morrison on Feb. 24 condemned China's liberalizing of trade with Russia amid the crisis.
"At a time when the world was seeking to put additional sanctions on Russia, they have eased restrictions on the trade of Russian wheat into China," he said at a press conference. "You don't go and throw a lifeline to Russia in the middle of a period when they are invading another country. That is simply unacceptable."
However, Lehberger said that both Russia and China are opportunistic states and that the sanctions aren't necessarily in the Chinese regime's interest.
"The duplicitous Chinese will try to squeeze all kinds of concessions out of a weakened and ostracized Russia. They do this always when they smell weakness no matter if you are a friend or an ally," he said. "Putin is not much better; he hoodwinked his best friend Xi on the invasion, and so well that [Xi] distrusted any truthful information that Biden gave him."
Two Chinese state-owned banks, the Bank of China and the offshore units of Industrial and Commercial Bank of China, said on Feb. 25 they had restricted financing for Moscow's commodity purchases, following the announcement of Western sanctions.
"The Chinese are already sniffing Russian weakness three days into the war," Lehberger said.
Because of China's significant economic ties with the West, it may not be in Beijing's interest to help Russia evade the effects of the sanctions, Kondapalli said.
"Even though China had announced a 'dual circulation' strategy of lessening its dependence on exports, this process may take a longer duration and hence, the Ukrainian fallout is problematic," he said.
"Associating with Russia could further increase costs for China as the sanctions regime intensifies."
Sanctions on Russia also have boosted oil prices to $100 per barrel from $94, which directly affects an import-dependent China.
"China's energy imports face sustainable and affordable supply disruptions in the near future," Kondapalli said.

Weakening the West
While Russia and China are not all-weather friends, they share a common interest in weakening the West; their convergence would create fresh challenges for Indo-Pacific countries that rely on U.S. leadership to counter China, analysts said.
Pascal said she expects China and Russia to support each other tactically over their wide range of interests.
"Russia gets some sort of tacit backing at least economically or support economically for incursions into Europe; there's practically no cost to Russia for this," she said. "And similarly, I would expect that they would not object to the Chinese moves in the Indo–Pacific region.
"Anything that weakens the West is an advantage to both Russia and to China. So whether it's China that's weakening the West or Russia that's weakening the West, it benefits them."