On a frigid December day in Sabetta—a port located on the Yamal Peninsula in northern Russia bordering the Arctic Ocean—Russian political and business leaders gathered to mark the opening of a new industrial facility that could help Russia dent America's influence in Europe.
No, it's not a new submarine pen or missile silo; it's a liquefied natural gas (LNG) facility called the Yamal project.
The site's Dec. 8 opening ceremony was attended by Russian President Vladimir Putin and a host of top Russian energy executives—summoned to the desolate far north by Putin—where the president extolled Yamal as a project that "ensures the future of Russia, the future of its economy."
And that's not hyperbole. The Yamal project gives Russia a foothold in the fast-growing global liquefied natural gas (LNG) market, which is dominated by the United States, Qatar, and Australia. Most importantly, Russia plans to slow U.S. inroads into the European gas market, which has historically depended on Russian supply.
The Yamal project gives Russia a foothold in the fast-growing global liquefied natural gas market, which is dominated by the United States, Qatar, and Australia.
Following the Dec. 8 ceremony and press event, Putin personally gave orders to load Yamal's first LNG delivery onto the Christophe de Margerie, an ice-breaking LNG tanker. The vessel traveled to the British Isle of Grain and delivered its first batch of LNG to the UK, which had been experiencing a temporary shortage of gas.
The Yamal project is a $27 billion LNG export plant located among permafrost and reindeer on Russia's northern coast. It is one of Russia's first LNG projects—a landmark of sorts—operated by natural gas giant Novatek OAO, a Russian company that was placed under U.S. sanctions in 2014. The Yamal LNG project is 50 percent owned by Novatek and has minority investments from French energy giant Total, China's CNPC, and China's Silk Road Fund.
Growing Global Demand
Typically, natural gas is delivered via pipeline networks, which are expensive to build and maintain, and the scope of the market is limited to the physical reach of the pipelines. LNG is natural gas cooled and compressed into liquid form (at minus 260 degrees Fahrenheit), which can then be transported efficiently on ships and over land.
Global LNG demand rose to 258 million metric tons per year in 2016, a 5 percent increase from 2015. LNG's relatively low levels of carbon emissions make it a good choice for countries without pipelines and those looking to cut coal usage. LNG is considered the cleanest fossil fuel, generating about 30 percent less CO2 than petroleum and 45 percent less than coal.
Japan is the world's biggest importer of LNG, followed by China and South Korea, according to data from Thomson Reuters Eikon. China overtook South Korea as the world's second-biggest importer in 2017, with a 50 percent increase year-over-year in deliveries. The three countries together make up 60 percent of the global demand for LNG.

American LNG a Threat to Russian Gas
Russia is traditionally the biggest gas supplier to continental Europe, by virtue of a network of pipelines from state-owned gas giant Gazprom dating back to the Cold War.
President Donald Trump has been championing American LNG exports since the G20 meetings in the summer of 2017, as a way to wean Europe off Russian gas dependency and the economic and political influence that comes with it. After signing a five-year LNG deal with Poland, the first U.S. LNG shipment arrived in June 2017.
Long a net gas importer, the recent U.S. shale boom and development of new LNG export terminals—the first of which opened in 2016—gave the United States the ability to ship LNG globally. In addition to Europe, the United States has been courting customers in India, Japan, and South Korea.
All of this has been a huge threat to Russia's existing natural gas business in continental Europe. Realistically, due to its geography and existing pipeline network, Europe is the only market that can pick and choose between LNG and pipeline gas.
Gazprom's pipeline buildout from Siberia to Northeast China isn't expected to come online until 2019, so the new Yamal LNG export facility allows Russia to convert pipeline gas to LNG and compete in LNG markets in Europe and Asia.
In addition, the Kremlin has given Gazprom "carte blanche" to sell gas at any price to undercut American LNG ambitions in Europe.
The Kommersant, a Moscow-based business daily, reported on Dec. 28 that an executive order from the Putin administration allowed Gazprom to sell pipeline gas to companies engaged in producing LNG at an "unregulated price," beginning Jan. 1.
Ultimately, Russia is eyeing a 15 to 20 percent share of the global LNG market, Novatek CEO Leonid Mikhelson told reporters on Dec. 12 in Moscow, according to Reuters.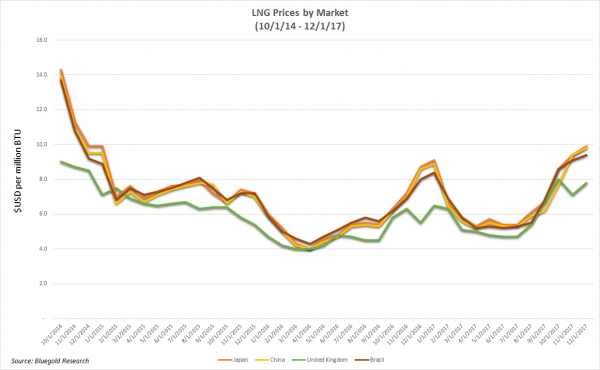 Oversupply Concerns
Rising exports from Australia, the United States, and now Russia have helped to push global LNG prices lower in recent years. Asian LNG prices have fallen from more than $14 per million British thermal unit (mmbtu) to under $10 in December 2017.
"When fully operational by 2019, [Yamal] should more than double the country's liquefaction capacity to around 26 million tons per annum, or 11 percent of global LNG production in 2016," Fitch Ratings said in a Dec. 21 research note.
The biggest hurdles facing Russian LNG projects over the next few years will be financing, given U.S. sanctions. But Chinese and other Asian banks are likely to be ready to lend, and direct equity stakes—which are not subject to sanctions—could be an alternative financing source.
"The LNG market is likely to be oversupplied for several years due to additional LNG capacity being commissioned in the U.S., Australia, and elsewhere, potentially resulting in depressed spot prices until demand catches up," Fitch said.