Russia was responsible for the 2006 assassination of ex-KGB officer Alexander Litvinenko in London, the European Court of Human Rights (ECHR) has found.
Former Russian spy Litvinenko, who had become an outspoken critic of Russian President Vladimir Putin and had defected to Britain, died after being poisoned with a rare radioactive substance in London in 2006.
A public inquiry in the UK found in 2016 that two Russian men—Andrei Lugovoi and Dmitri Kovtun—had deliberately poisoned Litvinenko by putting polonium-210 into his drink at a London hotel, leading to an agonising death.
The British inquiry, led by the former high court judge Sir Robert Owen, concluded that the murder had "probably" been carried out with Putin's approval.
In a statement issued on Tuesday, the European court said it had found that "there was a strong prima facie case that, in poisoning Mr. Litvinenko, Mr. Lugovoy and Mr. Kovtun had been acting as agents of the Russian State."
The court noted that the Russian government "had failed to provide any other satisfactory and convincing explanation of the events or counter the findings of the UK inquiry."
The court found no evidence that either man had any personal reason to kill Litvinenko and would not have had access to the substance "if acting on their own behalf." State involvement is the "only remaining plausible explanation," the findings said.
The Russian authorities have always denied any involvement in Litvinenko's death. And Britain has been unable to pursue criminal proceedings because Russia has refused to hand over the suspects.
Litvinenko's widow Marina, who took the case to the ECHR, said after the ruling that it was a "very important day" as the findings highlighted Russia's "brutal regime."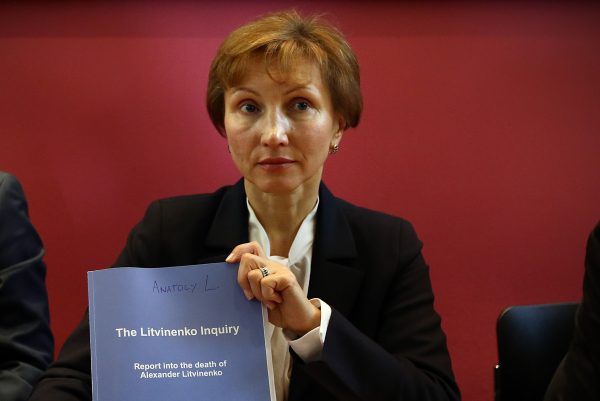 "It's important that Russia takes responsibility", she told Sky News, adding, "We must not give up the fight against this anti-democratic regime in Russia."
A Russian judge sitting on the ECHR panel, Dmitry Dedov, disagreed with his six colleagues on the court's main finding.
"I found many deficiencies in the analysis by the British inquiry and by the Court which raise reasonable doubts as to the involvement of the suspects in the poisoning and whether they were acting as agents of the State," he said.
The court ordered Russia to pay Marina Litvinenko 100,000 euros ($117,000) in damages and 22,500 euros in costs.
Marina Litvinenko said she did not know whether she would be paid the money, but that she still hopes to bring the people responsible for her husband's death to justice in the UK.
PA and Reuters contributed to this report.