Russia will launch a "large-scale information and psychological operation" against Ukraine in the near future, said Ukraine's Defense Minister Oleksiy Reznikov on Tuesday.
"Its goal is to break the resistance of Ukrainians and the Ukrainian army with lies," Reznikov said in a statement, adding that Moscow also has plans to create "communication problems" via electronic warfare while also creating fabricated reports that Ukraine's military and government "agreed to surrender."
Reznikov said Russia will also disseminate "fake" and "supposedly signed" documents and "edited fake videos" online to Ukrainians. "This is a lie. This won't happen. There will be no surrender! Only victory," he added.
Russian officials or state-run media outlets have not made any public comment on Reznikov's claims.
However, Russian state media started issuing warnings from its Defense Ministry that the Russian military will begin to target areas in Kyiv, the capital, including the Security Service of Ukraine and 72nd Main Centre for Psychological Special Operations.
Russia's Defense Ministry said that this will help "suppress information attacks" against Russia, according to reports.
Rocket strikes on Kharkiv killed at least 10 people and wounded 35, Ukrainian Interior Ministry adviser Anton Herashchenko said. Similar strikes killed and wounded dozens in the city the previous day.
"The rubble is being cleared and there will be even more victims and wounded," he said.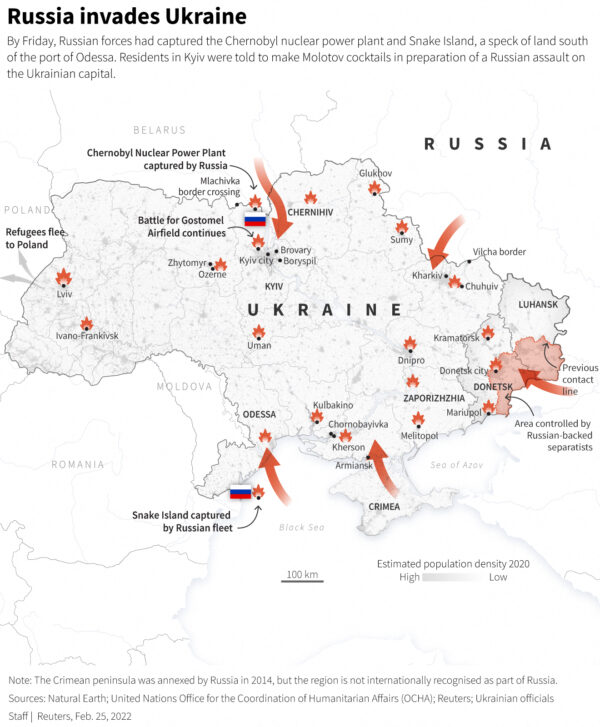 Ukrainian President Volodymyr Zelenskiy said the artillery barrages on Kharkiv amounted to state terrorism.
"Our people are motivated and we are fighting for freedoms and our lives," Zelensky told members of the European Union on Tuesday. "We are fighting for our survival."
Nearly a week since Russian troops poured over the border, they have failed to capture a single major Ukrainian city after running into fierce resistance. The civilian deaths of the last 48 hours were an ominous sign that frustrated Russian commanders could be resorting to more devastating tactics.
One Ukrainian official, Ambassador to the U.S. Oksana Markarova, alleged Russia used a "vacuum bomb," possibly referring to a thermobaric weapon, on Tuesday.
"The devastation that Russia is trying to inflict on Ukraine is large," she said. The International Criminal Court indicated that it has started an investigation into the matter.
Russia still has more forces to throw into the fight even though President Vladimir Putin faces condemnation and international sanctions for his actions.
Russia's state-run TASS news agency reported new peace talks would be held on Wednesday. Talks between Russian and Ukrainian officials held on Monday at the Belarus border failed to reach a breakthrough. Ukrainian foreign minister Dmytro Kuleba said Kyiv was ready to talk to Moscow but would not just follow Russian ultimatums.
Reuters contributed to this report.