Russia, Iran, and China are set to hold joint naval drills in the Indian Ocean, as the chief of U.S. Central Command acknowledged that the United States faces "increasing competition" in the Middle East.
It comes as the United States is separately conducting joint exercises with Australia and Japan in Guam.
Russia's ambassador to Iran, Levan Dzhagaryan, announced on Monday in an interview with RIA news agency that the trilateral naval exercises will be held in the northern Indian Ocean in mid-February. The joint naval drills will include rehearsing search and rescue operations, and ensuring the safety of shipping, he said.
Similar drills were held between the three countries in the Indian Ocean in the Gulf of Oman off the coast of Iran in December 2019, in a move that appeared to counter U.S. activity in the region. The Gulf of Oman is a waterway that connects the Arabian Sea with the Strait of Hormuz, where about a fifth of the world's oil passes through.
At the time, tensions had been mounting between Iran and the United States since Washington pulled out of the Iran nuclear deal in 2018 and imposed sanctions on Tehran. Iran had repeatedly warned it would block the strategic Strait of Hormuz if it couldn't sell its oil due to U.S. sanctions.
The United States at the time accused Iran of being behind multiple attacks on oil tankers in the Strait of Hormuz in May and June 2019, allegations that Iran denied.
President Joe Biden has said the United States will rejoin the Iran nuclear deal "if Iran resumes strict compliance." More recently, Biden said in an interview with CBS News on Feb. 5 that the country would not lift its economic sanctions to get Iran back to negotiations over how to revive the nuclear deal. Soon after, Iranian leader Ayatollah Ali Khamenei on Feb. 7 told state TV, "If [the United States] wants Iran to return to its commitments, it must lift all sanctions in practice, then we will do verification … then we will return to our commitments."
The announcement of the upcoming drills comes after Biden earlier this February ordered the USS Nimitz, then the only U.S. Navy aircraft carrier in the Middle East, to leave its area of responsibility and return to its home port in Washington state. Former President Donald Trump at the beginning of the year ordered the aircraft carrier to remain in the region amid heightened tensions with Iran.
US Faces 'Increasing Competition' From Russia, China in Region
U.S. Central Command (CENTCOM) chief Gen. Kenneth McKenzie on Monday said that the actions of Iran present the "most challenging driver of instability" in the U.S. CENTCOM area of responsibility in the Middle East.
The United States "faces increasing competition in the region from Russia and China, both vying for power and influence through a combination of diplomatic, military, and economic means," McKenzie said in a keynote online address at the Middle East Institute's virtual convention, in his first public remarks since Biden took office. "This adds another layer of tension and instability to an already complex and challenging region."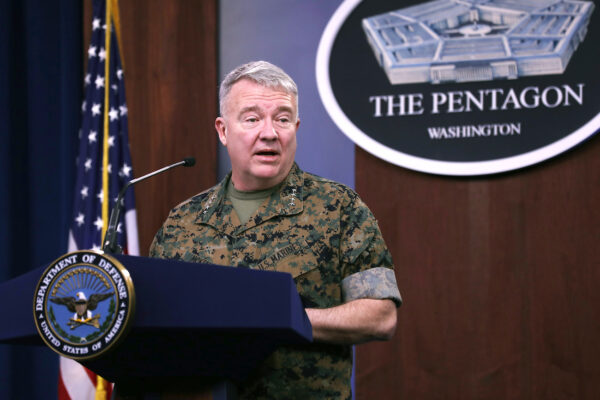 "In 2020, Russia and China exploited the ongoing and regional crises, financial and infrastructure needs, perception of declining U.S. engagement, and opportunities created by COVID-19 to advance their objectives across the Middle East. … Russia and China leverage their proximity to the region, historical relations, and a perceived decline in U.S. engagement to establish and strengthen opportunistic relationships," he said.
Russia seeks to undermine and disrupt U.S. influence while also having economic reasons for engaging in the region, "from maintaining oil production agreements to expanding Russian access to nuclear energy markets, trade and arms sales," he said, adding that it also wants to establish permanent military bases in Syria and Sudan.
Meanwhile, China's interest in the region is "predominantly economic," the general said, noting that it relies on the region for half of its crude oil. Furthermore, China "continues to cultivate trade relationships, economic investment, and comprehensive partnerships among regional states," he said. China also uses its Belt and Road Initiative and the China-Pakistan Economic Corridor to expand its influence in the region, he added.
"Coordinated U.S. interagency efforts, strong allies, and partner relationships are key in the great power competition," McKenzie said. "Opportunities to bolster partnerships and compete with Russia and China in the region include border security measures, counternarcotics efforts, counterterrorism, defense, institution building, and even development assistance. These low cost and often overlooked programs possessed outsized impact in terms of building relationships and assuring key partners."
Separately, the United States is conducting its annual trilateral field training exercise Cope North with Australia and Japan in Guam, an island territory in Micronesia.
"Air forces from the United States, Japan, and Australia will participate in Cope North 2021 at Andersen Air Force Base, Guam, Feb. 3-19 to conduct humanitarian assistance and disaster relief (HA/DR) operations, as well as to conduct large force employment and combat air forces training," the U.S. Air Force in the Pacific said in a statement.